Alpine Miniatures have sent us their latest set of two single figures combined to make a matched pair in 35132: 1/35 German Panther Crew Set. This features a full-bodied tank commander and his machine gunner/ radio operator crewman who is ¾ bodied. Sure to be a popular subject with modellers, we'll examine them to see if the quality is at the usual benchmark that Alpine themselves have set. I will also place them in my test tank to see if they look the part and fit!!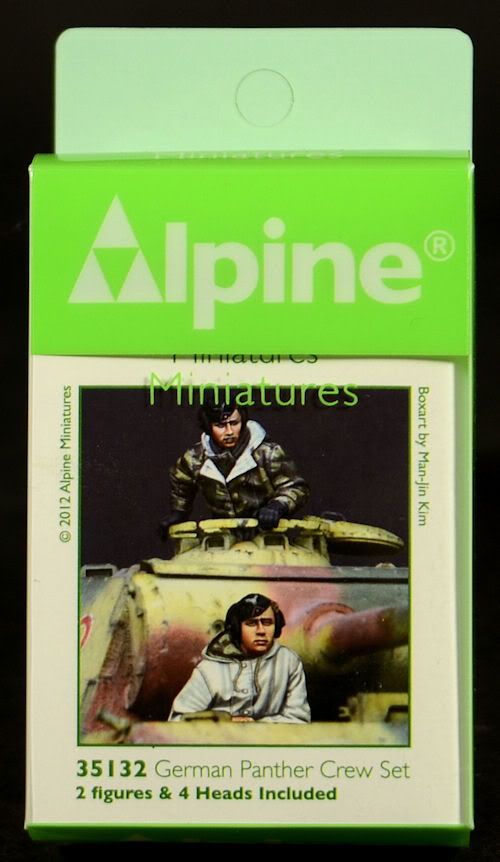 Alpine Miniatures 35132: 1/35 German Panther Crew Set (2 Figures)
Kits: 35130 + 35131 combined to make set 35132
Scale: 1/35
Pieces: 35130 – 6 parts / 35131-3 parts (both include the 2 heads)
Grey Resin
Sculptor: Taesung Harmms
Ages: 14 and over
Alpine Miniatures Distributors: Link
The package contents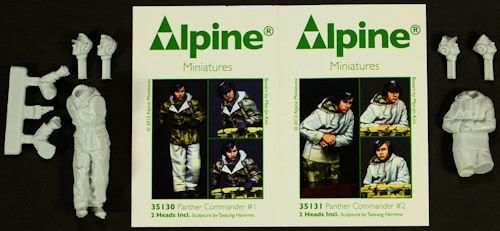 This month we have a set I quite like the look of - a twin combo of two of Alpine Miniature's single soldier sets which are designed to fit together in the same diorama. They are of a German Panther crew. Either of these crew could be the commander or a crewman. in the pictures from Alpine it shows both commanders in the same tank with 35130 as the commander and 35131 as the machine gunner/radio operator. Both have similar body language and the same overall reversible camouflage smocks with no insignia showing except on their headgear, but there are still some differences in each figure. We will look at each of the tankers separately then build them both (unpainted of course – you don't want me messing things up) to show you how they look completed and what to expect in their construction.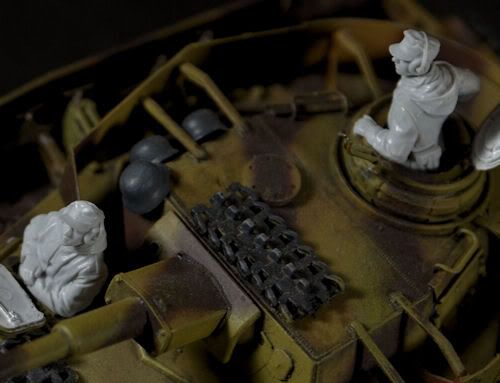 Both of these figures come in a re-sealable plastic bag in the little green and white plastic box which I like a lot. Inside each of the two bags there is a figure each with a choice of the same heads but with different headgear as is the standard set by Alpine for others who have followed. Both of these figures are sculpted by the very talented Taesung Harmms and for the box art both figures have been painted by Man-Jin Kim - both of these guys slightly annoy me because they are so good! Jesting aside I'll look at each of these figures separately now – starting with the tank commander figure 35130 ….. Continue at this link for the rest of the review.