Revell has re-released the classic kit of their 1/35 UDT boat kit – called "Fight with the Frogmen!"
The UDT for those who are unfamiliar with it, is the Underwater Demolition Team boat with a side raft pick-up unit and display stand; these were the first type of prototype "SEAL" men we know so much of now after their recent very public mission.
The kit includes five "Frogmen" figures with air tanks, two sailor crew figures and decals with authentic U.S. Navy graphics.
The LCPR began life as a design project for Higgins Industries in an attempt make landing troops easier. While only a design study, the US Navy insisted on its production. When Higgins Industries refused to produce the craft citing safety issues due to the weight of the bow, the Navy turned to Chris-Craft for production.
This kit is available now and retails for $24.00. Next we go into space with another old looking kit - Anyone remember the Thunderbirds?
Well there are some interesting new models from Aoshima – these guys often build ship and car models that are aimed at the Japanese market - but this time they come to you with something bigger and faster, now hey making the models of: 1/350 TB2 Container Dock - International Rescue Thunderbirds! This amazing set fits in the star of the show – thunderbird 2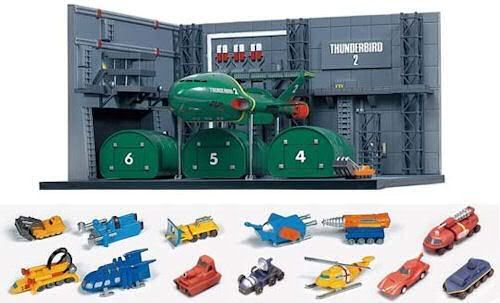 1/144 Thunderbird 1 - International Rescue Thunderbirds – this is the fast speed interceptor type
1/72 the Mole - International Rescue Thunderbirds digger
1/350 Thunderbird 2 & 4 - International Rescue Thunderbirds
They are also producing a model kit of the home of international rescue, Tracy Island. This is a smaller scale again then the other kits – it is a shame that the kits cannot be all of the same scale but I suppose that is a pipedream – a 1/72 scale Tracey Island would be pretty BIG!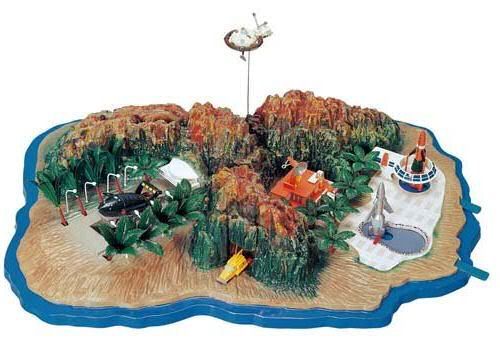 The Aoshima site is not displaying these yet but they will be out very soon, ask with your local hobby store…
MasterBox from the Ukraine have sent us images of their newest kits, available this month. They are a lovely radio car "softskin" and some good figures from the Vietnam War era.
First of all there is the MB 3531 Kit "Sd.Kfz. 2 Type 170VK, German military radio car, WW II era" This kit is based on the chassis of their well selling Type 170K (Mercedes) series of cars. The kit consists of 6 sprues, plus of course instructions and decals.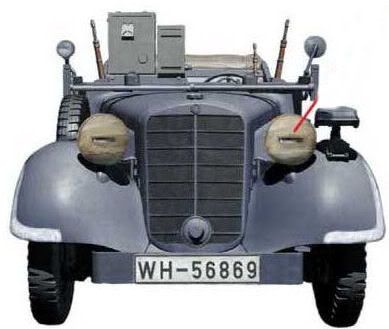 MasterBox was able to get complete accuracy from these kits because they had some of the original cars from Mercedes to study.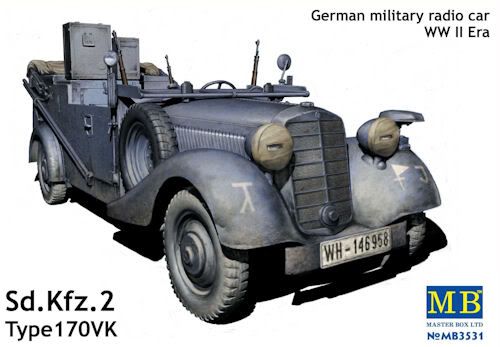 "We will emphasize especially that this model corresponds to the original 100% by copying grade, as well as the previous models of modifications of Mercedes 170 V produced by Master Box Ltd. (kits 35100 "German military car, Typ 170 V, Tourenwagen, 4 Tueren, 1937-1940", 35101 "Polizei-Kuebelsitzwagen ab 1937, German military car, WW II era") and even division of the model into parts corresponds to the catalogue of spare parts of Mercedes-Benz company. Such copying grade had been achieved, because 3 real cars of Mercedes-Benz 170V of pre-war period release by Master Box designers that allowed to have achieved very high grade of correspondence to all measures of the real car. Besides, we will emphasize that the model can be assembled in absolutely different variants – with open or closed hood of the engine, with let up or let down windscreen, with radio stations installed at the car or in the special baggage area, with closed or open boot lid."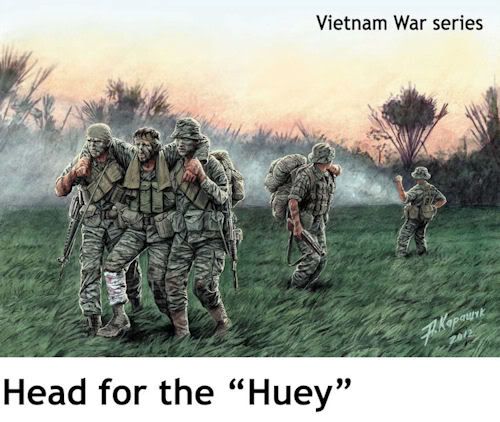 The second kit is the Vietnam War era kit MB 35107 "Head for the "Huey", Vietnam War series"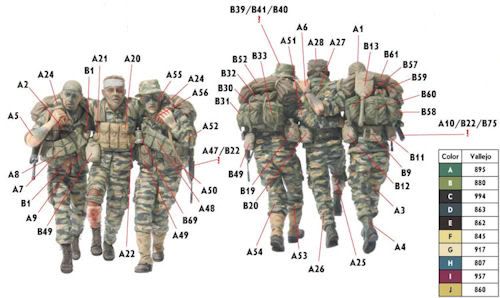 This kit will consist of 2 sprues intended for assembly of 5 figures relating to Vietnam War time. There are five US GI's in this kit. I think form the early war period if you look at the weapons they are carrying.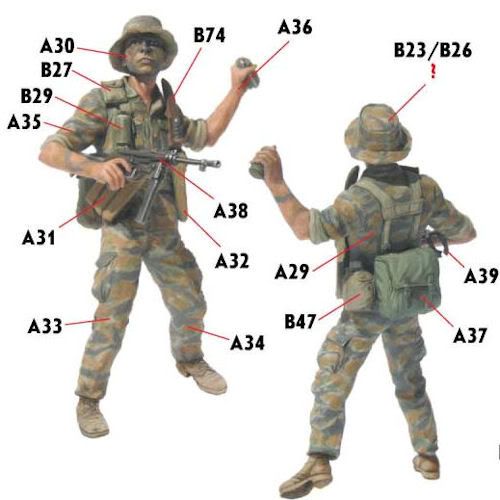 Two of the soldiers are carrying their comrade to the rescue chopper while their other two Special Forces troops make their own way as well – one throwing a grenade to throw the V.C. off the trail.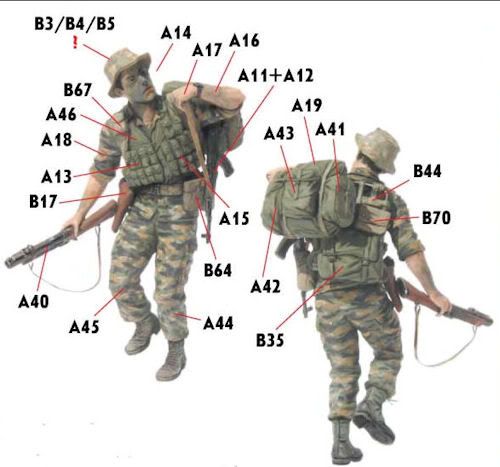 These kits are available this month on the 15th.
The latest figures from Andrea Miniatures feature some of our favourite sculptors and some popular genres - we have some information and better still some lovely pictures to illustrate their latest releases...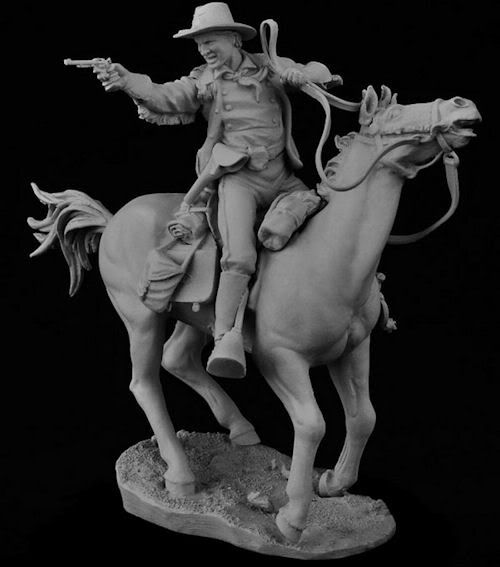 This Cavalry officer from 1876 is shown on his steed and reining him in as he fires at his target with his trusty six-shooter - the figure is available painted or unpainted - the figure here has been painted by the very talented Julio Cabos
This figure - sculpted by Joaquin Palaciosis in 54mm (1/32 scale) consists of 23 white metal casting parts for assembly and painting. To buy this kit unpainted 46€ and painted is 275€ (+VAT and Shipment Cost)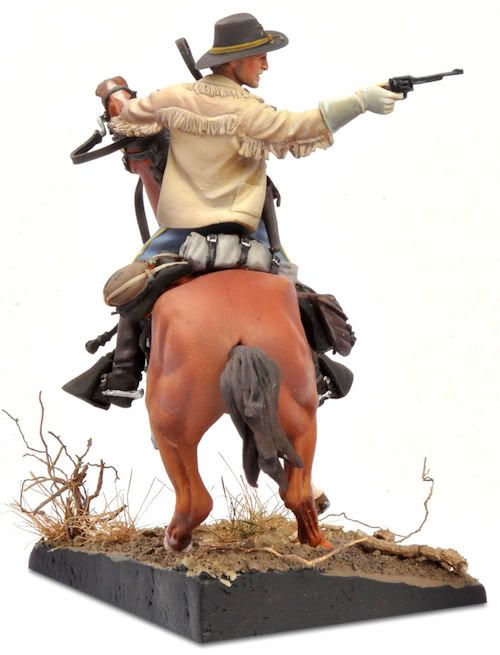 "Two Generations" from the Vikings series of sculptured figures in 54mm (1/32 scale) and in this instance are painted by painted by Julio Cabos, and sculpted by Joaquin Palacios and Raul Fernandez If only all younger kids were interested in modelling like this!! It seem these were those good old days that every modeller talks about when they were a child :-) The look on this kid in the sculpt is priceless!
This figure is sold likewise painted (280 €) and unpainted in raw kit form for Kit 42€.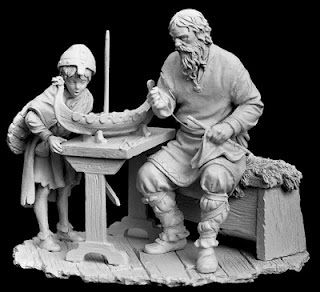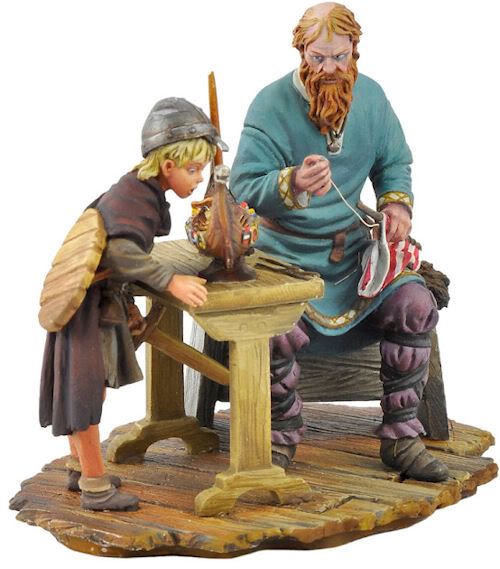 Both of these kits are available now from the Andrea Miniatures site
Well that is all for this week – I hope you have a lovely weekend and please do take care of yourself – enjoy your modelling!
Adam Norenberg