Pegaso, from Italy, have two new releases in figures this month – both in 75mm scale. They are as different as they are beautiful.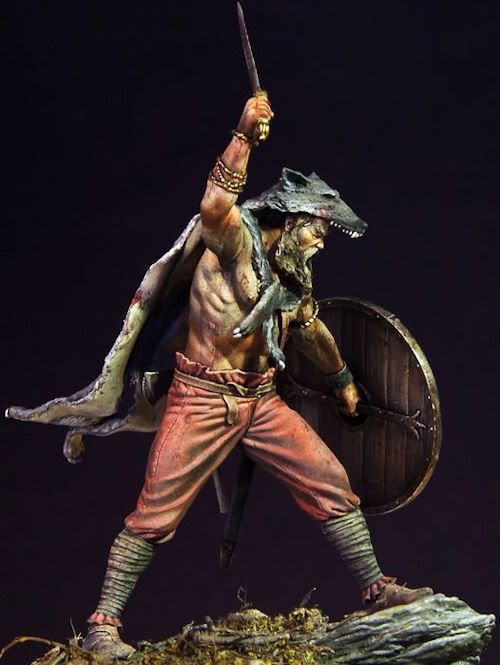 The first kit – the Viking Berserkir (75-090) from the "Barbarians" series of figures - is sculpted in white metal.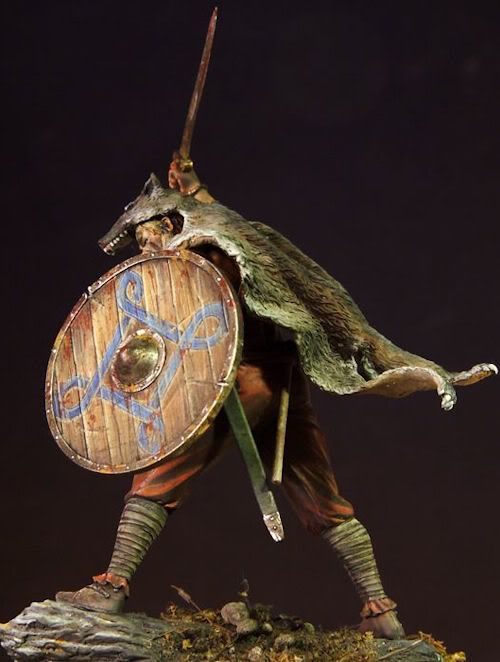 The twelve pieces of white metal are sculpted by Alan Carrasco and in this case the figure is painted by the master painter Diego Ruina.
I really like his shield and wolves' head. The Norseman carries a large long sword and there is woad on this warriors face giving him a fearful look. The fact that he is yelling/screaming makes him look even scarier!!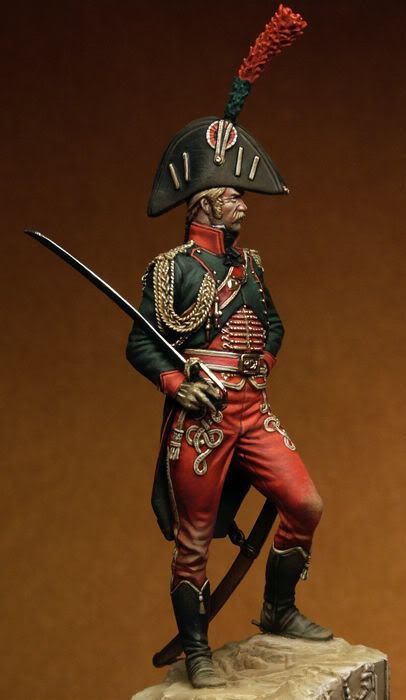 Officer of the Guide on horseback, Egypt 1798 is the second figure on the new release list from Pegaso this month.
From the "France XVII-XIX Century" series, this figure again is sculpted in white metal.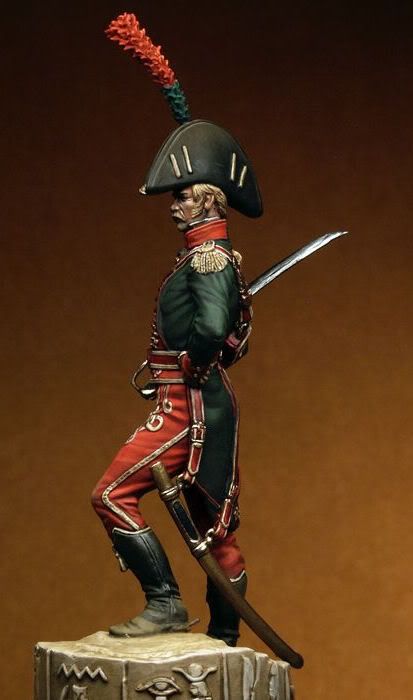 The Officer – in 75 mm scale is sculpted by Richard Galicek, and you can see him in his full regalia with large hat and long dangerous-looking sabre. All of his uniform from the top of the hat down to his jacket, pants and boots are all fastidiously detailed with fine details, braid and a small bag on the soldiers back.
You can see the great work of the sculpting's details brought out by painter Danilo Cartacci – the only thing this sculpture is missing – is his horse!!!
Roden have just announce the kit of the Nieuport 27 c1 airplane of WWI fame in 1/32 scale. Aircraft in WWI often became obsolete before even they had taken to the air. The fast pace of invention in aircraft design often led to no real advantage for their makers, and some ideas and developments became outmoded before deployment. However, some design approaches, which might be considered simple in many respects, ensured not only great success for certain aircraft, but also a kind of rebirth in later types and variants.
One such aircraft was the Nieuport 17. Built in 1916, it became a real salvation for the Allies' air arms and was built in large numbers. Later there appeared the Nieuport 17bis with a modified fuselage, and in the spring of 1917 the designer Gustav Delage developed the next version of the fighter, the Nieuport 24. The fuselage gained a more rounded cross section in comparison with its predecessor and the wings were rounded at their tips. The horizontal and vertical tail surfaces were also very different from previous models, having a more rounded outline. A powerful 130-hp Le Rhone engine was installed in the plane. At this time the United States, which had just entered WWI, started organising their own Air Force from scratch, and they bought from the Allies all available types of aircraft to make up the complement of their air arm. France sold at least 140 Nieuport 24bis to the U.S., about a hundred Nieuport 24, and almost three hundred of the Nieuport 27.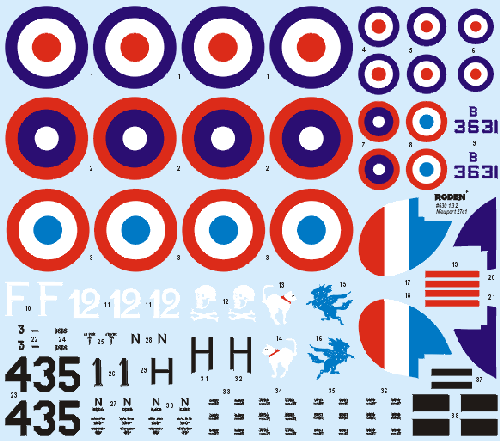 Decal choices on this kit:
Nieuport 27, N5690 flown by Sgt. Marcel Gasser of Escadrille N.87 Aviation Militaire. France, Spring 1918.
Nieuport 27, B3631 flown by Capt. H. J. Hamilton of No.29 Squadron Royal Flying Corps. Proven, France, December 1917.
Nieuport 27,(serial unknown) of the No. 1 Squadron Royal Flying Corps. Baileul, France, December 1917.
Nieuport 27, N5459 flown by Lt. Jacques Michael Swaab (DSC) of 22nd Aero Squadron of American Expedition Force in Europe. Issoudun, France, August 1918.
Nieuport 27, unknown Aero Training Squadron of American Expedition Force in Europe. France, mid-1918.
Nieuport 27, N5532 flown by Commander of Escadrille N.99 Aviation Militaire - Capt. Roger de Richemont, 1917.
Dragon have announced a much sought after British infantry kit – the 1/35 British Expeditionary Force, France 1940.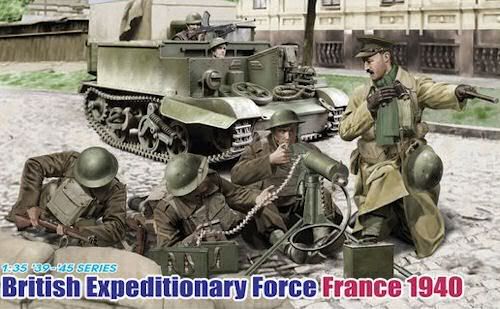 This four figure set is expected in June 2012 and features the machine gun section following directions from their officer who is pointing a swagger stick. The British gunner aimed and fired his Vickers medium machine gun at the German soldiers advancing across the field. His loader lying on his right fed the weapon with continuous 250-round belts of .303-inch cartridges until the water in the barrel-cooling jacket was boiling from the intense heat. The reliable weapon, mounted on a tripod, sustained high rates of fire as the British soldiers desperately held off the enemy attack.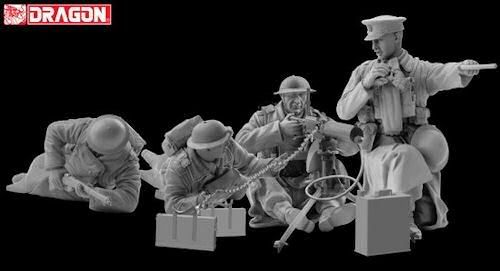 Dragon has a brand new 1/35 scale figure set that allows modellers to recreate such a scene from May 1940. The new set represents four "Tommies" from the British Expeditionary Force (BEF), a formation sent to Europe to dissuade Hitler from attacking Western Europe. After the Phoney War came to an abrupt end with Germany's invasion of France and the Low Countries on 10 May, the BEF was forced back until much of the remnant was evacuated from Dunkirk by early June.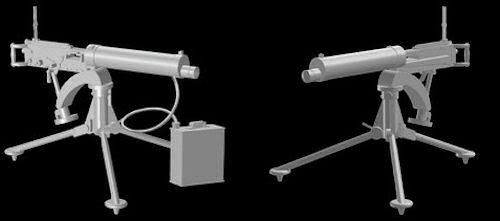 This exciting set fills a glaring gap in the range of plastic figures that are currently available on the market. The 1/35 scale Vickers medium MG is itself a work of art. The weapon sits on a tripod and it's connected to the condenser container necessary for keeping it cool. Dragon has thoughtfully provided the MG with boxes of ammo, the same bullets as fired by the iconic Short Magazine Lee-Enfield rifle (Rifle No.1 Mk.III*). Two such SMLE rifles are included in the set. The British figures are sharply molded, and most are wearing the Mk.II steel helmet as well as greatcoats to protect against the night-time chill. The officer, on the other hand, is clad in a raincoat.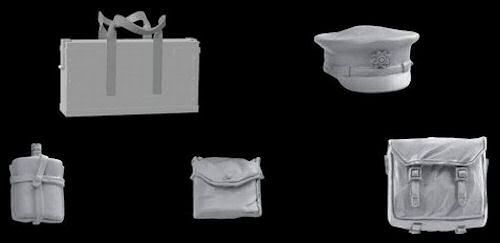 The four figures of the MG team combine to create a very effective and dramatic vignette as they defend a strongpoint somewhere in France during the confused withdrawal. With these BEF figures, Dragon has greatly expedited the model-maker's task of producing an early WWII scene.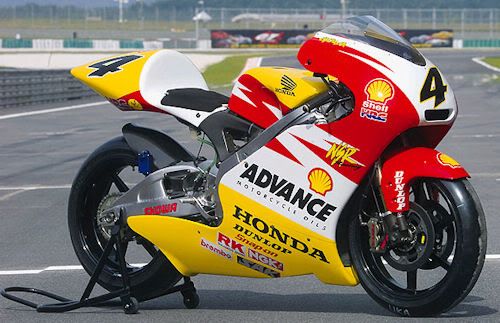 Lastly this week, Hasegawa from Japan have released some details of their new 1/12 scale Honda NSR250 2 000 "Shell Advance Honda" (2000 WGP250) – This kit is expected to reach us in June as well and is a very colourful example of the famous pair of bikes from the 250CC championship.
The Shell Advance Honda team's bike competing in the 250cc class world championship road race in 2000 is painted in attractive white markings and a sharp red & yellow highlighting – sponsors decals and riders numbers.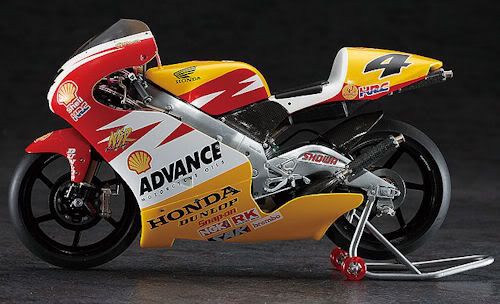 Both numbers "14" and "4" are supplied on the decals – fourth place getter Toru Ukawa, and Anthony West who was sixth in that year are represented in this release.
Until next week and more models for you to look at, hopefully your weekend is sunny and you take care!
Also please do try to enjoy your modelling!
Adam Norenberg