Pegaso from Italy have sent their usual eye-popping preview of new product released this month, which are sure to tempt a lot of modellers. Two more releases compliment the Mongolian archer to round off a more varied collection for February... 75-906 Vlad Dracul Sculptor Andrea Jula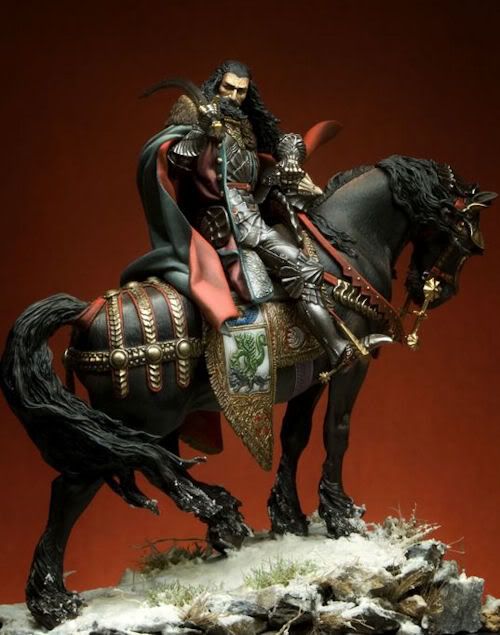 This figure is of the (in)famous Vlad Dracul - Hungarian defender of Christianity and slayer of the turks (and everyone else who crossed him.) Vlad Dracul is represented here in a massive 1/24 scale
This figure and horse is sculptured by the obviously very talented Andrea Jula in 1/24th scale and is available now on the Pegaso website. The piece will be pretty heavy as it is made in white metal of forty pieces.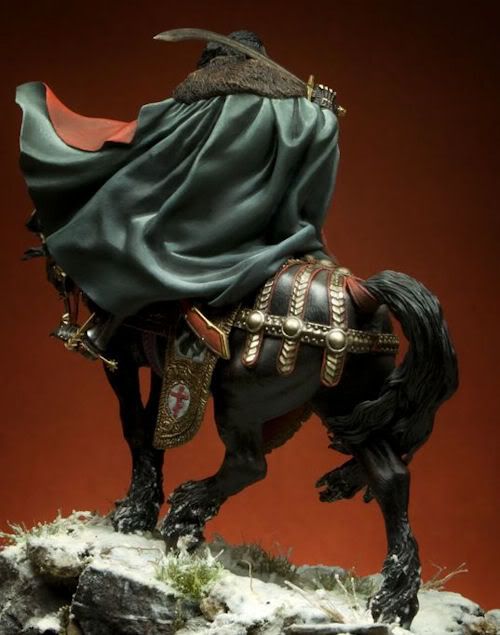 The figure shows some great work with the billowing of Dracul's clothing and the horse's mane. It looks like another successful release from Pegaso. Next up is 75-088 Officer of the Empress ' Dragoons, 1815 Sculptor Mike Polski
This Officer from Napoleon's Régiment de dragons de l'Impératrice (the Empress' Dragoons) in tribute to their patroness, Joséphine de Beauharnais. He is seen minus his mount here sculpted in 1/24 scale. Sculpted by the great sculptor Mike Polski in white metal this is a great addition to your Napoleonic era soldier's collection.
You really can see the great work done on the intricacies of the uniform and the officer's regalia on his torso. This figure is made of fifteen pieces of white metal. News of another new model company is great to hear, but especially good to hear that it is coming from Greece! Founded in 2011, here's what they have to say about themselves: GasPatch Models provides quality kits with a high and consistent level of detail, enjoyable to build for experienced modellers and beginners alike. We do painstaking research, using original factory drawings wherever possible, and paying close attention to contemporary photos. Demanding hobbyists with a keen eye on detail appreciate our perfect part compatibility, high tech mould manufacturing, and best value for the money.
Their first model is the Salmson 2A2, which played a key role and was produced in great numbers, but has hitherto not received appropriate recognition from the plastic model kit market. For the future, they plan, likewise, to produce models that are not common but are interesting in their design and historical significance. They will produce this model in three 1:48 versions: Mid, Late, and Japanese boxings. Mid production
One of the early aviation's most underrated pioneers was the French industrialist Emile Salmson (1858–1921). In 1890, Emile began his career in Paris, manufacturing pumps. Together with two aviation pioneers, George Canton and George Unné, he established the "Société de Moteurs Salmson" in 1910. In that year, they produced their first successful engine, an 80hp seven-cylinder radial, followed by a 120hp nine-cylinder version a year later. At a time when engines were frequently breaking down, Salmson's products became famous for their reliability.
Late Version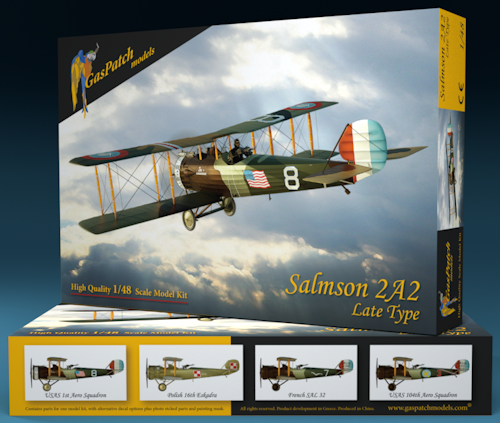 Despite an unsuccessful first attempt at producing an aircraft, the company was commissioned by Armeé de l'Air to produce the reconnaissance aircraft Sopwith 1½ Strutter under license. Meanwhile, they worked on improved aircraft designs, and later they proposed to Armeé de l'Air their "Salmson D", with an 130hp Clerget engine. Armeé de l'Air declined, but Salmson insisted in further developing the designs. In April 1917, they introduced the Salmson 2A2, with the 260hp Canton-Unné 9z nine-cylinder water-cooled radial engine. This time, the French air force accepted the new aircraft as a replacement of the now obsolete Sopwith 1½ Strutter.
Japanese Version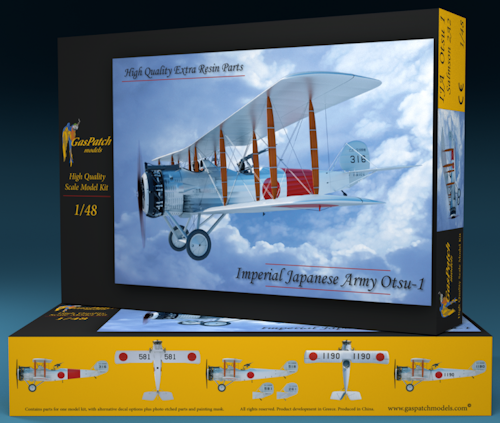 The Salmson 2A2 equipped 52 French escadrilles. In addition, the American Expeditionary Forces ordered 750 aircraft to equip 10 squadrons. The total production reached 3250 items, of which 2200 were built by Salmson and the rest by Latécoère, Hanriot and Desfontainers. After the war, the Japanese air force ordered about 350 Salmson 2A2s. The Polish, Czechs and Greeks also ordered small numbers. The production drawings on this site are worth a look in themselves The Salmson 2A2 was a robust, two-seated airplane, fast, reliable, and adaptable to other uses; it was used, for example, as a bomber, and even as a fighter plane. Its most important innovation was the self-sealing tanks, which contributed to the avoidance of fire on board, which was one of the main fears of early aviators. From the pilots.... "The Salmson was a damn good airplane. It sounded like a bunch of tin cans on the end of a string, but they could shoot all kinds of holes in it and it would still run… It handled very nicely; a well-made airplane, very dependable." —Captain Phillip R. Babcock of the 88th Aero Squadron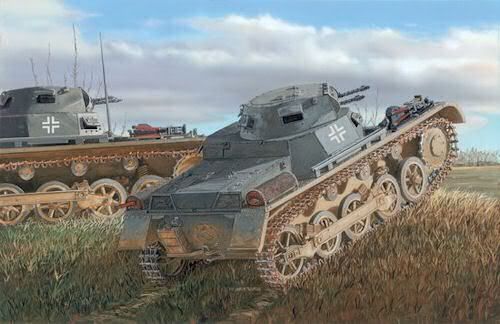 Dragon are offering a fine 1/35 scale Smart Kit of a 4.Serie/La.S. version of the Panzer I. The kit depicts a vehicle slightly later in origin than the Early-Production Panzer I Ausf.A released earlier (Item No.6289). Indeed, this Ausf.A variant is a welcome addition to Dragon's Panzer I lineup as it utilizes some high-quality components from previous kits, but mixed with a range of brand new elements specifically introduced for this 4.Serie tank.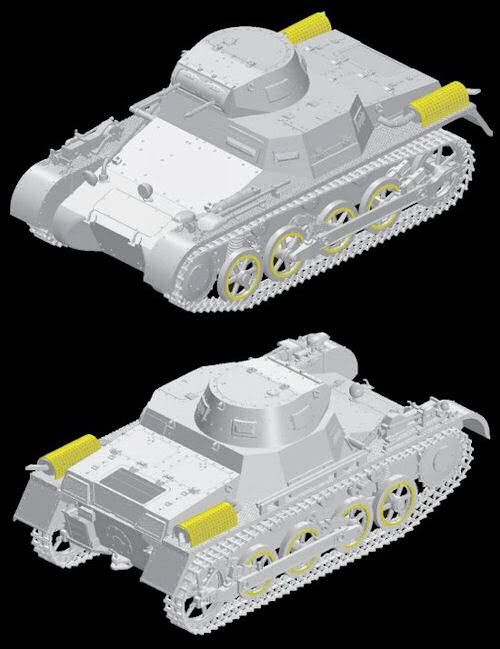 These modifications include a newly tooled engine deck that's made with the aid of slide moulds, and the louvered hatch that's positioned near the rear of the deck. The kit has the correct suspension and transmission inspection cover for this variant. The track links may be tiny but they're perfectly produced via Magic Tracks with no need for time-consuming clean-up. The Panzer I may have been small in size, but this model kit possesses an enormous stature in terms of quality and ease of construction.
Eduard have announced a new "Royal Class" release of the Bf 109E in 1/48th which is the latest new tool Bf 109 kit from Eduard but with a few extras. These kits come with two kits inside which include all of the usual extras you would expect - two large P/E sets, Brassin wheels, masking sheets and decals of twelve different options printed by Cartograf.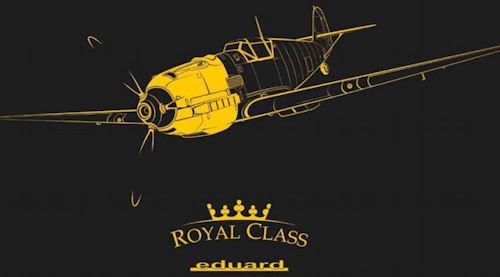 That is not the end though – this kit includes a special 1/4th scale instrument panel kit! If that isn't enough a stainless steel thermocup with the laser engraved Bf 109E line artwork on the front, and on the back of the cup is the engraved 4 cm long WWII style manufacture part number plate with the unique limited edition numbering engraved on it. Impressive! The addition of the 1/4th scale instrument panel is indeed top class!
Everyone needs these" a steel cup to keep your tea warm!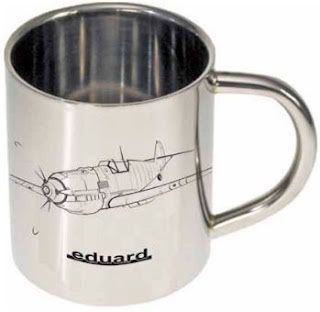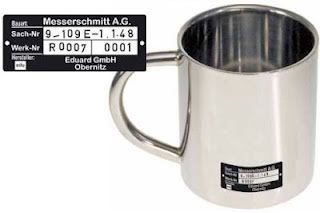 That's all the news breaking for this week – we'll be back next week with the more interesting kit releases we can find
Until then take care Adam Norenberg