Extract from Campaign 58: First Ypres 1914 by David Lomas
On 29 September 1914, Sir John French, the British commander in chief, wrote to Marshal Joffre, his French counterpart, stating that he wished 'to regain my original position on the left flank of the French Armies.'
The Great War was nearly two months old and the British Expeditionary Force had been in France for size weeks. It had fought at Mons and Le Cateau, retreated the long miles to Paris before the German advance was halted at the Marne, and finally supported the French offensive along the River Aisne.
For nearly three weeks, the British troops had stoically suffered a primitive and hazardous existence in waterlogged holes under constant shelling and small arms fire, interrupted by bouts of ferocious fighting. Seventy British infantry battalions, 15 cavalry regiments and 84 batteries of artillery grimly held 26 miles of front in miserable, soul-destroying conditions. The Marne and Aisne had cost 18,000 casualties. In their six weeks of active service the BEF had lost over 36,000 men. There had been some reinforcements. The 4th Division, which had reached France in time to fight at Le Cateau, was now joined by the 6th Division to form III Corps. The BEF was still, however, a small force of just 163,897 all ranks.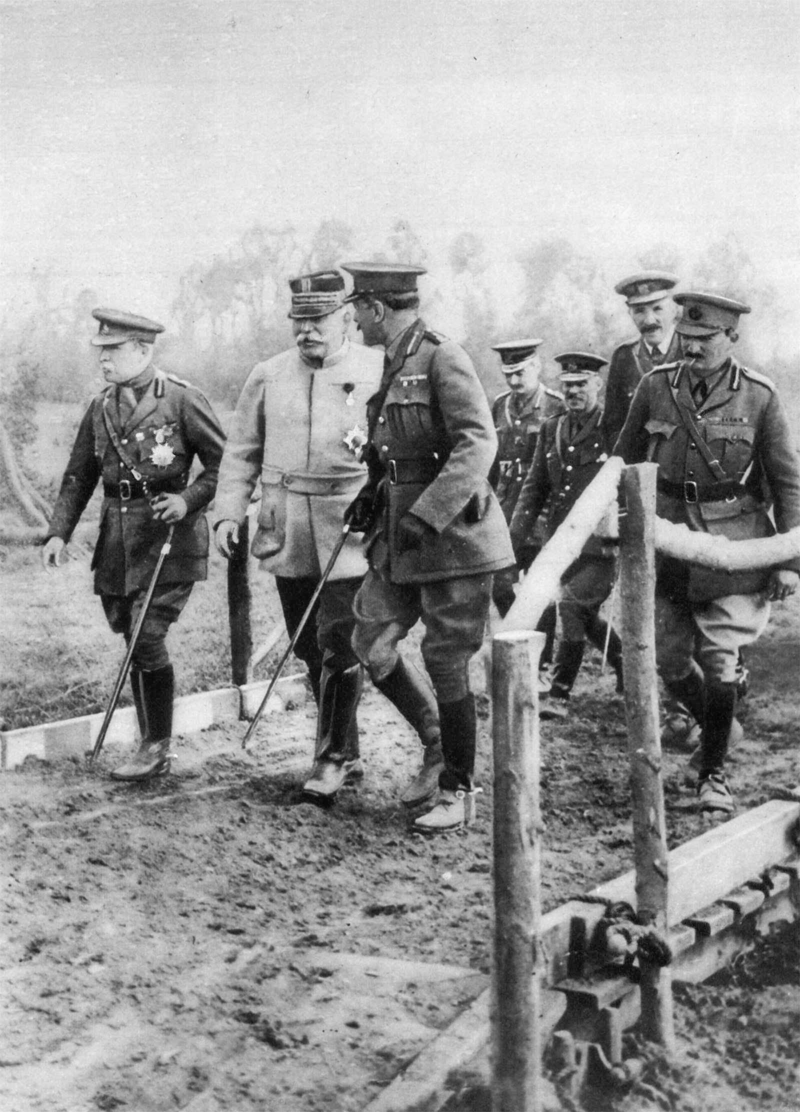 At the front of the group - Generals French, Joffre and Haig
Source: Wikipedia
Sir John's proposal was the result of hard thinking: the battle of the Aisne had degenerated into stalemate. It was thus an ideal moment to concentrate all British forces in one area. Other British troops were already landing and operating in the north – a hastily assembled force was at Antwerp – and more were on the way, among them the 7th Infantry Division and the Indian Corps.
It was logical that they should operate as one body. Further, supply lines would be much shorter close to the coast and the BEF could be reinforced quickly if necessary. Their presence would also bar the way to the Channel ports.
Sir John firmly believed that the BEF should not crouch in hastily-dug trenches under everlasting shell fire. It was an army trained for open warfare, and the flat plains of Flanders in the north still offered the chance to manoeuvre and fight a proper battle. Joffre, however, had reservations. He would have to find replacement troops to hold the muddy scrapes of trenches on the Aisne. The move would also divert precious railway wagons needed for sending French reinforcements to the north. Joffre still continued to suspect that Sir John would evacuate the BEF if things went badly and he regarded a location close to the Channel ports as a constant temptation for the British to retreat. He tactfully suggested that, although in broad agreement, the time was not quite right. The British commander disagreed and curtly informed Joffre that the first British troops would depart on 3 October.
Joffre accepted the inevitable. The timetable was agreed and the BEF went north. I Corps, the last to leave the battleground, reached Hazebrouck on 19 October.
If you are interested in reading more about the First Ypres be sure to pick up a copy of Campaign 58: First Ypres 1914 by David Lomas.