With Osprey's new fantasy wargame, Frostgrave, now only a couple of months away, our partner North Star Military Figures are giving everyone their first chance to order the book and figures together. They are making this offer as part of a 'Nickstarter' program that includes all kinds of special bonuses and incentives!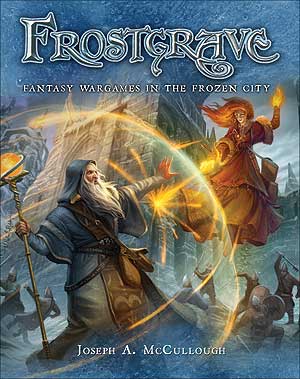 Here's how it works. You can choose to order from one of five different levels. At one end, for £15, you will get the Frostgrave rulebook and six resin 'treasure' tokens that have been designed especially for Frostgrave. These are the little treasures that your wizard and his gang of warriors fight over during the game. At the other end of the spectrum, for £111 you get the rulebook, the treasure tokens, 10 metal wizard figures, 10 metal apprentice figures, 8 metal soldier figures, a box of 20 multi-part plastic henchmen, a copy of the Tales of the Frozen City fiction collection, and a metal Lich Lord figure!
As an added bonus, if the total orders for the whole program pass specific monetary thresholds, there will be bonuses. On the first day, the first threshold of £2,500 was passed, which means that everyone who has ordered a level 3 or higher package will be receiving a free treasure chest miniature! If the orders go over £5,000 everyone who ordered a level 3 or higher package will receive a free Knight figure!
To check out all of the ordering possibilities and learn more about the bonuses available – visit the main Frostgrave Nickstater page here!