Early in the morning of 2 August, 1943 Motor Torpedo Boat PT-109 was struck by the Amagiri, a Japanese destroyer. It was cut in two, leaving Seamen Andrew Jackson Kirksey and Harold W. Marney dead and two others badly injured. The eleven survivors clung to the burning wreckage, amongst them future US President John F. Kennedy, who was commanding the PT-109 at the time.
A decision was made that they could not stay with the wreckage, and they started to swim towards the nearby Plum Pudding Island. Kennedy, who had been on the swim team at Harvard, towed his badly wounded machinist Patrick McMahon by a belt clamped in his teeth. After reaching the island he proceeded to search for fresh water and food, always keeping an eye out for Allied ships that could save them. They were eventually rescued late in the evening of 7 August, reaching the US base at Rendova at 5:30 a.m. on 8 August.
Below is an image of Lieutenant John F. Kennedy, USNR, (standing on the right) with other crewmen on board PT-109, 1943.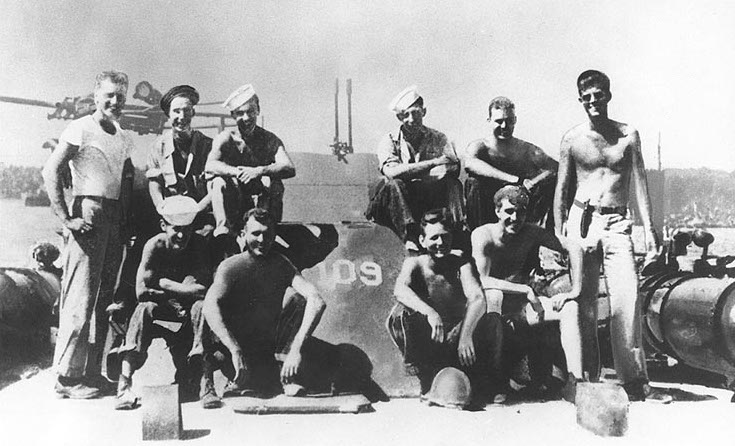 Image from Wikipedia

When asked about his heroism at a later date Kennedy gave a simple answer - "It was involuntary. They sank my boat."

If you would like to know more about US Patrol Torpedo Boats take a look at NVG 148: US Patrol Torpedo Boats. Our New Vanguard series also has a range of books looking at other naval units of World War II, so be sure to check it out!