On 14th March 1945, during World War II, the first Grand Slam bomb was dropped by the RAF no. 617 Squadron Leader CC Calder on the Bielefeld Viaduct in Germany. The bomb penetrated deep underground before detonating and the combined use of the Grand Slam and several Tallboys caused more than 100 yards of the viaduct to collapse through the earthquake bomb effect.
Designed and developed by the British inventor, Barnes Wallis, the 22,000-lb bomb was produced in parallel with the smaller 12,000-lb Tallboy which was rushed into service and first used on 9th June 1944 on the French railway tunnel at Saumar. By early 1945, the Grand Slam was ready to be used along with 32 Lancaster B I (Special) aircraft, which had been specially modified to accommodate the bomb.
In the below photograph, taken on 15th March 1945, a RAF Avro Lancaster B I (Special) (PB996 'YZ-C') of no. 617 Squadron, flown by Flying Officer P. Martin and crew, can be seen releasing the 22,000-lb Grand Slam over the viaduct at Arnsberg, Germany.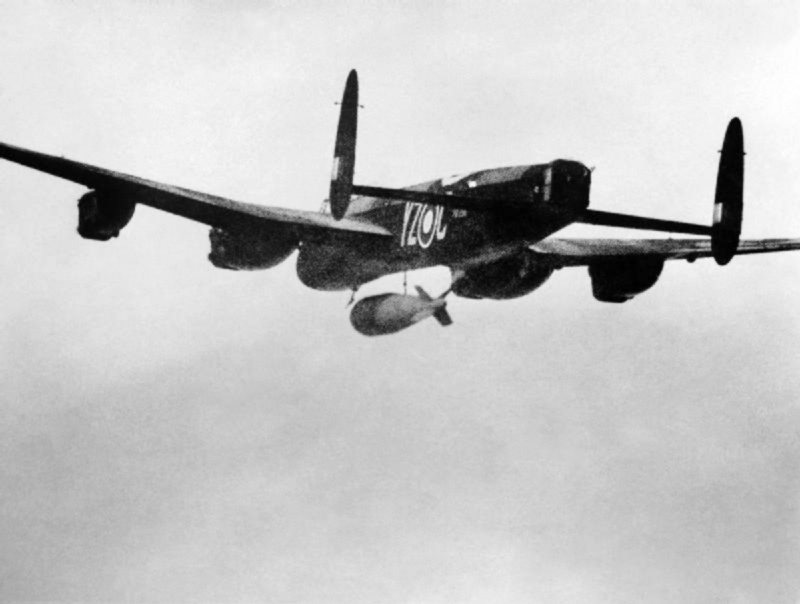 To read more about the Grand Slam and Tallboy, and the aircraft that carried them, take a look at Jon Lake's Lancaster Squadrons 1944–45 in the Combat Aircraft series. The second of two volumes on the RAF's most effective heavy bomber of World War II, this book details the combat career of the Lancaster in the final 18 months of the conflict in Europe.
The original image can be found here.