In early October 1870, with the city of Paris surrounded by the Prussian armies, French interior minister Léon Gambetta looked to make his escape. Charging through the enemy forces was clearly not an option, and so Gambetta looked for other means by which to make his getaway. What he found was the Armand-Barbès – a hot-air balloon that would carry him from the besieged city of Paris to Tours.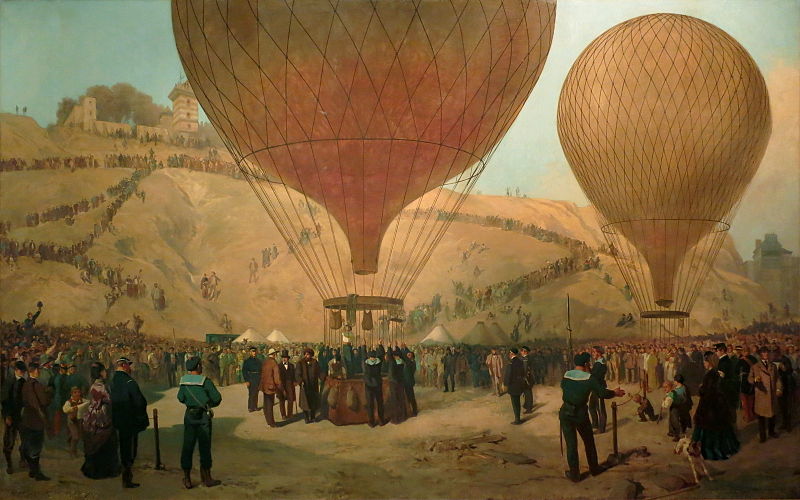 The departure of Leon Gambetta by Jules Didier and Jacques Guiaud
Source: Public Domain (Wikipedia)

After arriving in Tours Gambetta assumed his position as Minister of War, announcing the mobilisation of the entire National Guard on 12 October and calling for the creation of an 'Auxiliary Army' two days later. A large force was raised, but with no real training possible in such a short time they were ill-prepared for the rigours of battle. His hope was that this force could relieve Paris, but any possibility of this faded when the city of Metz succumbed to the Prussian siege on 27 October. The Parisians' plight didn't end until late January when Bismarck's armistice terms were accepted – only for Paris to be plunged again into conflict between the Communards and troops of the new government.
Left: Illustration showing Count von Moltke, Wilhelm I and Count von Bismarck.
Right: Illustration showing Grenadier of the Guard Metz, Voltigeur of the Guard and Maréchal des Logis.

If you are interested in the Franco-Prussian War then take a look at Essential Histories 51: The Franco-Prussian War 1870-71, as well as Men-at-Arms 233: French Army 1870-71 Franco Prussian War (1) and Men-at-Arms 416: German Armies 1870-71 (1).