On the night of 13 October 1939 a German U-boat managed to enter Scapa Flow, an important anchorage for the Royal Navy. The following attack would be remembered as arguably the greatest submarine raid in history.
The extract below is taken from the introduction or Raid 33: U-47 in Scapa Flow by Angus Konstam.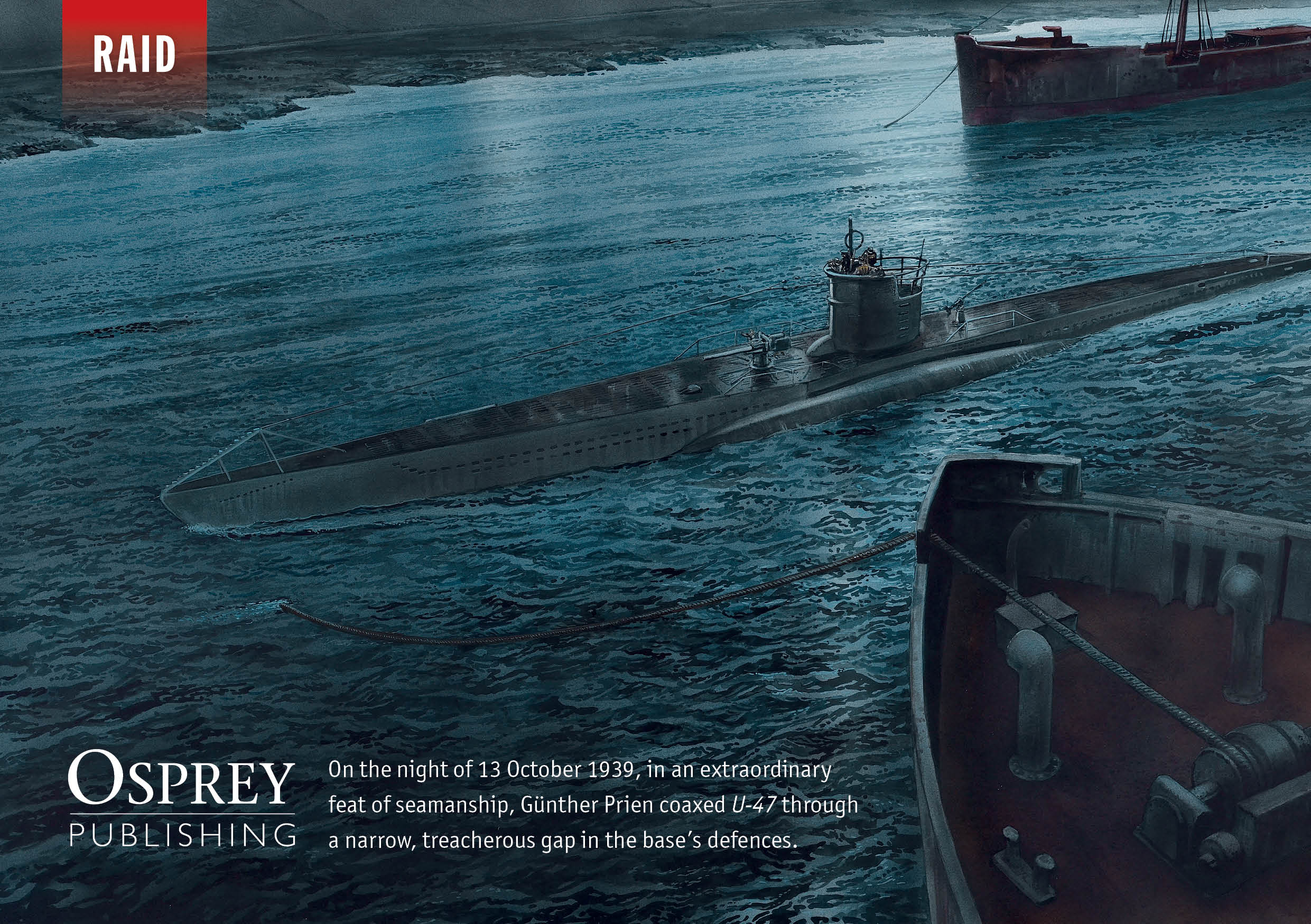 Scapa Flow. It's a place that conjures up conflicting images. In two world wars it was the Royal Navy's main anchorage during the naval campaigns against Germany. It became synonymous with British naval might – something that is now a distant memory. To many who served there Scapa was a miserable place, far from the comforts of home, where there was little to break the monotony in that vast and remote anchorage. Others saw the charm of Scapa Flow, which can be a beautiful, magical place, particularly during the long summer nights. To Orcadians it is simply 'The Flow', the virtually landlocked expanse of water which has become steeped in history. Orcadians are also well aware that beneath its surface lie the remains of 833 men and boys whose lives were snatched away three-quarters of a century ago, when the battleship they served in became their grave.
That battleship was HMS Royal Oak, a veteran of Jutland, and a floating home to almost 1,000 British sailors. On the night of 13–14 October 1939 these men and boys thought they were safe, as their battleship was securely anchored inside Scapa Flow. Instead, death was stalking them in the shape of a German U-boat, U-47, which had breached the defences of Scapa Flow, and was on the loose inside the anchorage, her commander searching for a suitable target for his torpedoes. He found it in Royal Oak, whose crew were oblivious to the threat. Shortly after 1am on 14 October the battleship was struck by a salvo of torpedoes, and sank within minutes. Many of her crew had no chance to escape – hence the high death toll. Every year, on 14 October, their loss is remembered, and a dignified low-key service is held over the wreck site. Ironically, the crew of U-47 also lie entombed on the seabed of the North Atlantic, although the exact location of the craft is unknown.
The bare bones of the story are reasonably straightforward. On the evening of 13 October 1939 U-47, commanded by Günther Prien, entered Scapa Flow by way of Kirk Sound, a narrow channel that was supposedly sealed by a line of sunken blockships. Prien threaded his way past these obstructions, and reached the vast anchorage that lay beyond them. At first he headed west, towards the main fleet anchorage, but found it was deserted. So, he altered course to the north, towards the upper end of Scapa Flow. There he came upon Royal Oak, lying at anchor just under a mile from the north-eastern shore of Scapa Flow. Prien fired three torpedoes, but only one of them hit his target. Even so it was a glancing blow, as it struck her anchor cable. He then turned his boat around and fired his stern tube. That missed too.
Prien and his men were surprised that their attack hadn't led to the alarm being raised, but as Prien's men reloaded their bow tubes Royal Oak remained placidly at anchor. When the tubes were ready he fired again, and this time there was no reprieve for the battleship. Royal Oak was hit by up to three torpedoes, and began listing heavily as water poured into her hull. She slowly rolled over and sank, before most of her crew could scramble out onto the upper deck and throw themselves into the water. A few thousand metres to the south U-47 turned away, and headed back to Kirk Sound. She left Scapa Flow the way she had come in, passing the blockships again to reach the open sea. By dawn U-47 was off the Moray Firth, where she spent the day lying submerged to avoid detection. Travelling at night and lying submerged by day, the boat re-crossed the North Sea to Kiel. On 17 October the crew of U-47 reached Kiel, where they were welcomed as heroes.
Raid 33: U-47 in Scapa Flow is available to preorder now and will be released on 20 October 2015. Click here to order your copy!