60 years ago the first cadets were sworn into the US Air Force Academy, initially housed in temporary quarters at Lowry Air Force Base, Denver, Colorado. To celebrate this anniversary, here is a little timeline showcasing some of the US Air Force's finest aircraft.
F-105D-31-RE 62-4379 of the 335th TFS/4th TFW (attached to the 355th TFW), Takhli RTAFB, Thailand, December 1965
Book: Combat Aircraft 84: F-105 Thunderchief Units of the Vietnam War

This aircraft is depicted here as it appeared in the last week of the unit's TDY to Takhli from Yokota, which had begun on 3 November 1965. The 335th's aircraft were reassigned to the 333rd TFS from 5 December 1965 for Barrel Roll and Steel Tiger operations. 62-4379 was later passed on to the 421st TFS/388th TFW at Korat RTAFB. It was one of two F-105Ds from the squadron that were shot down within minutes of each other on 2 November 1966 over the North. Capt R F Loken was strafing a railway bridge when 62-4379 was hit by ground-fire. It flew him to a comparatively safe area of Laos before he had to bail out and return home by rescue helicopter. The jet is seen here carrying Mk 84 bombs.
A-1E 132444 of the 602nd FS(C), Udorn RTAFB, Thailand, 11 November 1967
Book: Combat Aircraft 97: USAF and VNAF A-1 Skyraider Units of the Vietnam War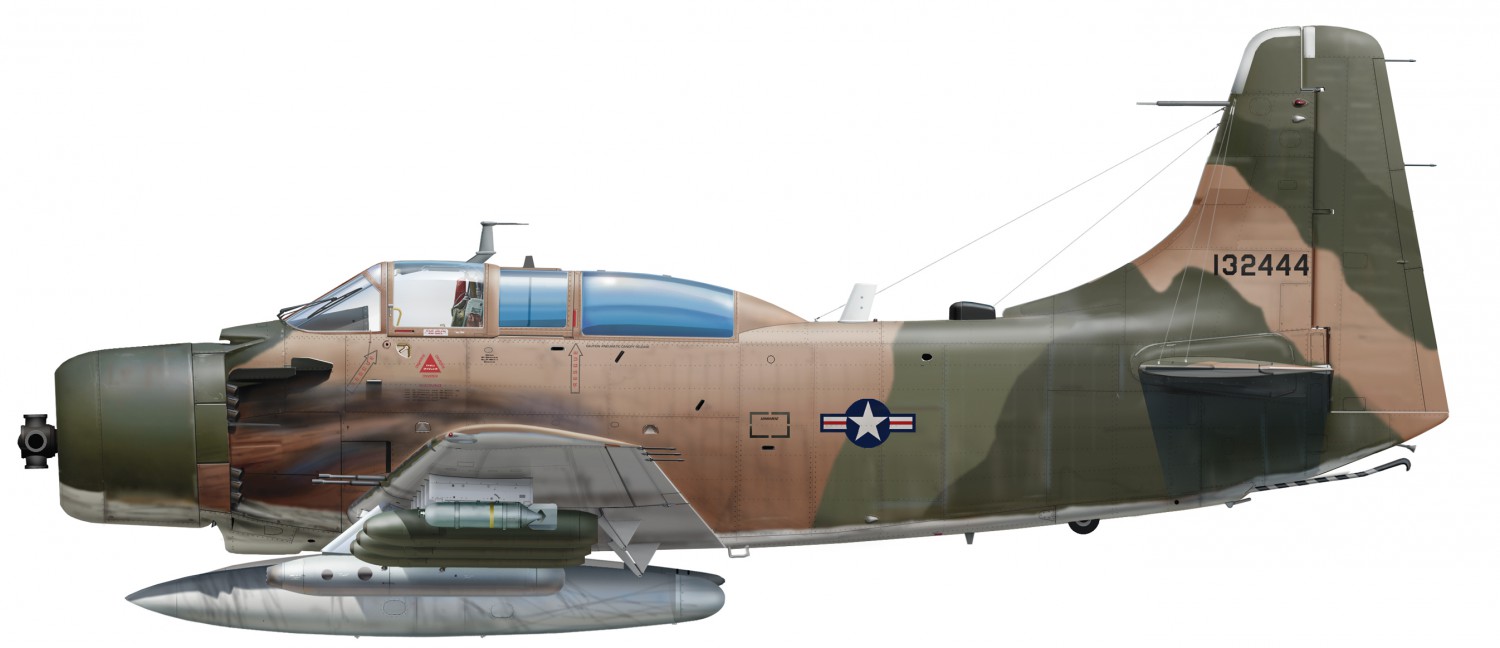 Lt Col Ralph 'Tad' Hoggatt flew this aircraft, configured as shown, on a 'Sandy' mission to rescue downed airmen (one of whom was 1Lt Lance Sijan, who was posthumously awarded the Medal of Honor for his devotion to duty as a POW) on 11 November 1967. Despite heavy and accurate enemy ground fire that downed his wingman (Maj William C Griffith, flying A-1E 132569) and damaged his own aircraft, Hoggatt orchestrated the recovery of his squadronmate. For his actions on that day, Hoggatt, who completed 204 combat missions, was awarded the Air Force Cross. 132444 subsequently became a MAP transfer to the VNAF on 12 October 1970 and was eventually lost on 31 March 1971.
F-100F-21-NA 58-1232 of the 352nd TFS/35th TFW, Phan Rang AB, Republic of Vietnam, 1970
Book: Combat Aircraft 89: F-100 Super Sabre Units of the Vietnam War

This was one of the 510th TFS Super Sabres that served at Clark AB from 15 August 1959 to 8 November 1962, making early visits to Thailand during this time. 58-1232 then passed through the 405th FW, 3rd TFW and then the 27th TFW (from 1964 to May 1968), before transferring to the 35th TFW at Phan Rang from September 1968 until April 1969. It performed more war service at Phan Rang with the Colorado ANG's 120th TFS, whose mountain lion marking is seen here on the fin, albeit with 352nd TFS 'VM' codes rather than the squadron's official 'VS'. The Super Sabre was passed on to the South Dakota ANG's 175th TFS in 1971, before eventually being retired to Brooks AFB, Texas, and inexplicably put on display as F-100F 56-3994.
F-4E-34-MC 67-0268 of Maj G L Retterbush and 1Lt D L Autrey, 469th TFS/388th TFW, Korat RTAB, 12 September 1972
Book: Combat Aircraft 55: USAF F-4 Phantom II MiG Killers 1972-73

Delivered new to the 33rd TFW on 11 July 1968, this aircraft was transferred to PACAF for assignment to the 388th TFW on 17 November 1968. It served with the wing's 469th TFS (JV) until the squadron disestablished on 31 October 1972, when it switched to the 34th TFS (JJ). The fighter was then passed on to the 3rd TFW's 36th TFS (UK) on 17 August 1974 after LES modification. Further PACAF service with the 51st CW followed from 30 September 1974 until November 1982, when the jet joined the 21st CW/TFW. Its final USAF service was with the 37th TFW, with whom it flew from October 1985 through to 27 July 1987, when it was supplied to the Turkish Air Force. 67-0268 is still presently in frontline service with 131 Filo at Konya air base.
B-52D-25-BW 55-0677 City of Fort Worth, 7th BW, Carswell AFB, Texas, 1974
Book: Combat Aircraft 43: B-52 Stratofortress Units in Combat 1955-73

Also the subject of profile 19, 55-0677 survived the war and went on to join the Carswell-based 20th BS, which was part of the 7th BW. It represented the wing in the 1974 Giant Voice bombing competition, wearing a massive yellow winged '2' on the tailfin (indicating its allocation to the Second Air Force team) and the name City of Fort Worth on the nose. The 'last three' was presented in yellow. This has commonly been reported on B-52Ds, but was usually a misinterpretation of a faded red 'last three' or a yellowed 'last three' originally painted on in white. Despite its age, the aircraft carried no 'O-for-Obsolete' serial prefix, instead having 50677 applied to the tailfin. City of Fort Worth wore the SAC emblem on the port side of the nose and a 7th Bomb Wing emblem on the starboard side. The aircraft was finally retired to the Yankee Air Museum at Ypsilanti, Michigan. Today, it wears an approximation of its Linebacker colour scheme, albeit with a very gaudy, three-dimensional and more detailed sharksmouth than was originally applied.
F-117A 84-0810 DARK ANGEL, assigned to Maj Jon Boyd, 416th TFS/37th TFW(P), King Khalid RSAFB, February 1991
Book: Combat Aircraft 68: F-117 Stealth Fighter Units of Operation Desert Storm

Although assigned to Maj Boyd, this aircraft was also flown by several other pilots from both the 415th and 416th TFSs during Desert Storm. Maj Boyd's first mission in 84-0810 was a strike on the heavily defended intercept operations centre at H-3 airfield, in western Iraq. A veteran of 26 combat missions, 84-0810 also saw action in Operation Allied Force in 1999 with the 49th FW's 9th FS. The aircraft still presently serves with this unit.
EF-111A 66-0044 of the 429th ECS/27th FW Dhahran, Saudi Arabia 1995
Book: Combat Aircraft 102: F-111 & EF-111 Units in Combat

A 474th TFW F-111A from 1968, this aircraft was converted into an EF-111A on the Raven conversion line in 1983. It subsequently served with the 390th ECS, with which it deployed to Saudi Arabia for Operation Desert Storm. Missions in support of Provide Comfort, Southern Watch and Northern Watch followed when the squadron became the 429th ECS. The aircraft then returned to Cannon AFB, where it was lost in an accident near the base on 17 June 1996. Capt James Wingo Jr and EWO Capt Donald R Watson ejected successfully.
F-15E 87-0210 of the 391st FS/366th Wing, Mountain Home AFB, Idaho, 2002
Book: Combat Aircraft 59: F-15E Strike Eagle Units in Combat 1990-2005

87-0210 (E50) rolled off McDonnell Douglas's St Louis production line on 5 September 1989 and entered service with the 336th TFS at Seymour Johnson AFB the following month. It deployed to the Persian Gulf in August 1990 and returned to North Carolina in April of the following year. By month-end the combat veteran had been passed on to the 334th FS, where it served with the RTU until handed over to the 391st FS in March 1993. It was the last aircraft to carry 366th Wing markings prior to the F-15E swap that took place between the 391st and 90th FSs in February-May 2002.
F-16C 90-0756 of the 524th FS/332nd AEW, Al Jaber AB, Kuwait, March 2003
Book: Combat Aircraft 61: F-16 Fighting Falcon Units of Operation Iraqi Freedom

A late Block 40 jet, 90-0756 was completed by GeneralDynamics as 1C-364 and initially joined Shaw's 363rd FW in July 1992, before being assigned to the 68th FS 'Lightning Lancers' of the 347th FW at MoodyAFB one year later. When that unit was disbanded, the jet was transferred to the 524th FS in April 2001. It too was one of the F-16s sent on the unit's initial AEF VII deployment to Kuwait in December 2002, but it was not as heavily flown as other 'Hounds' mounts. It is shown here late in OIF, with only a pair of GBU-12 bombs aboard. Usually slant loaded one pair per wing, the unit had to go on 'half rations' because so many of these surgical weapons had been used that stocks were running low by the end of OIF.