120 years ago Ernst Udet, a German World War I flying ace second only to the Red Baron himself, was born. The extract below, taken from Aviation Elite Units 16: 'Richthofen's Circus' by Greg VanWyngarden, gives an account of Udet's experiences during the war.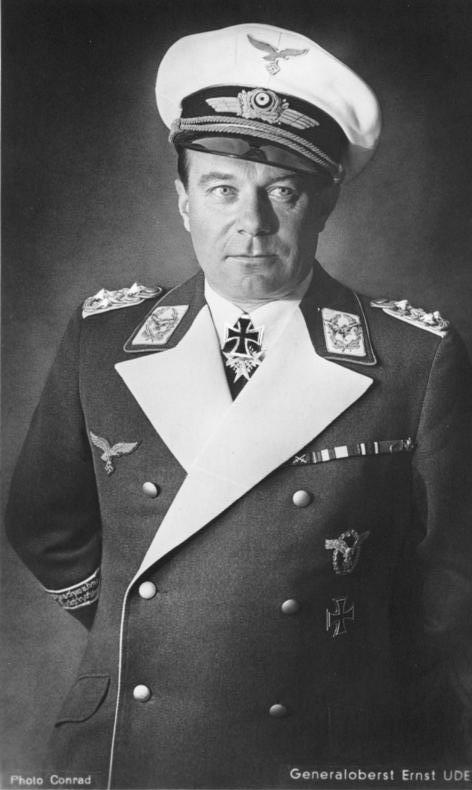 Image courtesy of Bundesarchiv, Bild 146-1984-112-13 / Conrad
Ernst Udet was born in Frankfurt-am-Main on 26 April 1896, but soon after his birth his family moved to Munich. When war came in 1914, he managed to join a Württemberg Reserve Division as a motorcyclist-messenger. Udet then learned to fly by taking private lessons. In September 1915, he began his career as a military pilot in Fl. Abt. (A) 206. Two months later he transferred to Fl. Abt. 68 and the unit's fighter and the unit's fighter detachment, Kampfeinsitzer Kommando Habsheim which soon became Jasta 15.
Flying a Fokker D III, Udet achieved his first victory on 18 March 1916 when he shot down a Farman out of a group of 22 French aircraft which were raiding Mülhausen. After his third kill, he was commissioned a leutnant der reserve in January 1917, and continued to fly in Jasta 15 under Gontermann. It was with Jasta 15 that Udet reportedly had his famous fight with the French ace Guynemer in Jun 1917. He wrote that during the dogfight his guns jammed, and the Frenchman chivalrously broke off the combat when he saw Udet hammering on their breeches.
In Jun 1917 Udet transferred to Jasta 37, and rose to command this unit in November 1917. He brought his tally to 20 kills there, flying the Albatros D V and D Va. His various fighters were all decorated with his familiar 'Lo!' emblem, which was Udet's nickname from his fiancée, Eleonore Zink.
In March 1918 he was asked to join JG I by Richthofen, and he jumped at the chance. Udet commanded Jasta 11 until 8 April, scoring three more victoris flying the Dr I. A painful ear infection sent him to hospital, and he was at his parent's home when news of his Pour le Mérite arrived. When fully recovered, Udet returned to take command of Jasta 4 on 20 May. By late June he was flying the D VII, although he may still have used the Dr I at times. His score increased steadily, but once he received the BMW-engined D VII on 30 June his victories came rapidly. In the summer of 1918 Udet engaged in a friendly scoring competition with Erich Löwenhardt of Jasta 10. He survived the war with 62 confirmed kills, second only to Richthofen's 80.
If you'd like to read more take a look at Aviation Elite Units 16: 'Richtofen's Circus' by Greg VanWyngarden.