On 10 July 1942 a wrecked Mitsubish A6M Zero was spotted on Akutan Island. The crew of the Catalina that spotted the downed Japanese fighter plane circled the crash site for several minutes, noting its position on the map, before returning to the Dutch Harbor.
The following day Lieutenant William "Bill" Thies returned to island with a salvage team. They removed the Japanese pilot, petty officer Tadayoshi Koga, from the cockpit and searched him for any intelligence information before burying him near the crashed aircraft. Then they turned their attention to the plane, finding that the Zero was salvageable.
Finally on 15 July the Zero was recovered and transported to Seattle, where it arrived on 1 August. Once the repair work was completed the American's finally had their hands on a flyable Zero, and the information gained from the test flights helped American tacticians devise strategies to defeat the Zero.
The photograph below shows US Navy personnel inspecting the Akutan Zero on 11 July, 1942.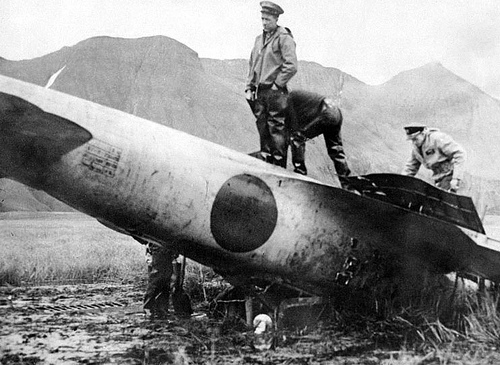 Source: Wikipedia
Anyone interested in reading more about this iconic Japanese fighter should take a look at Air Vanguard 19: Mitsubishi A6M Zero, scheduled to be published in September 2016.