OSPREY GAMES ANNOUNCES NEW JUDGE DREDD GRAPHIC ADVENTURE CARD GAME BASED ON 'THE LOST EXPEDITION'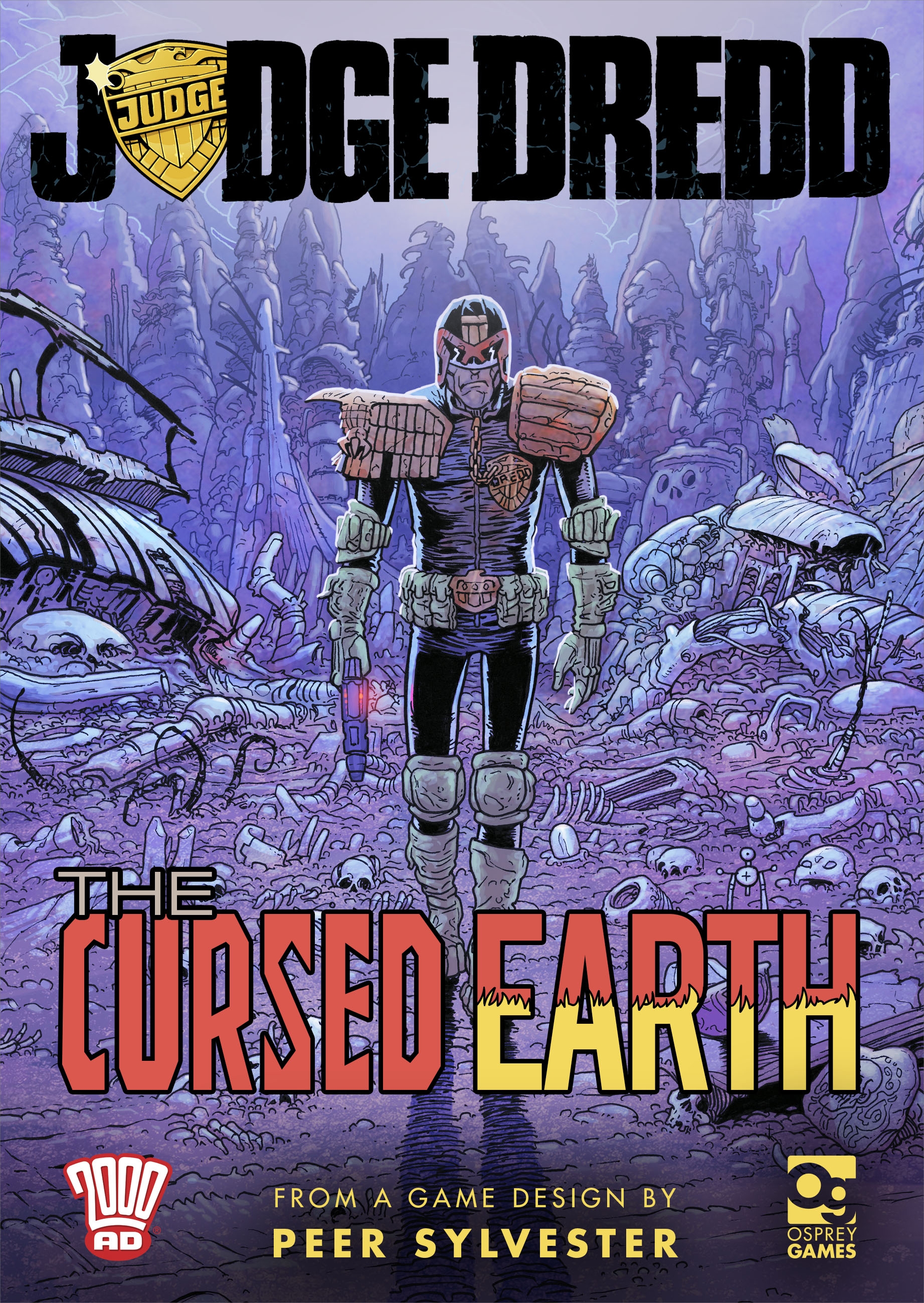 (COVER NOT FINAL)
Osprey Games is delighted to announce its new graphic adventure card game, Judge Dredd: The Cursed Earth, based on the classic 2000AD comic characters.
Duncan Molloy, Games Developer at Osprey Games, has worked with Rebellion to create a new Judge Dredd game using the core mechanics of Osprey's bestselling 2017 release, The Lost Expedition, from designer Peer Sylvester. Discussing the project, he said, "I'm a huge fan of The Lost Expedition, and from early in development it felt like the best example I've seen of a board game capturing the tone of a comic book. To be able to pair the system with one of the most interesting and detailed comic book worlds ever devised has been a joy. Judge Dredd: The Cursed Earth will feature entirely new mechanics, such as radiation tracking and psychic abilities, to really capture the feel of Dredd's world."
Rebellion's Brand Licensing Manager, Damien Treece, commented, "we're thrilled to be working with the team at Osprey Games on this new partnership. Osprey and Duncan have a terrific understanding of the world of Judge Dredd and a reputation for publishing high quality games, leaving us in no doubt that Judge Dredd: The Cursed Earth will be a perfect fit."
***
For years he's been the law in Mega City One, but now it's time for Judge Dredd to bring justice to the rest of America. It's time for him to venture into the Cursed Earth.
Featuring competitive, co-operative and solo player modes and brand-new, specially commissioned artwork, Judge Dredd: The Cursed Earth is an immersive sci-fi western, in which players must lead a team of judges against dinosaurs, mutants, and the Cursed Earth itself in search of an object of immense power before it falls into the wrong hands. As they scour the wastelands, the team will encounter a host of iconic 2000AD characters that will push their resources and abilities to their limits. On an impossible journey through radioactive hell, can even the judges survive the Cursed Earth?
About Osprey Games
Osprey Games is the dedicated games division of Osprey Publishing (part of Bloomsbury Publishing plc) and publishes a wide range of wargames, card games, and board games. Launched in 2014, the company has produced an array of critically acclaimed titles, including Frostgrave: Fantasy Wargames in the Frozen City, Bolt Action, Odin's Ravens, and The Lost Expedition. www.ospreygames.co.uk
About 2000AD
2000AD is the legendary weekly British anthology comic and home of Judge Dredd, as well as a galaxy of original sci-fi, fantasy, and horror action stars. As well as producing innovative and provocative comics for 40 years, it has brought the industry some of its biggest talents, from Alan Moore, Grant Morrison, and Mark Millar, to Jock, Brian Bolland, Dave Gibbons, and many more. Published in print and digital every Wednesday, 2000AD is the galaxy's Greatest Comic and remains at the industry's cutting edge. www.2000ADonline.com
2000AD®, 2000AD IS A REGISTERED TRADEMARK; ® and © REBELLION A/S; ALL RIGHTS RESERVED. JUDGE DREDD®; JUDGE DREDD IS A REGISTERED TRADE MARK; ® and © REBELLION A/S; ALL RIGHTS RESERVED