With the publication of Duel 100: Me 262 vs P-51 Mustang coming up, we asked Tony Holmes, Duel Series Editor for aviation, to reflect on this fantastic milestone.
It is appropriate that the 100 titles published in the Osprey Duel series to date are bookended by titles that have one thing in common – the P-51 Mustang. Duel 1, published in September 2007, saw North American Aviation's thoroughbred fighter pitched in aerial combat with the Fw 190 in the skies over western Europe during 1944-45. Although variants of Focke-Wulf's deadly 'butcher bird' have since featured in three Duels, the Mustang has had to wait until volume 100, published this month, to appear in print once more.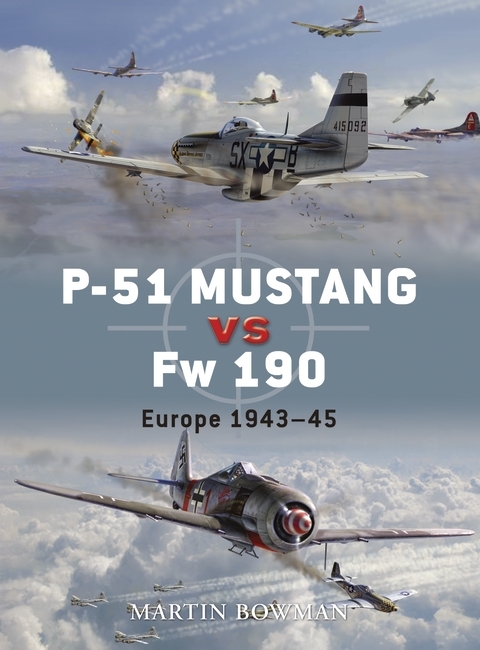 During the intervening 12 years, all manner of aircraft types have been given the Duel treatment by Osprey's talented cohort of authors and artists. From the decidedly subsonic Zeppelin and BE 2c that fought it out in the night skies over London, to the blisteringly quick MiG-25 'Foxbat' and F-15 Eagle engaging each other in fleeting combat over the western Iraqi desert, the full gamut of military aviation has appeared in print in the Duel series.
Although I have been fortunate enough to have devised two previous series for Osprey that have also passed the 100-mark (Aircraft of the Aces and Combat Aircraft), when I was asked by the company in 2004 to create another series of books for the aviation list, it took me a little while to come up with a concept that did not repeat what had already been covered by the publisher. My initial proposal was for a series called Dogfight, and this would have exclusively dealt with aircraft only. As much as Osprey liked this concept, the company (and specifically my editorial publisher at the time, Kate Moore) felt that it could be broadened to encompass military and nautical subject matter too, and so the series title Duel was born. The rest, as they say, is history.
All 48 of the aviation titles published to date have rigidly stuck to the same formula first seen in Duel 1 – engaging text laced with first-hand accounts, stunning battlescenes and cover art, accurate technical artwork and quality photography. The authors that have contributed to the aviation titles within the Duel list can attest to the fact that writing a book in this series requires great discipline due to the exacting nature of its content. Compiling references for three dynamic artworks, two cockpits, armament cutaway views and three-views can also be challenging, but Osprey authors are a multi-talented bunch who clearly relish such work as none of them to date have stuck to writing just one title in the series.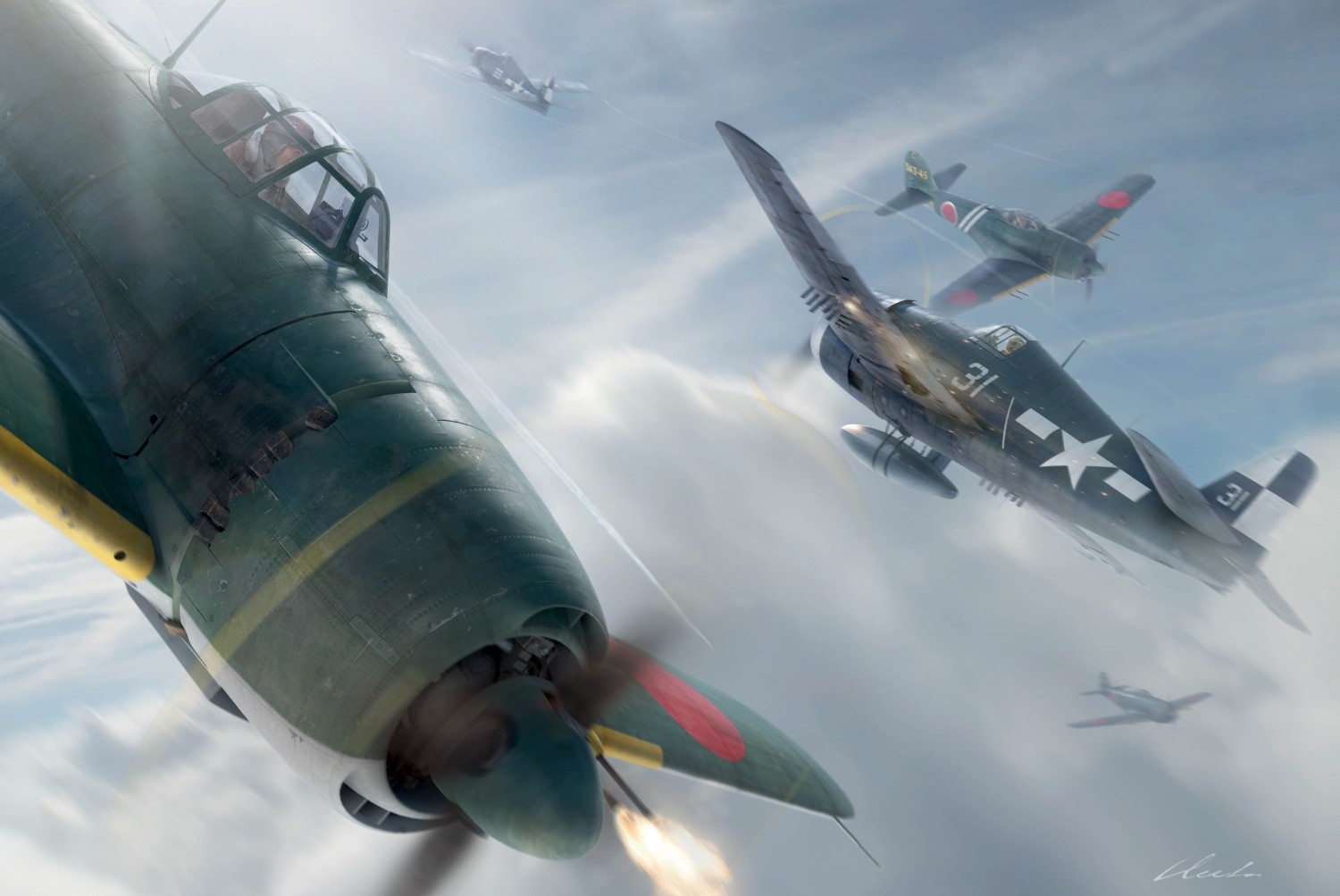 Battlescene taken from Duel 91: Hellcat vs Shiden/Shiden-Kai. Artwork by Gareth Hector.
The consistent high quality of the artwork that has graced the covers and pages of the Duel aviation titles since 2007 has been a trademark of the series. The bulk of this work has been created by just two highly talented artists – Jim Laurier, based in New England, and Scotsman Gareth Hector. Their attention to detail is truly breathtaking, and it is always a personal highlight for me when the artwork files for a new title arrive from them. Jim and Gareth do not work in splendid isolation, however. Their creations reflect the quality references supplied to them by the numerous authors whose work make up the Duel series.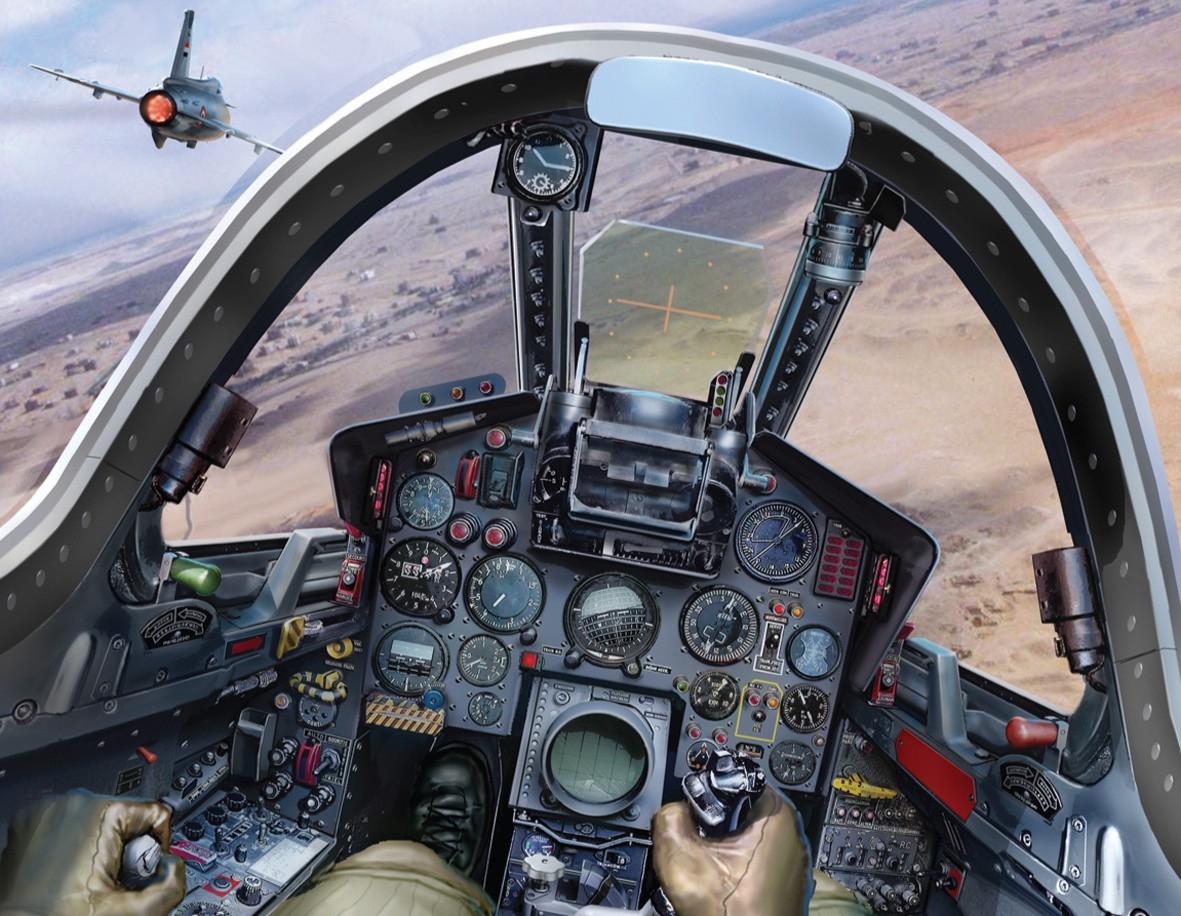 The Mirage IIICJ's cockpit view taken from Duel 28: Mirage III vs MiG-21. Artwork by Jim Laurier.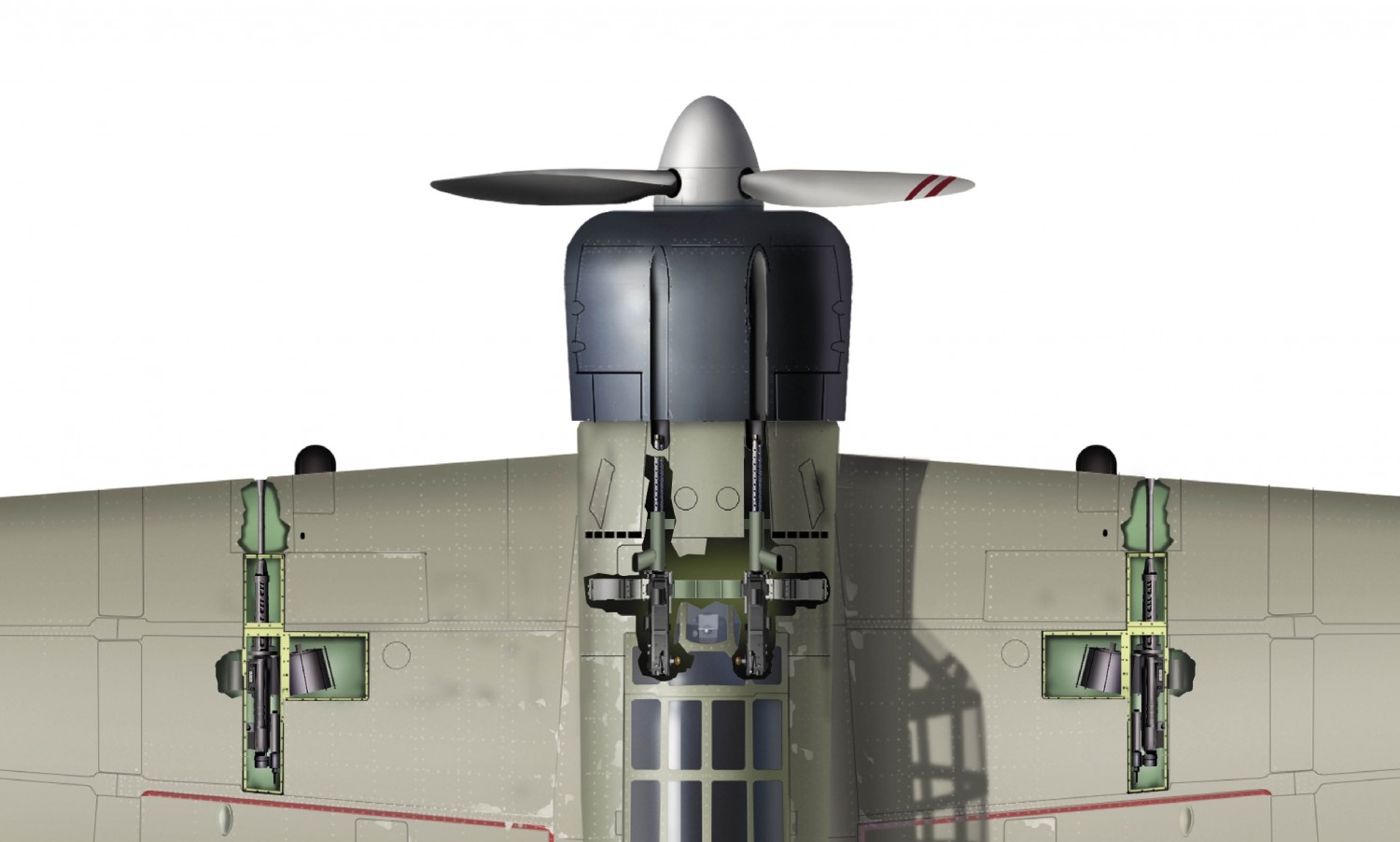 A6M2/3 Zero-sen model 21 armament view taken from Duel 93: Spitfire VC vs A6M2/3 Zero-sen. Artwork by Jim Laurier
I look forward to commissioning and working on the next 50+ aviation Duel titles as the series strives for a double century. Future subjects for coverage include Spitfires and Fw 190s fighting for supremacy on the Channel front from Dieppe to D-Day, SBD Dauntlesses clashing with Zero-sens in the pivotal Pacific battles of 1942-43, and the fearsome Ju 87G-1 'Kanonenvogel' tackling hordes of T-34s on the Eastern Front.