Gaslands: Refuelled comes out in September, but here at Osprey Games HQ we couldn't wait. And so, without further ado, please let us introduce the Gaslands: Refuelled Chop Shop Challenge. Over the next few weeks we are going to be showing off our Gaslands creations, and we invite you all to do the same! If you want to show off your cars simply email us at [email protected] and include 'Chop Shop Challenge' in the subject, and we'll include it in our upcoming gallery of Gaslands awesomness! You can also share your creations on Twitter - just make sure you include #chopshopchallenge in your tweet!
Introducing the Steel Hog – my entry into the office Gaslands Refuelled: Chop Shop Challenge! I wanted to do a car that looked like it was part of the 'minor league' circuit. Something with more personality, perhaps, than performance. For that reason, I hunted the charity shops and found this guy for 50p.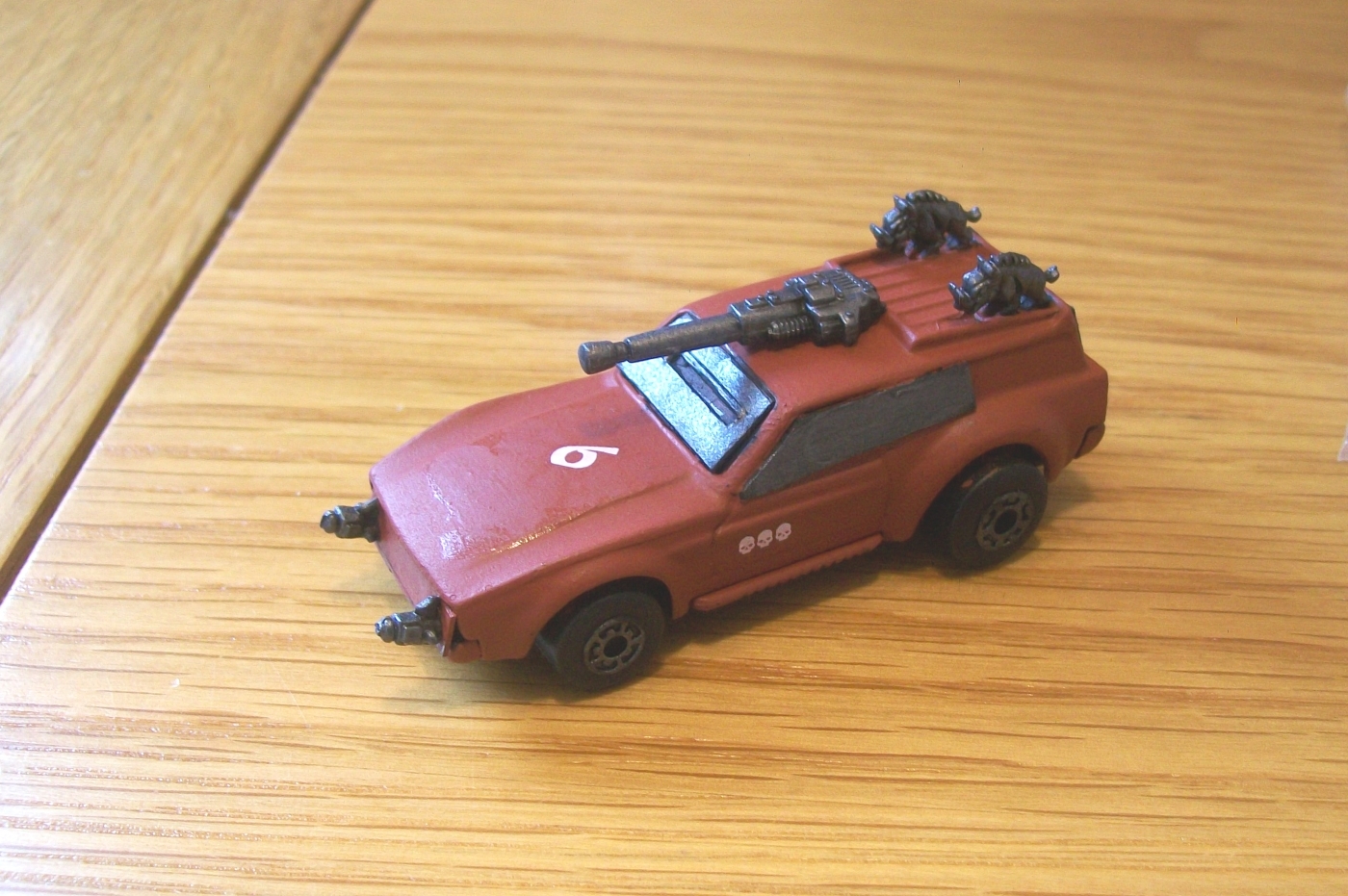 I started the build by covering over the windows with plasticard. The main gun comes from the EM-4 plastic mech set (a great place to pick up some cheap guns that look great on cars). The two 'steel hogs' on the back come from the top of the banner poles in the Oathmark Dwarf Heavy Infantry box. The little 'tusks' on the front of the car are pieces off the same banner pole.
I went with a quick and dirty paint job. I don't paint many vehicles, so my technique isn't great. The main colour is a dark red because it harkened back to the 'Hogs' of the Washington Redskins, for anyone into their classic NFL. Then a bit of steel/silver for the weapons and armour plates, and painting was pretty much done.
I finished it up with a few decals taken from the Games Workshop Cadian Infantry box – thus giving the car its number and its kill stickers!
The Steel Hog

Sponsor

Rusty's Bootleggers

Vehicle Type

Special Rules

Cost

Build Slots

Car

-

12

2

Weapons

Cost

Build Slots

Heavy Machine Gun (Front Facing)

3

1

Shotgun (Crew Fired)

4

-

Upgrades

Cost

Build Slots

Armour Plating

4

1

Perks

Reckless and Built

Cost

Total Cost

Party Hard

-

23

Dutch Courage

-

As Straight as I'm Able

-

Over the Limit

-
Gaslands: Refuelled comes out on 19 September. Preorder your copy today!