In today's blog post, Anthony Rogers looks at Operation Accolade and the process of researching and writing his book Kos and Leros 1943.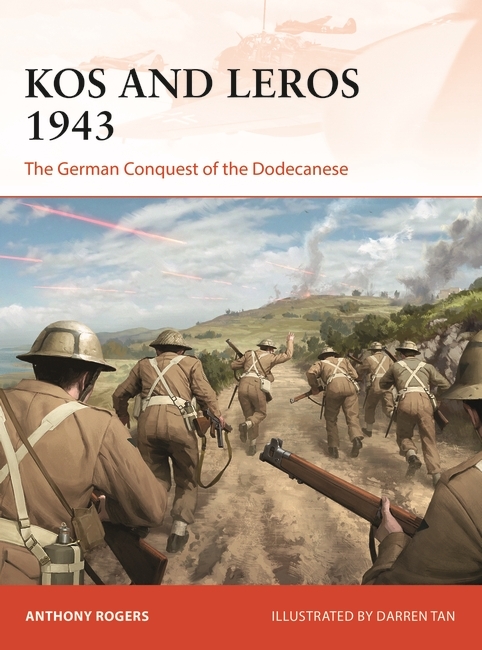 Accolade remains one of the lesser-known British military operations of World War II, an ambitious undertaking by Winston Churchill to occupy the Dodecanese with the cooperation of co-belligerent Italian forces. It would end in abject failure. By autumn 1943 the war was beginning to turn against the Wehrmacht and an Allied defeat was best forgotten. It would have been very different had Accolade been a success.
Churchill had argued forcefully about the merits of opening a new front in the eastern Aegean. Besides adding to the difficulties of an already overstretched Wehrmacht, such a development, it was hoped, might even convince neutral Turkey to join the Allies. The Americans were less than enthusiastic, however, and considered Accolade as an unnecessary diversion. The operation, therefore, would be an almost entirely British affair. As a prerequisite, it was understood from the outset that Rhodes had to be taken together with its all-important airfields. But in response to the anticipated Italian armistice of September 1943, German forces pre-empted the British by moving against their erstwhile allies and seizing Rhodes. Churchill was undeterred and British forces were instead dispatched to other islands, including Kos and Leros. Adolf Hitler could hardly ignore a British presence in the eastern Aegean. For one thing, the German war effort was reliant on exports from Greece, a valuable source of ore, including chrome (used in armoured steel production) and bauxite (from which aluminium was extracted). Furthermore, if Allied air bases were established in the region, the important Ploesti oilfields in Romania would be within easy reach of bombers and long-range fighters. Units of the German 22. Infanteriedivision together with other specialist formations were therefore tasked with dealing with the problem. For more than two months German and British-led forces clashed at sea, in the air and on the ground.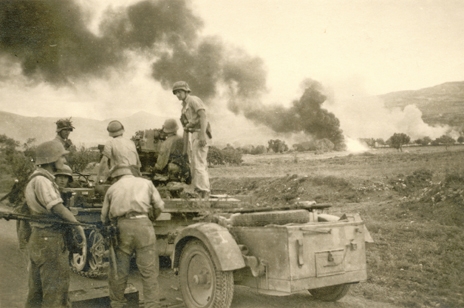 Kos: 3 October 1943
Both sides employed infantry as well as 'elite' units. British land forces included a company of the Parachute Regiment and elements of the Long Range Desert Group (LRDG) and Special Boat Squadron (SBS). The Germans made good use of paratroopers, including a company of the Division Brandenburg. But success on the ground was dependent on air support and unfortunately for the British the air belonged to the Luftwaffe. For Churchill, the Aegean was an ignominious defeat, providing Hitler with his last enduring victory and leaving German forces in occupation of key islands until the end of the war in Europe.
Writing about the 1943 war in the Aegean was challenging. When I began my research, few authors had tackled the subject. I quickly realised there was scope for an in-depth account drawing on both British and German primary sources. I had another reason to focus on Kos and Leros. Having a Maltese mother, I had a keen interest in Malta's history, the war years in particular. At the height of the battle for Malta, in 1942, there were 11 British infantry battalions on the island. Of these, 4th Battalion The Royal East Kent Regiment (The Buffs) was later deployed to the Aegean together with 234 Infantry Brigade, comprising 1st Battalion The Durham Light Infantry, 2nd Battalion The Royal Irish Fusiliers (Faughs) and 2nd Battalion The Queen's Own Royal West Kent Regiment. Additional to the ex-Malta contingent was 1st Battalion The King's Own Royal Regiment (Lancaster). 1 DLI was sent to Kos; the remainder were tasked with defending Leros. All five battalions were effectively wiped out. Their story deserved to be told.
For two years, I would spend five or six days a week researching original documents at the Public Record Office (today The National Archives). I discovered additional material at the Imperial War Museum and elsewhere. From Berlin, author Peter Schenk provided wartime German records and reports, all of which needed to be translated into English – a daunting task. Producing English-language transcripts took a year or so and this was entirely due to the hard work of Sonja Stammwitz, a superb translator. In addition, Sonja interviewed German veterans. Slowly, but surely, my work began to take shape.
I travelled to the Aegean several times and spent many days exploring, retracing the steps of those who had fought in the region decades before. Familiarising oneself with the terrain is vital to understanding a battle. I first visited Leros in 2000. It was forbidden at that time to venture too close to military areas, but with local assistance I was able to gain access to what had been key features during the battle, including the heights of Clidi and Meraviglia. Clidi is still a restricted zone, but it has since become possible to freely explore Meraviglia – location in November 1943 of Fortress Headquarters. In the nearly 20 years since my first visit much has changed. Rachi, an elevated ridge running across the narrow central part of the island, was fought over time and again. In 2000 one could walk from one end to the other. But Rachi has since become popular with those seeking to build a house with a view, transforming the landscape forever. Nevertheless, much of the countryside remains unspoilt, including that surrounding Clidi and the slopes of Appetici, another important height.
Churchill's Folly was my first book about the Aegean war and is a comprehensive account, much of it related in the words of those who were there. Kos and Leros 1943 is an adaptation of my original work and includes a series of maps explaining the day-to-day progress of the fighting on Kos, Levitha and Leros. There are limited wartime situation maps and these tend to vary in quality. So it was necessary to cross-reference what was available with information in after-action reports, personal diaries and other first-hand accounts. Map references of British field graves on Leros enabled me to determine more precisely troop movements and limits of advance. The maps, therefore, are as accurate as can be expected. The 'Bird's Eye View' of Meraviglia is particularly impressive, and an accurate interpretation of a 1943 Luftwaffe aerial image.
Finding images presented a problem that was overcome when veterans or their families provided photographs. I also discovered long-forgotten images at the Bundesarchiv in Koblenz. Nearly all are German photographs. The reason for this is simple. German servicemen often owned their own camera, which they freely used. Most British servicemen, on the other hand, did not, and those who did were restricted in what they could photograph. Photographs of Allied ground forces in the Dodecanese in 1943 are extremely scarce, and seem to derive mainly from those who were in the LRDG and SBS. There was also one army war photographer on Leros who had arrived with a civilian war correspondent, Leonard Marsland Gander. Gander escaped just before Leros fell. The photographer, Sergeant Wood, had to stay. With the exception of a few images now at the Imperial War Museum, whatever photographs he took were lost.
Putting together Kos and Leros 1943 was an interesting and enjoyable experience. I do hope readers are pleased with the result.
To find out more, pre-order your copy of Kos and Leros 1943.