2019 has been a busy, but great year. To mark such a fantastic year, we're going to take a look back at some of our highlights, from book votes and artwork to published reviews. For the first of this three-part series, let's cast our minds back to the beginning of the year and look at some of our favourite moments from January to April.
Highlights
What people said about our books
"An incisive new book by Luke Daly-Groves has come to the aid of those determined to tell the truth with a brilliant demolition of the conspiracists." ― The Mail on Sunday
"This book about the Battle of Mogadishu is a must-read, simple as that."― Soldier Magazine
How to Survive in the Georgian Navy:
"Packed with great facts and a multitude of figures this is a very engaging little book and wherever you dip into, you will find it very hard to put it down." ― Model Boats
"All I've got is huge praise for this. The quality is exceptional, it is a fabulous title, and if you are remotely interested in the Royal Navy, in naval vessels, or in the Cold War, this has got a huge amount to offer and is highly recommended." ― Geoff Coughlin, Scale Modelling Now
---
Awe-inspiring Artwork
It's so hard every month to pick out just three pieces of artwork from all of those publishing, so picking out the best of them was a real challenge - but we've had a go nonetheless. Which is your favourite?

Here, two opposing shield-walls approach each other to fight in close order. Within this formation, the spear is the principal weapon. On the left of the scene, archers seek to disrupt the opposing shield-wall by loosing arrows into the enemy's midst. On the right, a small number of mounted warriors are moving to turn the flank of the opposing shield-wall, again with the hope of causing the formation to collapse.

This illustration depicts a night raid over Akashi shortly after midnight on July 7, 1945. Between 12.15am and 1.27am the raiders dropped 975.9 tons of M-69 incendiaries from altitudes ranging from 6,900 to 8,200ft. The raid devastated Akashi. By sunrise, nearly 60 percent of the city was in ashes.
The plate here is titled 'Fighting to the death on 203 Metre Hill, 30 November 1904', and depicts the Japanese's concerted attacks at 203 Metre Hill in an attempt to target the remaining Russian ships at Port Arthur.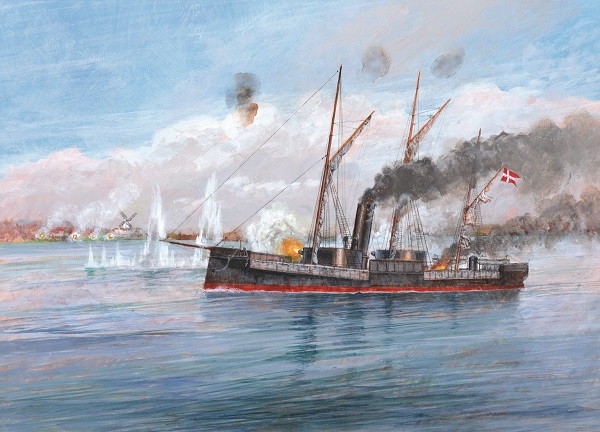 Another fascinating plate illustrates the Rolf Krake of the Danish navy in action near Dybbøl, 18 February 1864. When the Prussians built a pontoon bridge between Alnor and Egersund to improve their lines of communication, Captain Rothe commanding the Rolf Krake was ordered to sortie from nearby Sønderborg and destroy the bridge. Owing to the shallow water of the Flensburg fjord the Rolf Krake was unable to approach her objective. Instead at 9.30am she was drawn into a duel with an emplaced battery of Prussian 12-pounders at Alnor.
---
Best of the Blog
Right at the start of the year, we had a look at the trailers for war films coming out this year. How many of them did you see, and what did you think of them?
Our authors not only produce fascinating books for us; they also pull out the stops to create fantastic blog posts. Here are a few you may have missed at the start of this year.
Kulikovo, 1380: A Battle Almost Lost in Myth by Mark Galeotti
The Aerial Dimension of Operation Catapult by Ryan K. Noppen
A "Wild Bill" for a Wild Theater: The Aleutians 1942-43 by Brian Lane Herder
---
Book Vote Winners
January: New Vanguard
We started this year's voting with a New Vanguard vote, which had a stand-out winner. Polish Warships 1939-45 claimed victory with 56% of the vote, beating Warships of the Republic of Venice, which had 20%, by a large margin.
February: Weapon
February again saw a clear winner, this time in a Weapon vote. Weapons of the Medieval Knight raced to victory with 31% of the final vote, beating Sniping Rifles of World War I, which achieved 23%.
March: Air Campaign
March's Air Campaign vote was much closer than the previous two, with Syria 2015-2018 winning out with 26% of the vote, a close victory over Channel Front 1941, which had 23%.
April: Duel
April's vote battle of the Duels saw Bf 109 vs I-16: Spain 1937-39 taking 30% of the votes followed by UH-1 Huey Gunship vs NVA/Viet Cong: 1965-73 with 24%.