At the end of June we'll be publishing a new Bolt Action Campaign book focusing on Operation Overlord, allowing players to recreate crucial battles, from the scaling of Pointe-du-Hoc and the assault on Pegasus Bridge, to the landings on the Utah, Omaha, Gold, Juno, and Sword beaches.
This week we're taking a look at the German troops that attempted to beat back the Allied invasion, giving you useful references to help you prepare your forces.
Extract from Men-at-Arms 336: The German Army 1939–45 by Nigel Thomas
Artwork by Stephen Andrew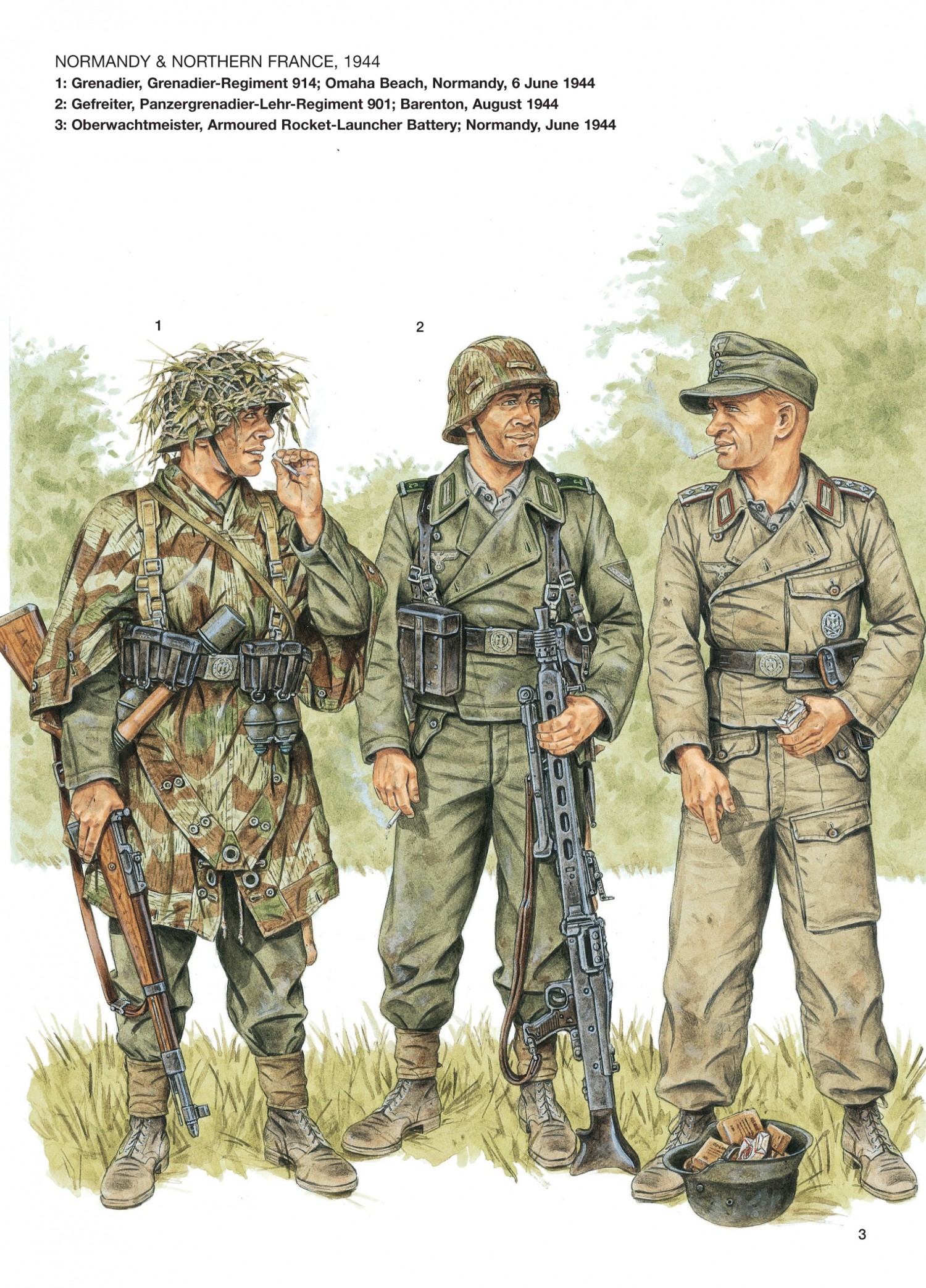 (1): Grenadier, Grenadier-Regiment 914; Omaha Beach, Normandy, 6 June 1944.
This rifleman of the 352.Infanterie-Division opposing US landings on 'Bloody Omaha' is wearing the Zeltbahn 31 camouflage shelter-quarter with its darker side exposed, over his M1943 field tunic and trousers with M1941 field-grey canvas anklets and lace-up boots. His M1942 helmet has a regulation net and foliage. He wears the other ranks' black belt with tropical M1940 canvas infantry support Y-straps, leather rifle ammunition pouches, and slung M1930 gas mask canister. He carries the rare Walther 7.92mm Gewehr 41(W) semi-automatic rifle, a M1924 stick grenade and two M1939 'egg' grenades.
(2): Gefreiter, Panzergrenadier-Lehr-Regiment 901; Barenton, August 1944.
This section first gunner is participating in the unsuccessful Operation Lüttich counterattack, 7-8 August 1944, when his regiment was destroyed. He wears the M1940 special field-grey uniform issued to all Panzer-Lehr-Division troops not entitled to the black Panzer uniform. The dark green M1935 shoulder straps have grass-green branch-colour piping and stitched Gothic L for Lehr, and an NCO candidate's aluminium shoulder loops. The M1940 collar patches are also piped grass-green; rank is indicated by the M1940 left sleeve chevron. His M1942 helmet has the second pattern cover in M1931 splinter-pattern camouflage. He wears M1939 black leather infantry Y-straps, supporting on his belt an MG42 first gunner's spares pouch and P38 Walther pistol in a soft-shell holster.
(3): Oberwachtmeister, Armoured Rocket-Launcher Battery; Normandy, June 1944.
The personnel of independent armoured rocket-launcher batteries, equipped with 15cm Nebelwerfer 42 launchers mounted on half-tracks, were issued the M1940 special field-grey uniform. However, this senior NCO wears the M1942 Panzer working uniform in light grey herringbone twill with large left breast and thigh pockets. This was issued with the breast eagle attached; instead of the regulation M1942 sleeve rank insignia he has added M1935 shoulder straps and M1940 collar patches piped with artillery red (patches piped in regulation bordeaux-red were rare); note also his General Assault Badge. He wears a M1943 peaked field cap, a P38 Walther pistol in a soft-shell holster, and lace-up ankle boots; and carries 'liberated' war booty in his M1942 helmet - American cigarettes were particularly prized.
Extract from Men-at-Arms 415: The Waffen SS (3) by Gordon Williamson
Artwork by Stephen Andrew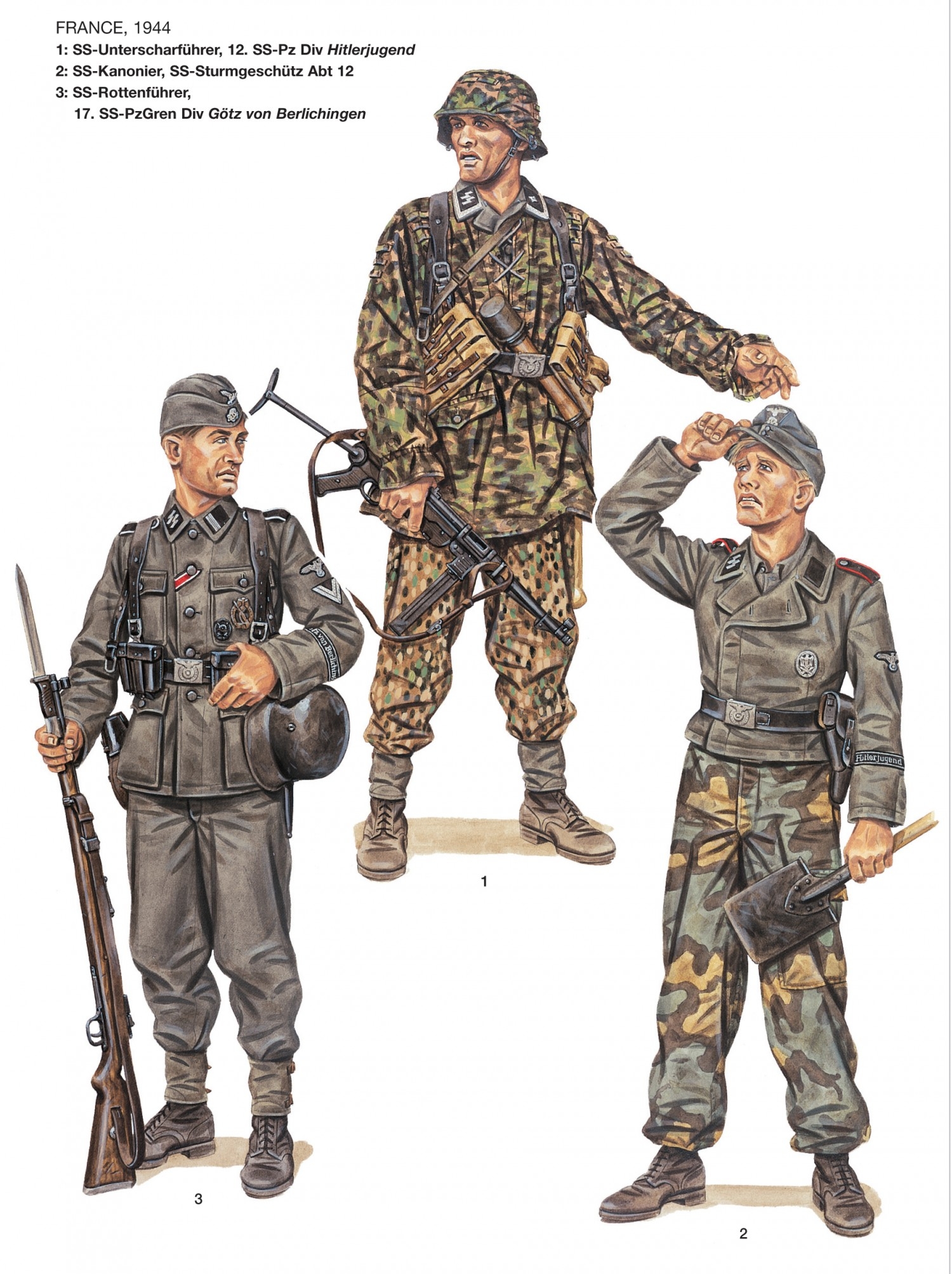 (1): SS-Unterscharführer, 12. SS-Panzer Division Hitlerjugend.
One of the cadre of veteran NCOs from the 1. SS-Pz Div Leibstandarte SS Adolf Hitler wears typical field dress of the Normandy campaign. The reversible second pattern helmet cover and M1942 second pattern smock have slightly contrasting 'summer' sides exposed, the first in sharp-edged so-called 'oakleaf' and the second in 'burred edge' pattern. The trousers are those of the herringbone twill non-reversible 'pea' pattern uniform which appeared that year. Although special rank insignia of green bars and oakleaves on black sleeve patches were supposed to be worn on any clothing which lacked shoulder straps, evidence for their use by enlisted ranks is sparse; this sergeant simply folds his tunic collar outside the smock to show his collar patches.
(2): SS-Kanonier, SS-Sturmgeschütz Abteilung 12.
An armoured assault gun battalion existed from time to time (a Panzerjäger unit, also listed in the original order of battle, never seems to have been completed). This young artillery private is reconstructed in autumn 1944, after survivors of the division's near annihilation in Normandy were given their cuffbands; photographic evidence suggests that it was only sparingly awarded. He wears the jacket of the field-grey 'special' uniform; his personally acquired trousers are made up from Italian Army camouflage material – quite widely seen in Normandy.
(3): SS-Rottenführer, 17. SS-Panzergrenadier Division Götz von Berlichingen.
This junior NCO of either SS-PzGren Regt 37 or 38 is repre­sented as he might have appeared after the remaining Kampfgruppe of this division was pulled out to eastern France for refitting. Despite regulations, photographs show that the old M1940 'Schiffschen' field cap was often still worn alongside its 'universal' M1943 peaked replacement (even by the teenag­ers of the newly raised Hitlerjugend). The M1942 field tunic is worn with M1943 trousers and the canvas anklets and ankle boots which were by now standard issue. His insignia include the divisional cuffband, and he displays the ribbon of the Iron Cross 2nd Class, a Wound Badge, and the bronze-coloured Infantry Assault Badge as awarded to Panzergrenadiers.
Bolt Action: Campaign: D-Day: Overlord will be available from 27 June. Preorder your copy today!