The German High Seas Fleet was one of the most powerful naval forces in the world, and had fought the pride of the Royal Navy to a stalemate at the Battle of Jutland in 1916. After the armistice was signed, ending fighting in World War I, the fleet surrendered to the British and was interned in Scapa Flow pending the outcome of the Treaty of Versailles. One hundred years to this day, on 21 June 1919, the entire fleet attempted to sink itself in the Flow to prevent it being broken up as war prizes. Of the 74 ships present, 52 sunk and 22 were prevented from doing so by circumstance and by British intervention.
To mark this momentous centenary, on the blog today we are sharing some images of the wrecks as they are now, drawn from the incredible Scapa 1919 by Innes McCartney, which published on 30 May 2019.
Scapa 1919 uses modern archaeological techniques to reveal, for the first time, the truth behind one of the greatest mysteries of World War I – the fate of the ships which scuttled themselves in the Flow in 1919.
Using cutting-edge technology including multibeam imaging and underwater photography, examples of which can be seen below, Innes McCartney has fully investigated the wrecks of some of the High Seas Fleet's most important ships, including SMS König, SMS Markgraf and many others. By comparing archive records and footage of the scuttle and subsequent salvage operations with his own research, he has been able to reconcile historical data and modern archaeological evidence to reveal, in stunning detail, the fate of the scuttled fleet.
Underwater Photography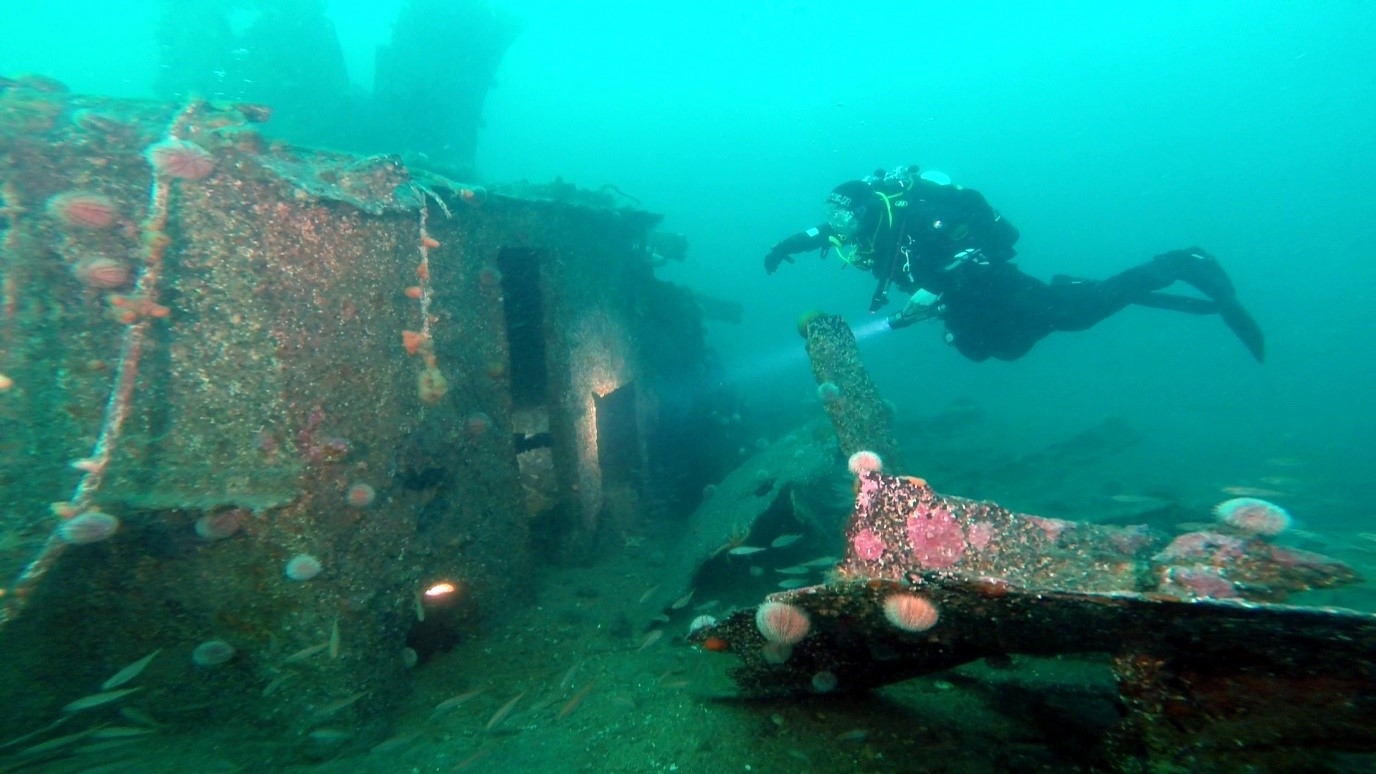 Fiona Houston shines her torch into the doorway on the eastern side of Rysa site A. The wreckage suggest that this site is likely the only König-class battleship salvaged by Metal Industries – SMS Grosser Kurfürst.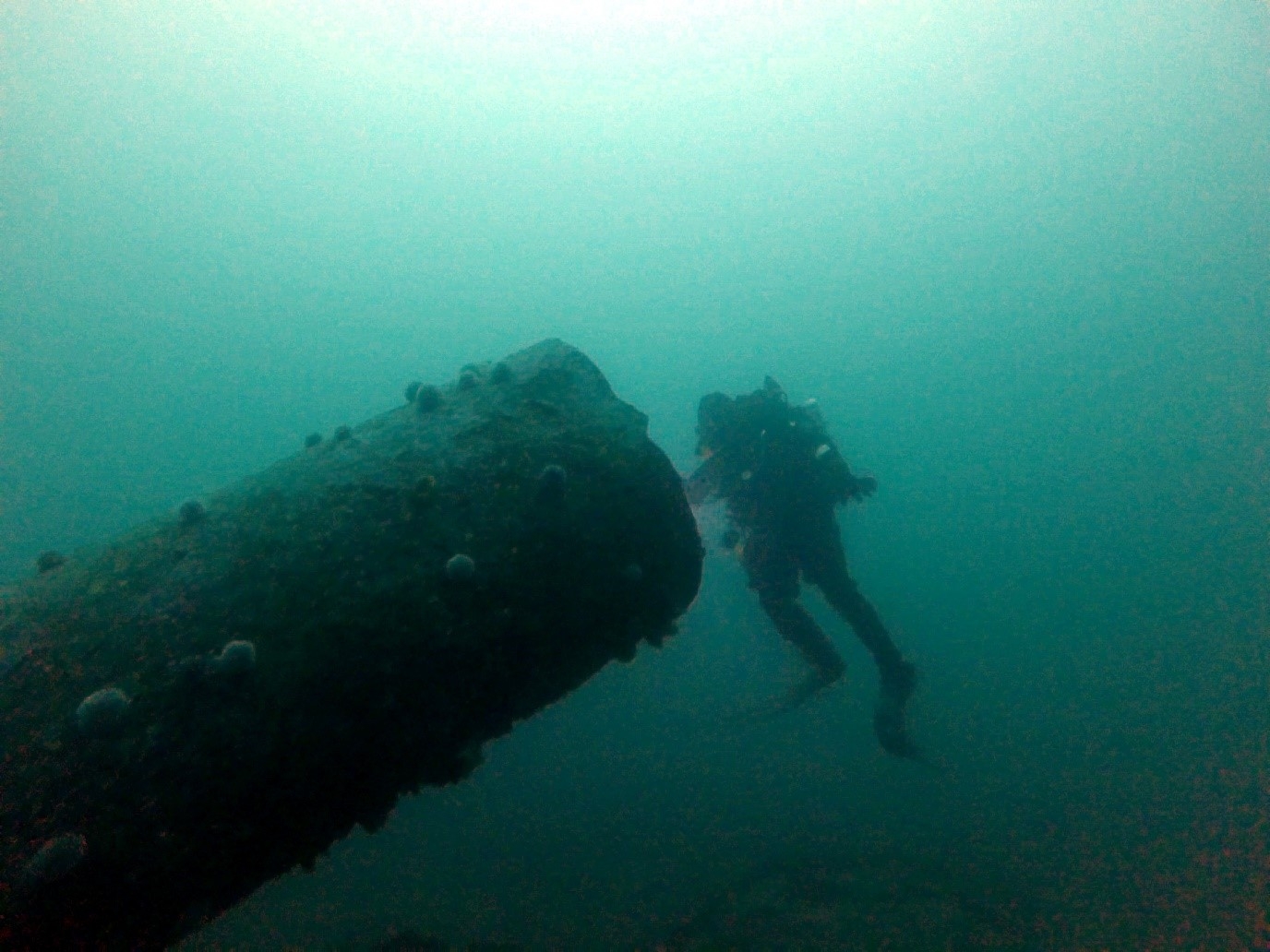 A samson post partially buried in the seabed is examined by a diver. At its upper point it can be seen to have been neatly cut off. This is Rysa site H, which the design of the Samson posts suggests to be the remains of a Kaiser-class battleship, possibly SMS König Albert.
Digital Terrain Models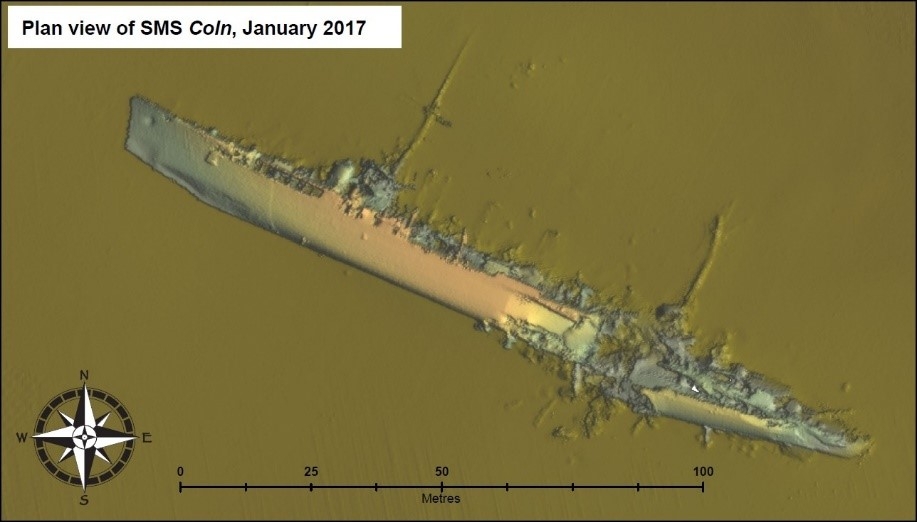 A Digital Terrain Model of the wreck of SMS Cöln, taken in January 2017. The rear of the ship remains mostly intact.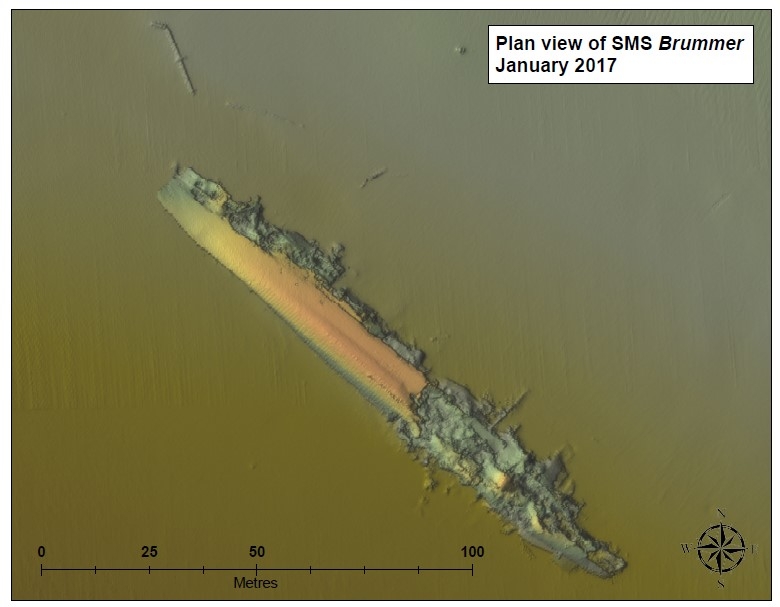 A Digital Terrain Model Plan View of SMS Brummer as scanned in January 2017. The wreck shows the results of commercial salvage of her engine rooms, a consistent feature of the light cruiser wrecks at Scapa Flow.
Hybrid Multibeam Models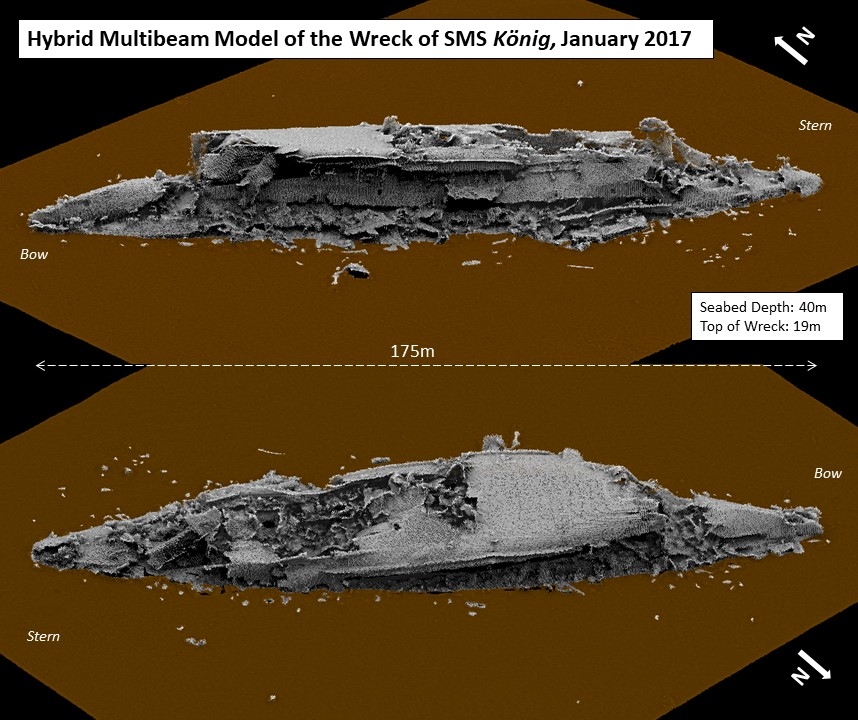 A hybrid model of SMS König reveals many features of the wreck. The breaks in the wreck and areas of collapse are shown in much greater detail than in a Digital Terrain Model.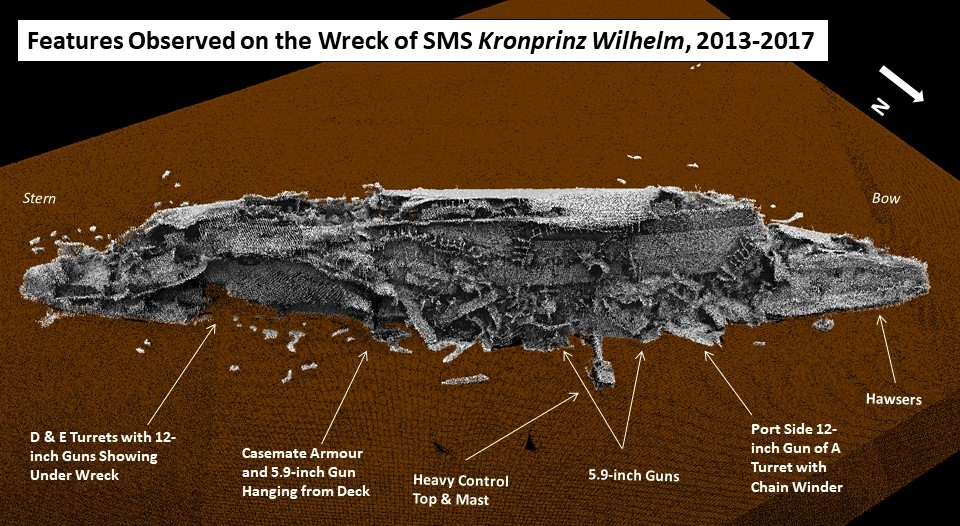 Another hybrid multibeam model, this time highlighting key features of the wreck of SMS Kronprinz Wilhelm, including her guns and Casemate Armour.
All images ©Innes McCartney. Find out more about Scapa 1919 here.