The 2020 Origins Awards Nominees have been announced, and we are delighted to see 5 of our games included in the line up. On the blog today we'll be looking at each of them in a little more detail!
Card Game Category - Embers of Memory: A Throne of Glass Game
Designed by Kuro, illustrations by Coralie Jubénot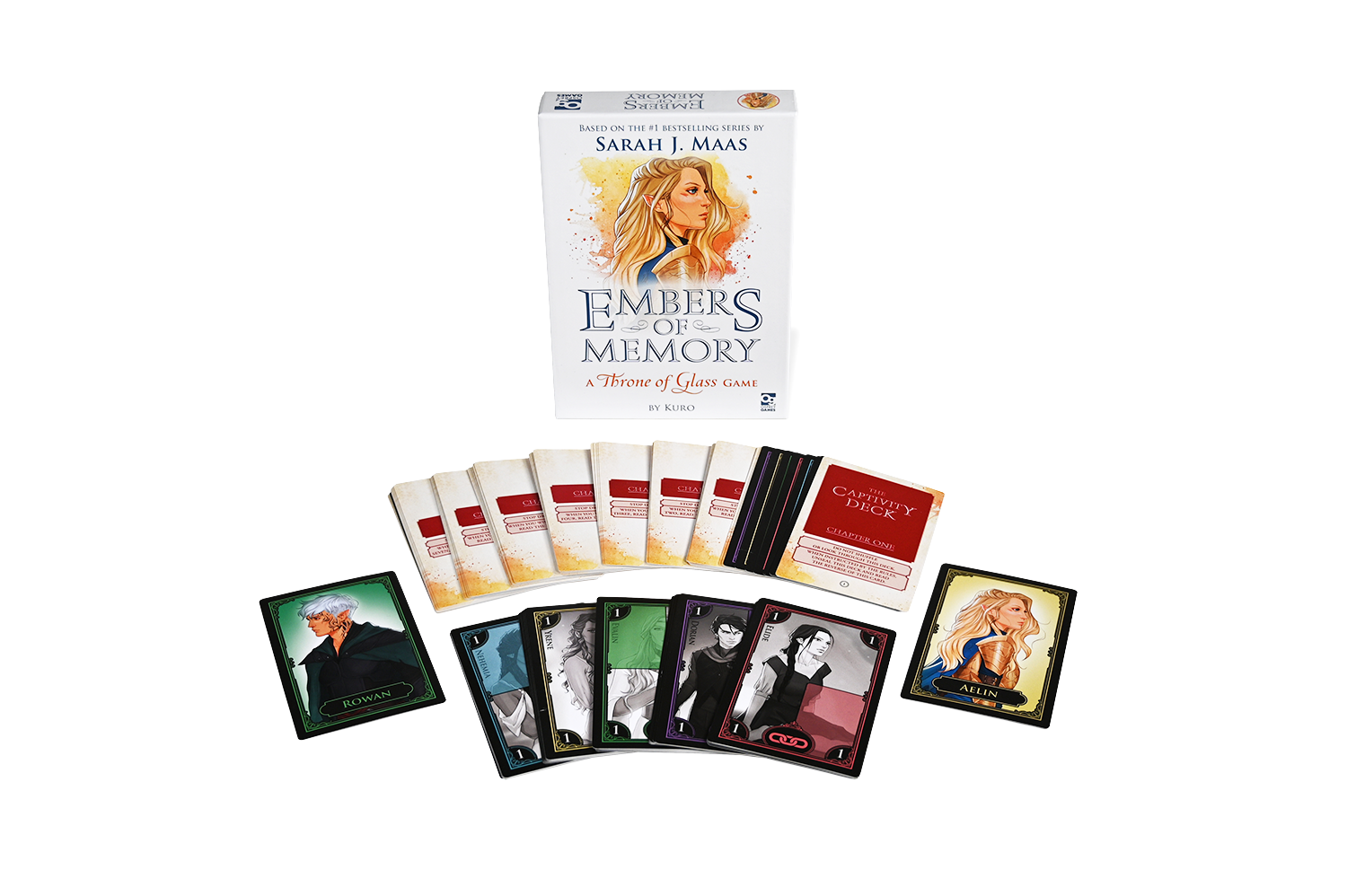 Embers of Memory: A Throne of Glass Game is a co-operative two-player game set during the events of Kingdom of Ash, the stunning climax to the bestselling series by Sarah J. Maas. Working together, players must find the memories needed to strengthen Aelin's resolve against her own inner demons. Both players have a separate role to play in the young queen's struggle, but are unable to speak to one another, communicating through the cards they play and the cards they take.
Order your copy of Embers of Memory: A Throne of Glass Game here!
Check out the video below for a breakdown of the rules for the Prologue of the game!


Historical Minis Category - Bolt Action: Campaign: D-Day: Overlord
From the scaling of Pointe-du-Hoc and the assault on Pegasus Bridge, to the landings on the Utah, Omaha, Gold, Juno, and Sword beaches, this new Campaign Book for Bolt Action allows players to take command of the Allied Forces or those of the defending Axis. Featuring new linked scenarios, rules, troop types, and Theatre Selectors, this volume provides plenty of options for both novice and veteran players looking to recreate these famous battles and begin the liberation of Europe.
Want to try out this supplement to Bolt Action? Order your copy today!
Historical Minis Category - Bolt Action: Korea
Beginning in 1950, the Korean War was a defining moment for the UN and the entirety of the early Cold War, widening the already monumental gulf between the east and west, capitalist and communist. This supplement for Bolt Action expands the rules-set from its World War II roots to this new, and truly modern, conflict. Bolt Action: Korea contains all the rules, Theatre Lists, scenarios, and new and exciting units, never seen in Bolt Action before, to wargame this turbulent period of world history.
Order your copy of Bolt Action: Korea today!
Miniatures Games Category - Gaslands: Refuelled
Designed by Mike Hutchinson, illustrated by David Auden Nash
Shoot, ram, skid, and loot your way through the ruins of civilisation with Gaslands: Refuelled, the tabletop miniature wargame of post-apocalyptic vehicular mayhem. With all-new material including expanded and enhanced perks, sponsors, vehicle types, and weapons. Gaslands: Refuelled contains everything a budding wasteland warrior needs to build and customise their fleet of vehicles in this harsh post-apocalyptic future. With a host of options for scenarios, environmental effects, and campaigns, players can create their own anarchic futures.
Order your copy of Gaslands: Refuelled today and head out for your first Death Race!
Miniatures Games Category - Reality's Edge: Cyberpunk Skirmish Rules
Designed by Joseph McGuire, illustrated by Thomas Elliott
Hyper-reality. The area between the thriving mass of humanity known as the Sprawl and the digital refuge of Cyberspace. This is your playground. As a Showrunner, you can see and manipulate the flow of digital data through the real world - for you, reality is limitless.
Welcome to Reality's Edge, a skirmish wargame set in a dystopian cyberpunk future, where players take on the roles of Showrunners - mercenary hackers who lead small teams of trusted operatives and disposable freelancers. Funded by shadow backers, the Showrunners accept jobs from faceless clients for profit, glory, and better chrome… always better chrome.

Battles take place in the concrete jungle known as the Sprawl, but Showrunners must remain wary of the threat posed by Cyberspace. Hacking is pivotal to the game, with data nodes, robots, machines, and even enemy chrome presenting potential targets for a cunning Console Cowboy. In an ongoing campaign, each skirmish offers you the opportunity to earn experience and equipment, from advanced weaponry and synthetics to cyber-implants, biological enhancements, clones, and much more.

This is a world obsessed with whether something can be done, not whether it should.
Order your copy of Reality's Edge today!