In today's blog post, Mark Lardas discusses how his latest New Vanguard title, US Navy Destroyer Escorts of World War II, came about and examines USS Stewart, one of the destroyers featured in his new release.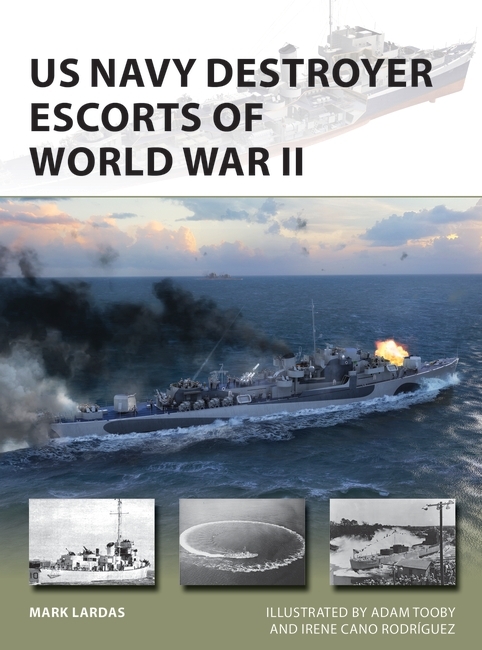 When I finished writing US Flush-Deck Destroyers 1916–45, New Vanguard had only one gap remaining re: US destroyers that saw in World War II: destroyer escorts. It did not surprise me. The destroyer escort is probably the least glamorous surface warship of the twentieth century. Like Rodney Dangerfield, they don't get no respect. Mine-warfare craft, trawlers and naval-seagoing tugs may also get less respect and attention than DEs, but those vessels did not have the primary mission of fighting other warships. The destroyer escort did. Its name underscores its main mission: attacking submarines. It was a fighter. It might be a bantamweight in naval warship weight classes, but at the battle off Samar, destroyer escorts went toe-to-toe with heavyweight battleships and light-heavyweight cruisers. They even fought to a draw.
I wanted to plug that gap. I had been keen to write a New Vanguard about destroyer escorts since shortly after I began writing for Osprey. For me it was personal. I had several older friends who served on DEs in World War II, moreover, only 30 miles from my house lies USS Stewart, an actual destroyer escort preserved as a museum ship in Galveston, Texas.
Stewart is one of two preserved DEs in the United States. (The other is the USS Slater on the Hudson River near Albany, New York.) Three others are museum ships in Brazil, Columbia, and the Philippines and the other four are Cannon-class ships. Stewart is the sole surviving example of the Edsall class, and the only surviving DE that has spent its entire service life in the US Navy. The others, including Slater, were given to US allies after World War II ended. Stewart is also the DE that has served as a museum ship longest. It, along with the Gato- class submarine Cavalla, have been at Seawolf Park since 1974. Slater was still part of the Hellenic Navy's Aetos then. Stewart has been in Texas longer than I have. Seawolf Park was one of the first places I visited after moving to the Houston area in 1979. I have been a frequent visitor there ever since.
I pitched US Navy Destroyer Escorts of World War II upon completion of US Flush-Deck Destroyers 1916–45. My choice for the cutaway was obvious. Slater is the more glamorous of the two US survivors, but Stewart was the author's home town favorite- and in more than one way. Stewart was built in Houston, Texas during World War II. It was the first of 38 Edsall-class destroyers constructed at Brown Shipbuilding's Greens Bayou Fabrication Yard. (Brown built 61 total DEs, including Samuel B. Roberts, also featured in this book.) Stewart was named after Commodore Charles Stewart who commanded the US Navy's frigate Constitution when it battled HMS Cyane and Levant. That battle was featured in the first-ever Osprey book I wrote. It was another reason to feature Stewart. Plus Stewart had an odd link to US Flush-Deck Destroyers: a four-piper had been named Stewart; it was scuttled in the Dutch East Indies in 1942, and presumed destroyed. DE-238 Stewart replaced DD-214 Stewart except DD-214 ended up salvaged by the Japanese and ended the war with the ignominy of being the only US Navy warship ever commissioned by the Imperial Japanese Navy.
Stewart is too often a second choice. Among DE buffs, Slater gets more attention, possibly because it is in New York, and possibly because it is a stand-alone museum ship. Stewart shares Seawolf Park with Cavalla and Seawolf Park visitors tend to show more interest in Cavalla as the only US submarine to sink one of the Japanese aircraft carriers which attacked Pearl Harbor. It sank Shokaku during the battle of the Philippine Sea. Cavalla deserves attention, but so does Stewart. Throw in the co-operation I got from Seawolf Park's staff and volunteers, and Stewart had to be my choice for the cutaway.
I have included some of my photographs of Stewart. Some of my photos ended up in the book, copies of others were sent to the artist who created the plates. Don't be satisfied with the pictures. If you are in the area, drop by Seawolf Park and tour the Stewart. It is open to the public. Take in the Cavalla, too.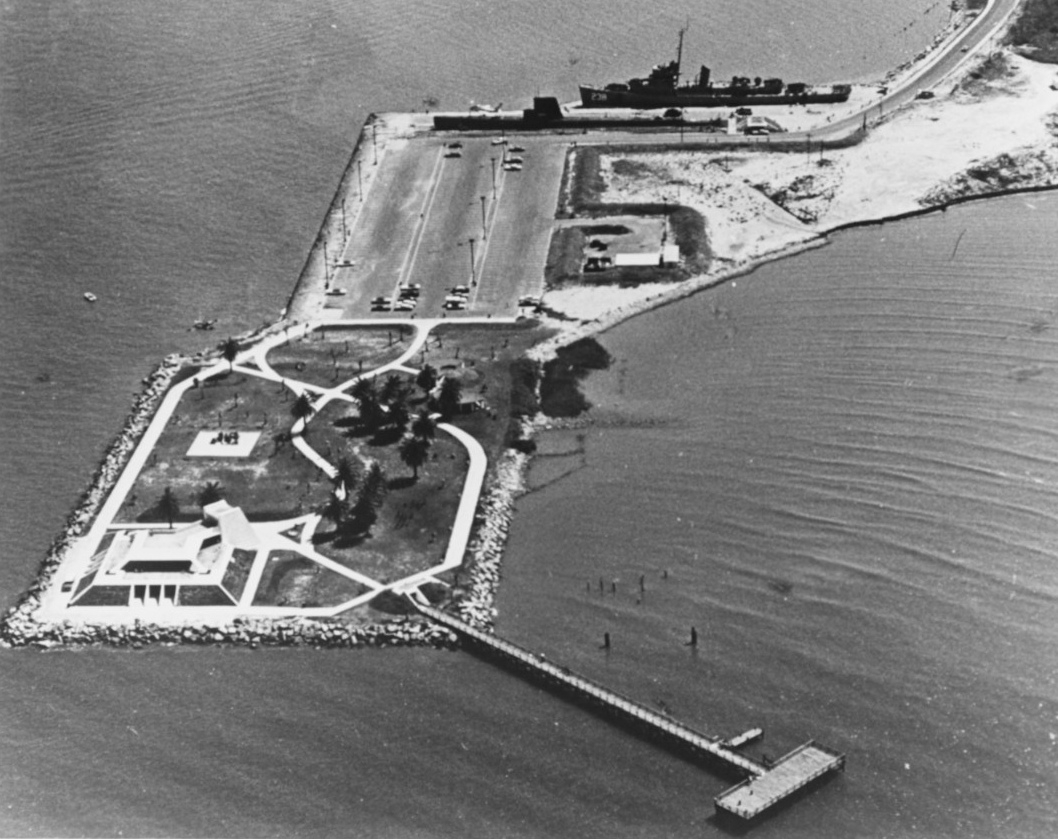 Seawolf Park in 1974 (US Navy Heritage and History Command)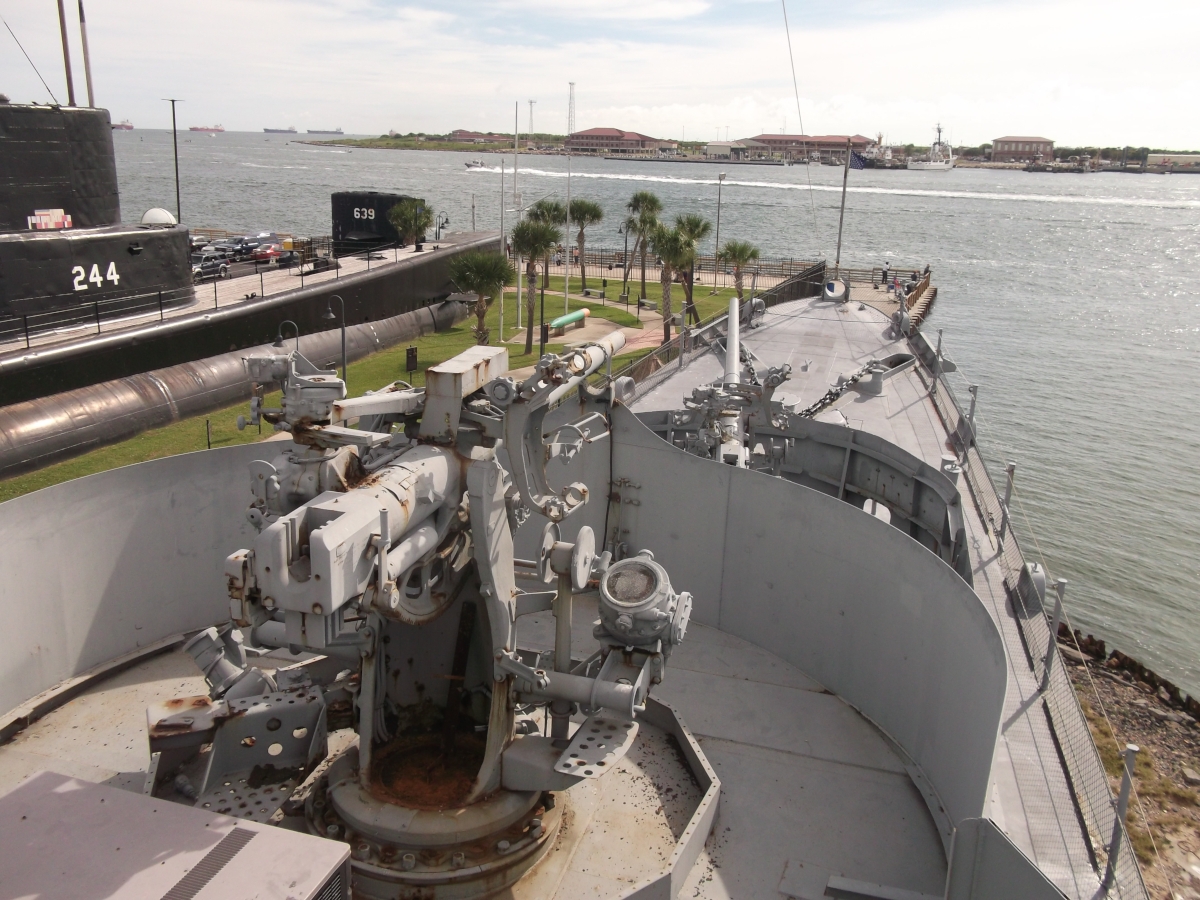 A view looking down from Stewart's bridge wing; the same view as would have been seen aboard Buckley. (Author Photograph)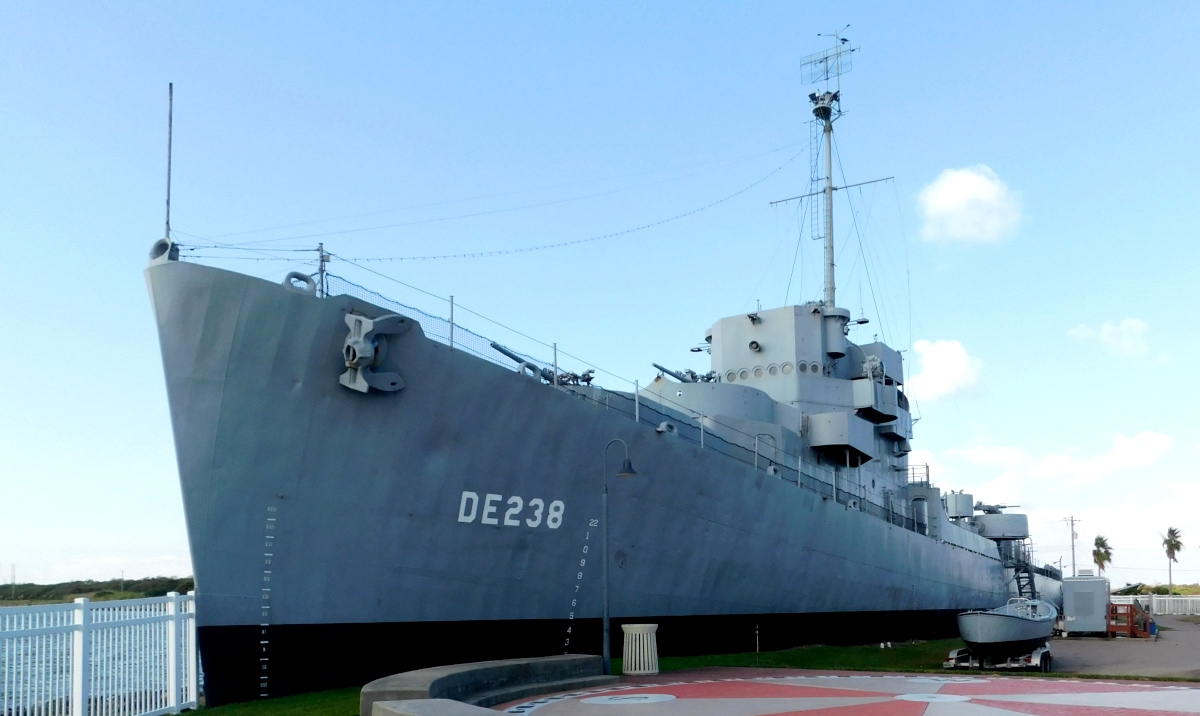 USS Stewart in Seawolf Park today (Author Photo)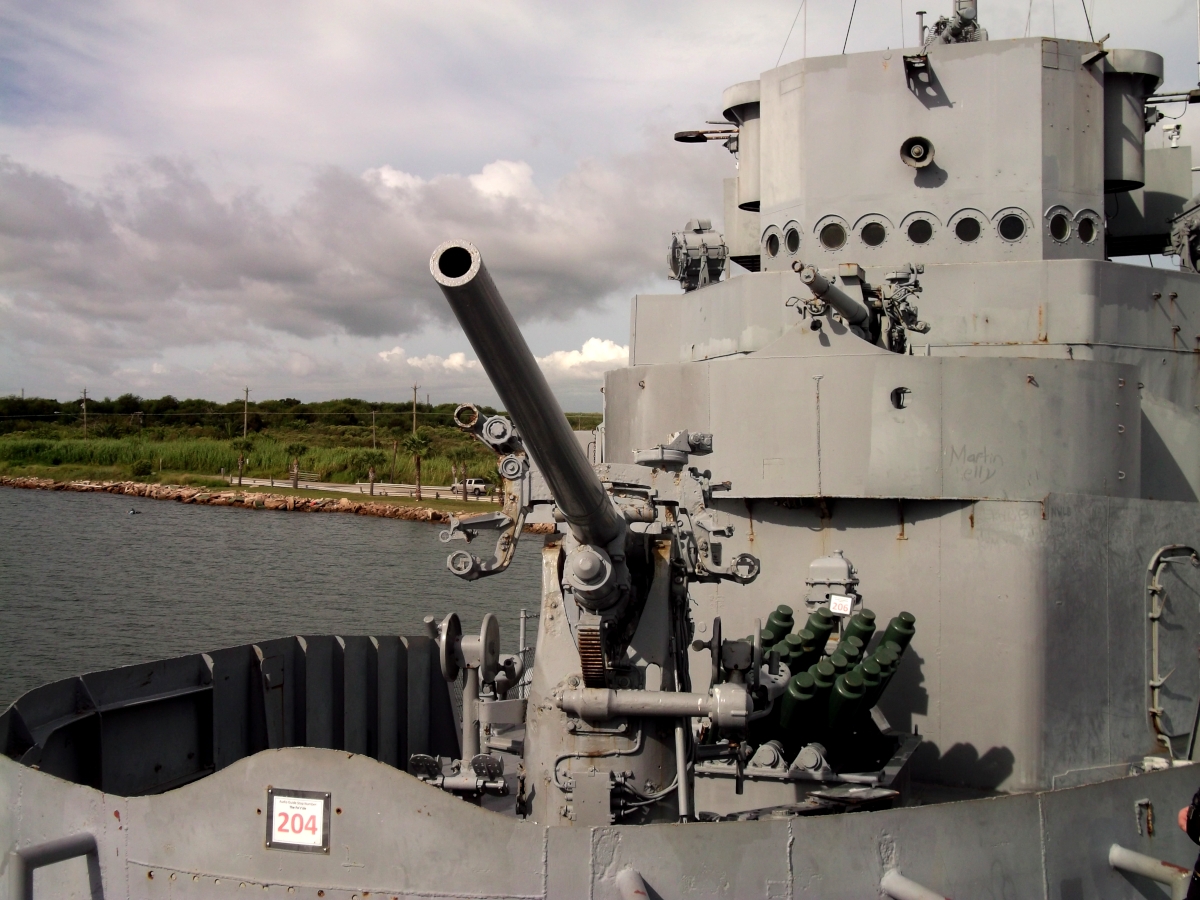 Stewart's forward 3-inch guns, with its hedgehog between them. (Author Photograph)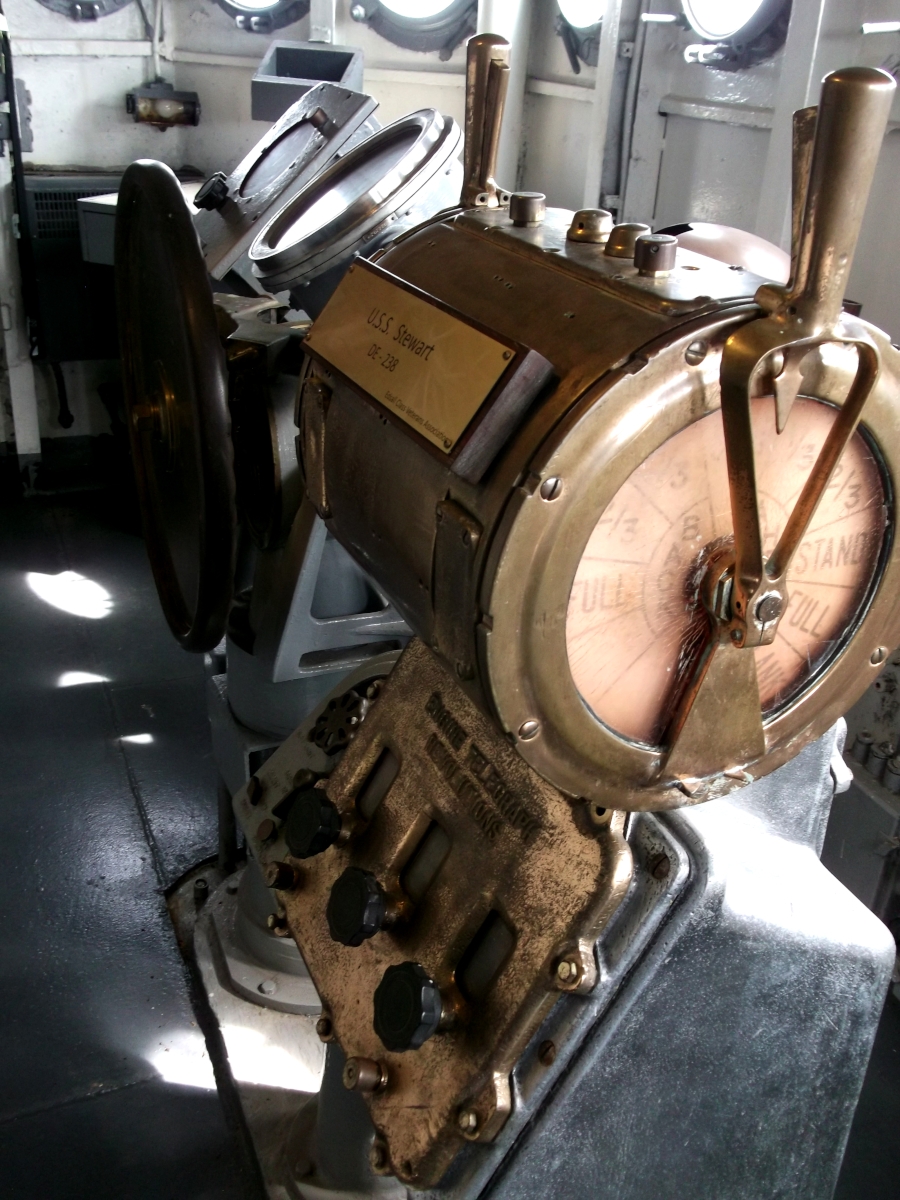 Inside the bridge of Stewart. This is the engine room telegraph. (Author Photograph)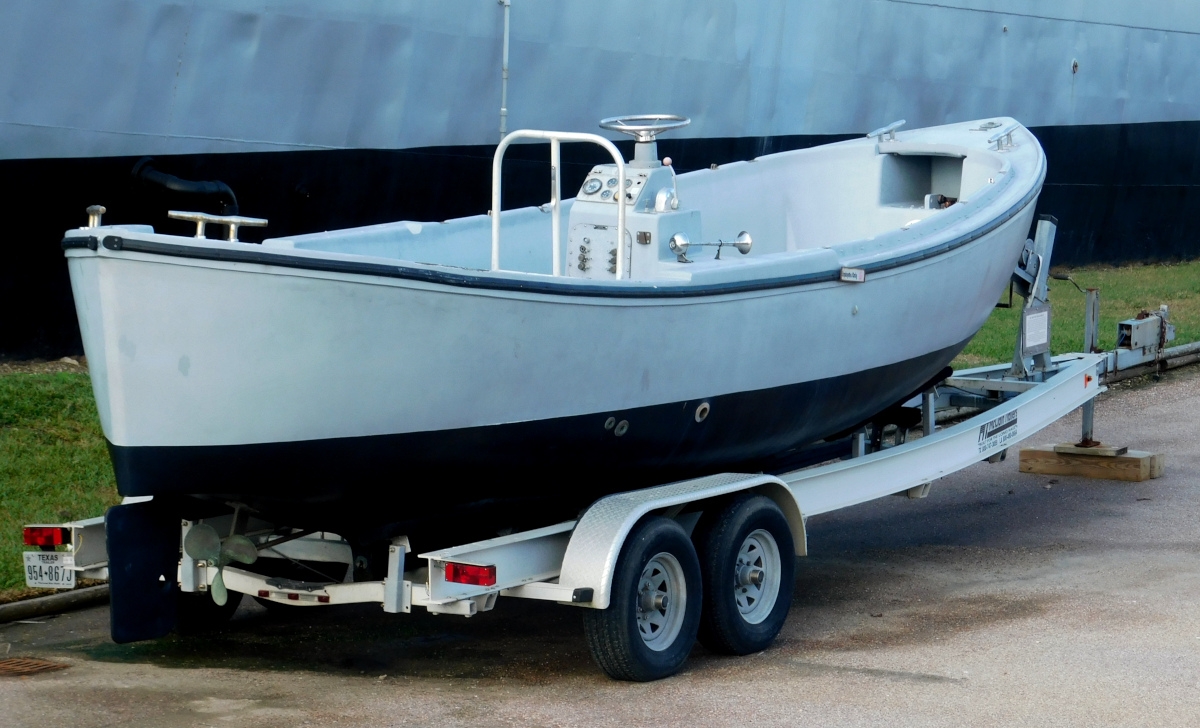 A Navy whaler, similar to those carried by destroyer escorts (Author Photograph)
US Navy Destroyer Escorts of World War II publishes 26 November. Preorder your copy from the website now!