An Englishman Abroad, recounts the fascinating true story of Dick Mallaby: spy, Special Operations Executive operative, and the first British agent to be inserted into Italy during World War II. Immediately captured and interrogated by Italian Forces, only his quick thinking and ability to talk himself out of trouble spared him from execution. From that moment on, he was set on a path which saw him become personally involved in some of the most important events in the history of Italy: the Italian Armistice and the escape of the king.To mark the anniversary of the public announcement of the Armistice of Cassibile, author Gianluca Barneschi gives a brief overview of Mallaby's incredible exploits.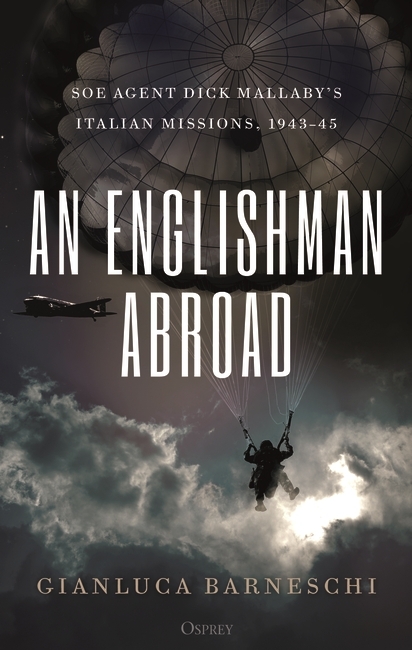 This is a real story and an incredible one.
A very relevant part of a macro history indeed: the first surrender of an Axis nation in World War II.
Its main character is Richard Mallaby, born in Sri Lanka on 26 April 1919. In June 1925 he arrived in Italy with his father and lived for the following fourteen years in Asciano, near Siena. Dick was a handsome boy with a reputation for daring enterprises, like cycling along the parapets of bridges.
When war broke out, he decided to enlist in the British Army and managed to escape from Italy (which was not at war at that point). He arrived in Britain on 3 September 1939 – the day that country declared war on Germany.
On 18 October 1939 he enlisted in 8th Battalion, the Devonshire Regiment. In March 1940, Mallaby was engaged in coastal defence duties in Sussex; he later volunteered for a parachute course and joined the elite No. 2 Commando. In February 1941 he left the UK in the ranks of No. 8 Commando, part of the 'Layforce' special unit, and the following summer Mallaby fought against the Italians at Tobruk.
On 15 January 1942, Mallaby finally got in contact with Special Operations Executive (SOE) and was immediately recruited at its Cairo station.
SOE had planned to set up a radio in Italy, and aimed to infiltrate an agent. From October 1942 it began to train an Italian volunteer (codenamed 'Kelly'), who in November 1942 was placed in the hands of Dick Mallaby for specialized advanced training.
Despite 'Mallaby's medicine', the patient did not improve. Kelly definitively gave up when informed of the imminent launch of his mission (especially on account of his fear of parachuting).
Mallaby proposed himself.
Faced with the objection that the agent should appear Italian in all respects, he pointed out that, regardless of his appearance, his Italian was better than his English.
On 13 August 1943, Mallaby's operation (Neck) began: he was to be dropped over Lake Como during the night and start his activity as wireless operator.
What Mallaby and SOE didn't know was that all the agents of the Italian organization with whom they were in contact were members of the Italian counterintelligence services.
Mallaby set out dressed as an Italian labourer. On top of these clothes he wore a parachute smock, a jumpsuit and a wetsuit: it took two people to help him get on board the plane in the hot air of the Blida airport in Algeria.
At 10.02pm on 13 August, Mallaby (codenamed 'Olaf') took off.
At 2.48am he reached Lake Como.
According to the plans, the site chosen for the drop was quiet, and it was highly unlikely that anyone would be around after 10.00pm, but in reality Mallaby was spotted entering the water: despite it being nighttime, the villages around the lake were all lit up.
Why?
It was a full moon night, but that was planned. The problem was, Milan had been heavily bombed the previous night, and so thousands of people had fled to the Lake Como area, which was now busy and brightly lit.
Agent Olaf hit the water safely, but was soon intercepted. He was captured before his mission had begun.
He claimed to be an Italian aviator, but his inflatable dinghy, with its English writing, immediately killed this explanation.
An examination of what he was carrying proved to be highly compromising: quartz oscillators; lots of money; false documents; spare parts for the radio; cryptographic codes.
It was immediately understood that the he was a precious find.
The prisoner was put in the hands of SIM (Italian military intelligence).
Olaf adhered to the number one rule of a captured special agent whose life is on the line: buy time.
But things immediately became strange.
SIM's bulletins did not mention his capture, but what was omitted from their confidential documents was splashed on the front page of the daily newspaper La Sera–Il Secolo on Wednesday 18 August 1943, with the headline: 'The Man who Fell from the Skies was Betrayed by Moonlight'.
Mallaby had managed to avoid the customary fate of a captured, non-uniformed agent (namely, the death sentence).
And in Portugal someone was working not only to save him, but also to let him play an unexpected and sensational role.
This man's name was Giuseppe Castellano, an Italian brigadier general tasked to conduct secret peace negotiations with the Allies. The meetings between Castellano and Eisenhower's staff led to the unexpected developments in Mallaby's destiny to have personal involvement in major events that followed.
Quick and secret communication between the Italians and the Allies was essential. The Italians departed from Portugal with a B2 radio and cyphers, but it was pointed out to them that the right person for operating the device properly was in Italy.
But the implementation of the radical change in Mallaby's destiny was dangerously distant.
Castellano boarded his train to Italy on 23 August 1943, bearing the red-hot surrender documents, the radio and the cypher. As soon as he arrived in Italy, he ordered Mallaby's transfer to Rome.
Thus began one of SOE's most important operations, which, beyond its positive outcomes, also ensured priority and exclusivity over its British and US competitors, boosting the confidence of SOE's personnel at a very critical moment. The brilliant head of the Italian section of SOE, Cecil Roseberry, signaled to his colleagues: 'for your information, 'C' [the British SIS] is furious that we got there before them and might try to sneak in'.
The two radio stations linked by Olaf were named Monkey (at Mallaby's end) and Drizzle (at Massingham, the secret base located near Algiers).
Castellano finally arrived in Rome on the 27th; Dick Mallaby, who had already been transferred to Regina Coeli Prison in Rome, was immediately taken out of jail. The young Englishman, unaware of the positive outcomes that had been achieved in his favour, was afraid that this new journey was taking him to a firing squad.
But the British agent was astonished. He had been driven to a majestic old building: Palazzo Vidoni, home to the Supreme Command of the Italian Army. This was the most militarily and strategically important location in Italy and the last place where an enemy soldier should have been!
Mallaby was brought before Brigadier General Castellano, who ordered him to contact Allied Forces HQ.
Mallaby objected, saying that, as a British soldier, he could not obey Castellano's orders. He was shown a note authorizing him to cooperate, containing details which no Italian could have known about.
Convinced that it was safe to proceed, Mallaby was taken to the room where the radio was located.
So, proving that truth is often stranger than fiction, from a room on the top floor in one of the most restricted places in Italy, a few metres from offices that still witnessed the daily presence of top-level German commanders, Dick Mallaby, a member of the most secret unit of Italy's and Germany's enemy, began to transmit. Around 4.00pm on 29 August 1943, Mallaby sent his first historic message. Over the following days he tirelessly transmitted dozen of messages to the Allied Forces HQ and received the latter's communications.
These messages constituted the sole means through which the Italian and Allied leaders communicated; their relevance is immense because they were processed and transcribed in real time and not after the fact. Thus, they witness all the details of what many historians have labelled the 'mutual deception'. Eisenhower instead defined it 'gigantic bluff' and 'a dirty business', the details of which would not be made public 'until ten years after the end of the war', and in the crucial hours before the public announcement of Italy's unconditional surrender on 8 September, he feared that the whole negotiation could prove to be an elaborate trap.
In the early hours of the following day, the main Allied invasion force landed near Salerno, in Operation Avalanche, while the Germans, on learning about the Armistice, immediately begun Operation Achse, disarming their former Italian allies on the peninsula (as well as in the Balkans and in France), imprisoning thousands of them and taking military control of Italy.
This sent waves of panic through the Italian political and military leadership and so they fled Rome with the Italian royal family early on 9 September.
Mallaby had become even more important, not only for the Allies, but also for the Italians, so he left the capital, destination Pescara.
It was only via the Monkey–Drizzle transmissions that the Allies were able to gain information about and have contact with Italy's political and military leaders. The Allies began to realize that the situation was radically deteriorating, so they stressed to the Italians that it was 'absolutely vital for future projects to keep the Monkey communications going', making the most of the help Second Lieutenant Mallaby could offer.
Mallaby and his radio were subject to a further transfer, arriving at the port of Ortona. There a small crowd was waiting to board the corvette Baionetta: Mallaby recognized the king, his wife, Prince Umberto, the Chief of the General Staff, and a whole series of high-ranking officers.
It was impossible to get everyone on board, but Mallaby was in. When Admiral de Courten objected to this, the personal intervention of the Supreme Commander General Ambrosio resolved the situation, ordering Mallaby's embarkation (the official list emanating from the Supreme Command of the personnel 'transfered to Pescara' in fact includes 'Sgt. Maj. GUAZZINI'. An accompanying footnote states: 'This is an English officer of the I.S. (Lt. Mallaby)'.
While the first elements of what Mallaby, in his private memoirs, sarcastically called 'a distinct company, almost like a society gathering' began to embark the small boats that would ferry them to the Baionetta, the British agent was informed that their destination was probably Brindisi.
Only a few days previously, Dick Mallaby had been ready for the firing squad; in the early hours of 10 September, his role as a key player had been emphatically confirmed.
The Baionetta entered Brindisi harbour, cautiously and without notifying the port authorities of its precious cargo, a few minutes before 4pm on 10 September 1943.
In Rome the surrender of Italian troops to the Germans had already been signed.
Italy had surrendered twice in the space of a few days: once to the enemy, and once to its former ally.
It was a bit much for any nation.
While Mallaby was setting up his equipment in a high tower room in the Swabian castle in the city, a brief German bombardment took place, but after a few minutes he transmitted another historical piece of news: the king of Italy was now under the protection of the Allies.
For several days the exhausted agent Olaf was tasked with receiving and transcribing many other famous messages.
On 28 September 1943, with ill-concealed pride after 'so many requests', Cecil Roseberry, head of Department J of SOE, circulated among the few authorized to know his memorandum relating to Dick Mallaby's first mission, entitled 'The Olaf Story'.
Despite notable British, Italian and wider amnesias at all levels over his role, the enormous importance of what Mallaby had accomplished was freely recognized by those in the know.
The reason for the underestimation and ignorance of Mallaby's achievements, which have endured for decades, is only in part a logical effect of the top secret nature of all SOE activities; in fact, Eisenhower personally ordered that knowledge of the part SOE played in the Italian surrender 'should be kept to a minimum'. However, Eisenhower recognized that the events in which Mallaby was a key player had changed the course of World War II, as the agent had completed a series of 'negotiations, secret communications, clandestine journeys of secret agents and frequent meetings in hidden places', where 'plots of various kinds were hatched, only to be abandoned because of changing circumstances' that 'if encountered in the fictional world, would have been scorned as melodrama'.
On 7 December 1943, Dick Mallaby was awarded the Military Cross (even though a Distinguished Service Order had been proposed).
Dick Mallaby's first mission had come to an end.
A second one began more than a year later, and this one too, after several initial disasters, led to unexpected and remarkable results, and, moreover, would remain hidden even further in the shadows for decades.
On 30 March 1946 Mallaby married Christine, a former FANY whom he had met in Massingham, and over the years they had four children.
Mallaby began working for NATO and moved to Verona with his family.
On 1 April 1981, when Mallaby was only 60 years old, at the end of a brief period of suffering, a third heart attack took the life of this brave Englishman, who had spent only a few years of his life in Great Britain.
On 23 September 2016, the Mayor of Asciano awarded three of Mallaby's children, Vaky, Caroline and Elisabeth Spray Mallaby, a special medal. On this occasion, Colonel Lindsay Macduff, attachè militaire of the British Embassy in Italy, reminded everybody that 'It's the courage and the leadership of people like Dick Mallaby that inspire us to seek a better life'. Later, in May 2019, in his video speech at the èStoria International Festival of History, he introduced the Mallaby's biography An Englishman Abroad, and wished that the SOE agent's mission would inspire a movie.
Order your copy of An Englishman Abroad now to find out more!