On today's blog post, we're looking at three fantastic pieces of artwork from a few of our August books. Let us know what you think and if there are any September titles you want to see art from in the comments section below!
WPN 74:The PIAT by Matthew Moss
Artwork by Alan Gilliland, Adam Hook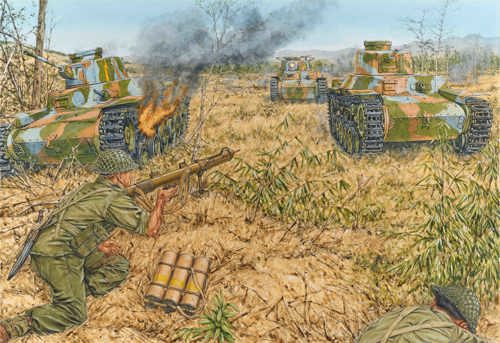 This first image comes from WPN 74: The PIAT and was requested by Adam C Here. A Gurkha PIAT operator engages Japanese armour at close range in India in 1944. He has already hit one Type 97 ShinHoTo Chi-Ha medium tank, despite his No. 2 being seriously wounded.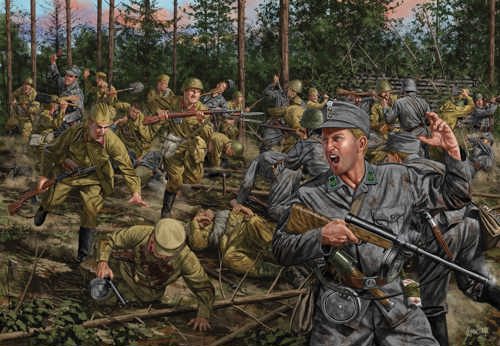 This next piece of artwork, requested by KAL9000, depicts the events at Kangaskylä on 16 July 1941. Junior Lieutenant I.I. Shishera's 2nd Battalion of Lieutenant- Colonel Ermakov's 402nd Rifle Regiment has been defending a line through the marshland and forests near the village of Kangaskylä, protecting the western (left) flank of the Matkaselkä–Sortavala road. On 13 July, Colonel Hannu Hannuksela's 19. Division smashed into the Soviet positions once again, attempting to overwhelm all three of the 402nd Rifle Regiment's understrength rifle battalions; for the past three days Shishera's men have repulsed numerous Finnish attacks, but on 16 July they discover that elements of Colonel Matti Laurila's JR 16 have outflanked them, putting the 2nd Battalion in danger of being surrounded. As Shishera attempts to pull back to the south-east, the soldiers of one rifle platoon, led by Lieutenant Pyotr Budnik carrying a captured Suomi KP/‑31 SMG, try to keep the Finns at bay with a ferocious counterattack that soon devolves into a violent hand-to-hand struggle.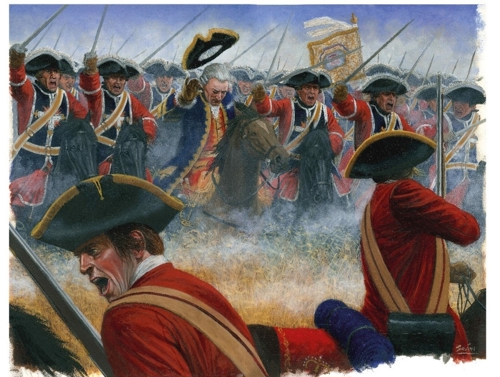 The final piece of artwork depicts the battle of Dettingen in 1743.  Having disobeyed his initial orders to remain north of the Forchbach, Duc de Gramont sought to negate his numerical inferiority and gain a decisive advantage by crushing the Allied left flank before the remainder of the Pragmatic Army could come into action. Placing himself at the head of the Mousquetaires du Roi, the Duc d'Harcourt led the cream of the French cavalry against two seemingly fragile lines of British horse and dragoons. The Musketeers crashed through the enemy horsemen, who buckled under the French assault, but crucially did not break.