We are delighted to announce that in August 2021 we will be releasing Undaunted: Reinforcements, the next instalment in the Undaunted series.
Designed by David Thompson and Trevor Benjamin, and with illustrations by Roland MacDonald, this modular expansion for Undaunted: Normandy and Undaunted: North Africa is packed with new units, rules, and scenarios that will test even the most skilled tacticians amongst you.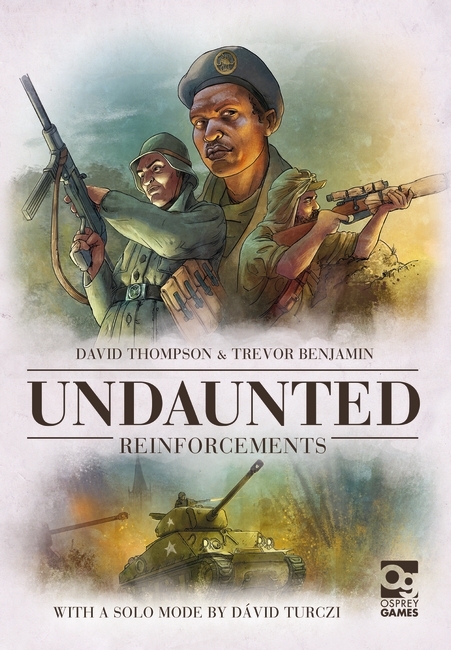 Alongside new units and scenarios, Reinforcements expands the scope of the Undaunted games beyond two player duels. Take on the game itself with a new solo mode designed by Dávid Turczi, or share the burden of command with an ally in massive four player battles, taking the Undaunted series to an unprecedented scale.
"We are very proud that Undaunted: Normandy brought gamers together for exciting, quick-playing World War II action, and that North Africa built on that by adding vehicles, increasing asymmetry, and making the game even more dynamic," commented David Thompson and Trevor Benjamin "Reinforcements allows us to bring the game to even more people by adding a solitaire system and 4-player team play, and we're also bringing more fun to the fight by expanding Undaunted: Normandy and Undaunted: North Africa with new soldiers and vehicles."
"I am incredibly proud of the Undaunted series, and David and Trevor's work continues to impress in Reinforcements," said Senior Game Developer Filip Falk Hartelius, "A generous box filled with new units, scenarios, and a seamless four-player mode for the game, there is so much for fans of the series to dig into. With a highly requested solo mode by Dávid Turczi to boot, Reinforcements is a fantastic addition to a beloved line of games"
***
In North Africa, the Long Range Desert Group are a thorn in the sides of the Italian forces, disrupting vital lines of communication and striking at strategic targets ranging far and wide. In Normandy, US forces brace against German counterattack, determined to maintain their foothold in the region. The fighting is intense and the outcome hangs on a knife-edge. With everything at stake, you desperately need reinforcements!
Undaunted: Reinforcements is a modular expansion that introduces a range of new rules, scenarios, and units. Unleash the might of the German and American tanks and see how your new squad options fare against them in Undaunted: Normandy, or make use of mines, assault aircraft, and other new units as you attempt to outfox your opponent in Undaunted: North Africa. Whether you have only one of the other, you'll be able to play Undaunted for the first time in a four-player mode, or test your mettle in a solo mode by Dávid Turczi.

Requires a copy of Undaunted: Normandy or Undaunted: North Africa to play.

Ages: 14+
Players: 1/2/4
Playing Time: 45-60 minutes
Contents: 100+ cards, 25+ tokens, 3 campaign booklets
***
About David Thompson
David Thompson was born in Savannah, Georgia. He grew up playing Dungeons& Dragons and other roleplaying games, but turned his attention to Eurogames and Wargames in the 2000s. He began designing games in 2014, after moving to England and meeting the Cambridge-based chapter of Playtest UK. His first published design was Armageddon, followed by Orc-lympics, Pavlov's House, Warchest, Castle Itter, and Switch & Signal. He now lives in Dayton, Ohio with his wife, two daughters,and son.
About Trevor Benjamin
Trevor Benjamin was born and raised in New Brunswick, Canada but has spent his entire adult life living abroad. He has taught English and Mathematics in China and Taiwan,and studied and taught Linguistics in Germany, Belgium, and the Netherlands. He now lives in the UK with his wife and two children, where he has had the great fortune of meeting David and the rest of the Cambridge design community. His published games to date include Dice Heist, Light & Dark, Cafe Fatal, Orc-lympics, Warchest, and Rolling Bandits.
About Roland MacDonald
Roland MacDonald is a graphic designer, illustrator, and board game designer. With a BFA in Fine Arts and an MA in Game Design, he started working doing 3D modelling for PS2 and PC games. After doing concept art and illustrations for Shogun 2 Total War, he moved on to work primarily on board games, illustrating titles including Stop Thief!, Kaiju Crush, and Battle Line.
About Dávid Turczi
Dávid Turczi is a prolific UK-based game designer, most well known for the BGG top 50 hit Anachrony. Additional designs include Kitchen Rush, Dice Settlers, Rome and Roll, and solo modes for various other designers' games, including Teotihuacan and Cerebria.
About Osprey Games
Osprey Games is the dedicated games division of Osprey Publishing (part of Bloomsbury Publishing plc) and publishes a wide range of wargames, card games, and board games. Launched in 2014, the company has produced an array of critically acclaimed titles, including Frostgrave: Fantasy Wargames in the Frozen City, Wildlands, Odin's Ravens, and The Lost Expedition.