On the blog today, author Peter Mersky recounts his aviation history and gives a brief overview of his fascinating new title, A-7 Corsair II Units 1975-91.
.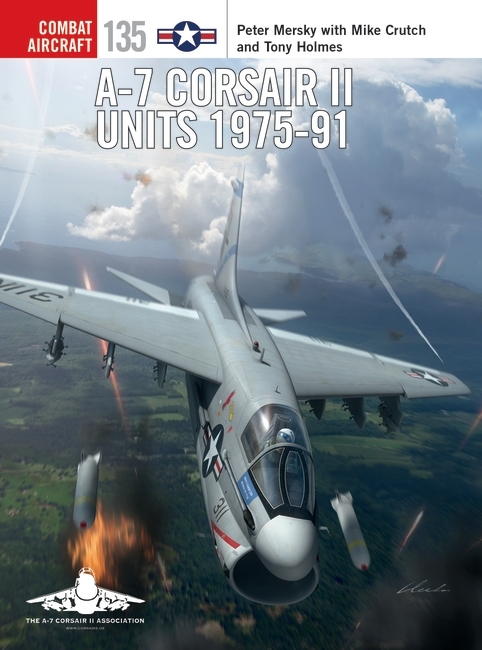 Over the years, since the mid-1990s, I have written seven books for Osprey's Combat Aircraft series, including four on the F-8 Crusader, one on the A-4 Skyhawk, and now two on the A-7 Corsair II, during Vietnam and now post-Vietnam combat. As a former member of one of the U.S. Navy's last Crusader squadrons, VFP-306, with two reserve tours under my belt as a squadron air intelligence officer, I learned a lot about the aircraft and the men who flew it in war and peace. Many of them are gone now. We lost four former COs in the space of only a couple of years. They now all rest in Arlington National Cemetery near the Pentagon in Arlington, Virginia. Three of them had served in Vietnam in different periods of the war. I came to know the A-4 Skyhawk with several flights in the TA-4J between 1984 to 2000, while a writer then editor of Approach, the Navy and Marine Corps aviation safety magazine.During that time, I also volunteered, and still do, to work for Naval Aviation News (NAN), the Navy's oldest periodical, which started as a newsletter in 1917. At this point, I've written 17 books. All but one of my books have been about military aviation and I have edited a quarterly book review column for NAN since 1982 when the editor asked me to start one. Since then, I have written some 800 book reviews for my NAN column and other publications as well as several other articles for these magazines.
Except for the Crusader, which had only one example of the two-seat model produced, the TF-8A, but which was lost in July 1978, I have flown in all the planes I have written about, along with other types such as the F-4, A-6, F/A-18 and even a few Air Force aircraft such as the F-105 and F-16. This last book on the A-7's post-Vietnam career took a while to research and write. (The first book, CA 48, about the A-7's Vietnam career was published in 2004.) I had help from two excellent men, Tony Holmes and Mike Crutch who added their own special brand of dedication and research resulting in the final product. As I went through compiling the material, I was surprised to see how much combat the A-7 and its pilots supported by the dedicated maintenance crews had experienced since Vietnam. The short, intense campaign in May 1975, when Cambodian pirates captured the SS Mayaguez, which begins the book, may come as a surprise to some readers. Scottish artist Gareth Hector's fine cover illustration illustrates one of the raids against a Cambodian airfield that could have posed a real problem, although not insurmountable, for the attempt to recapture the merchantman.
Osprey's regular profile artist and event illustrator Jim Laurier's patience and great skill has resulted in his usual brand of individual aircraft illustration and added greatly to the overall result, which is another book of excellent financial and historical value to Osprey's unending line of popular historical biographies of military aircraft of different periods.
I have been proud to be associated with this far-seeing company's efforts to tell the stories of these aircraft and establish their various series as the best examples of historical aviation writing.
A-7 Corsair II Units 1975-91 publishes 18 February. Head to the website to preorder your copy now!