We are delighted to announce that in October 2021, we will be publishing Brian Boru: High King of Ireland by award-winning designer Peer Sylvester (The King is Dead, The Lost Expedition).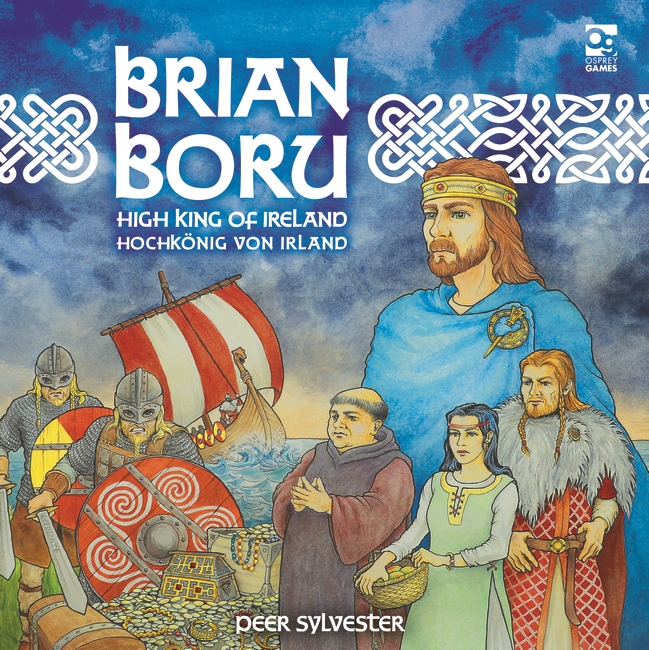 Featuring stunning illustrations from Deirdre de Barra, Brian Boru is a cutthroat game of power-brokering and intrigue in 11-century Ireland, in which players must strive to unite the provinces, securing control through whatever means necessary, to ultimately claim the title of High King of all Ireland.
According to game designer Peer Sylvester, "The success of the historical Brian Boru rested on three pillars: his victories against the Vikings, the favour he managed to garner with the Church, and the alliances he forged through political marriages. This became the foundation of the game, with each pillar becoming a suit in the trick-taking that forms the core of the mechanics. Win a trick and you gain influence in a town, which, in turn, gain you majorities in the regions – if you lose the trick, however (deliberately or otherwise), you instead take an action corresponding to the suit of the card
Senior Game Developer Filip Hartelius added that, "With Brian Boru, Peer has once again crafted a game where a simple core mechanic gives way to a real depth of play. You won't just find yourself asking whether or not you want to win the trick being played, but which card you want to do it with. What you are trying to achieve is constantly changing to adapt to the other players, whether that's through ever-increasing bids to court a prince for political marriage, or carefully making sure you've repelled just enough Vikings that they raid your opponents' towns instead of your own. This game is a real treat."
***
Ireland is awash with would-be kings, power-hungry pretenders, and self-professed rulers. The provinces are in disarray and the common folk are paying the price. The land needs a leader.
In Brian Boru, you will strive to unite Ireland under your domain, securing control through might, cunning, and matrimony. Join forces to fend off Viking invaders, build monasteries to extend your influence, and gather support in towns and villages throughout the land. To become High King of all Ireland, you will need to navigate a web of shifting alliances, outmanoeuvre your enemies, and grab history by the reins.
Ages: 14+
Number of players: 3–5
Play time: 60–90 minutes
Components: Board, 46 cards, 139 tokens, 125 wooden discs
Brian Boru: The High King of Ireland will be released with rules in English and German.
About Peer Sylvester
Peer Sylvester is an award-winning game designer with a knack for devising games with simple rules that belie their richness of play. When he's not teaching maths and chemistry, he can be found designing instant classics, such as The Lost Expedition and The King is Dead, or exploring the world of tabletop design as a prolific author and podcaster on the subject.
About Deirdre de Barra
Deirdre de Barra is an Irish artist and illustrator. She has been involved with the Irish Small Press contributing to many comics, zines and anthologies, and in 2014 illustrated the comic Brian Boru and the Battle of Clontarf / Brian Bóroimhe agus Cath Chluain Tarbh. These days she no longer works digitally but has found her way back to traditional media, primarily pencil, ink, and watercolour.
About Osprey Games
Osprey Games is the dedicated games division of Osprey Publishing (part of Bloomsbury Publishing plc) and publishes a wide range of wargames, card games, and board games and roleplaying games. Launched in 2014, the company has produced an array of critically acclaimed titles, including Frostgrave: Fantasy Wargames in the Frozen City, Wildlands, The King is Dead and the Undaunted series.