Are you looking for a great gift for your dad this Father's Day? Whether he's a naval history buff or a World War II aircraft enthusiast, an armchair Churchillian or an Airsoft hobbyist, we've got the book for him – and the board game too! Check out the list below for some inspiration.
Pocket-sized

Gift Books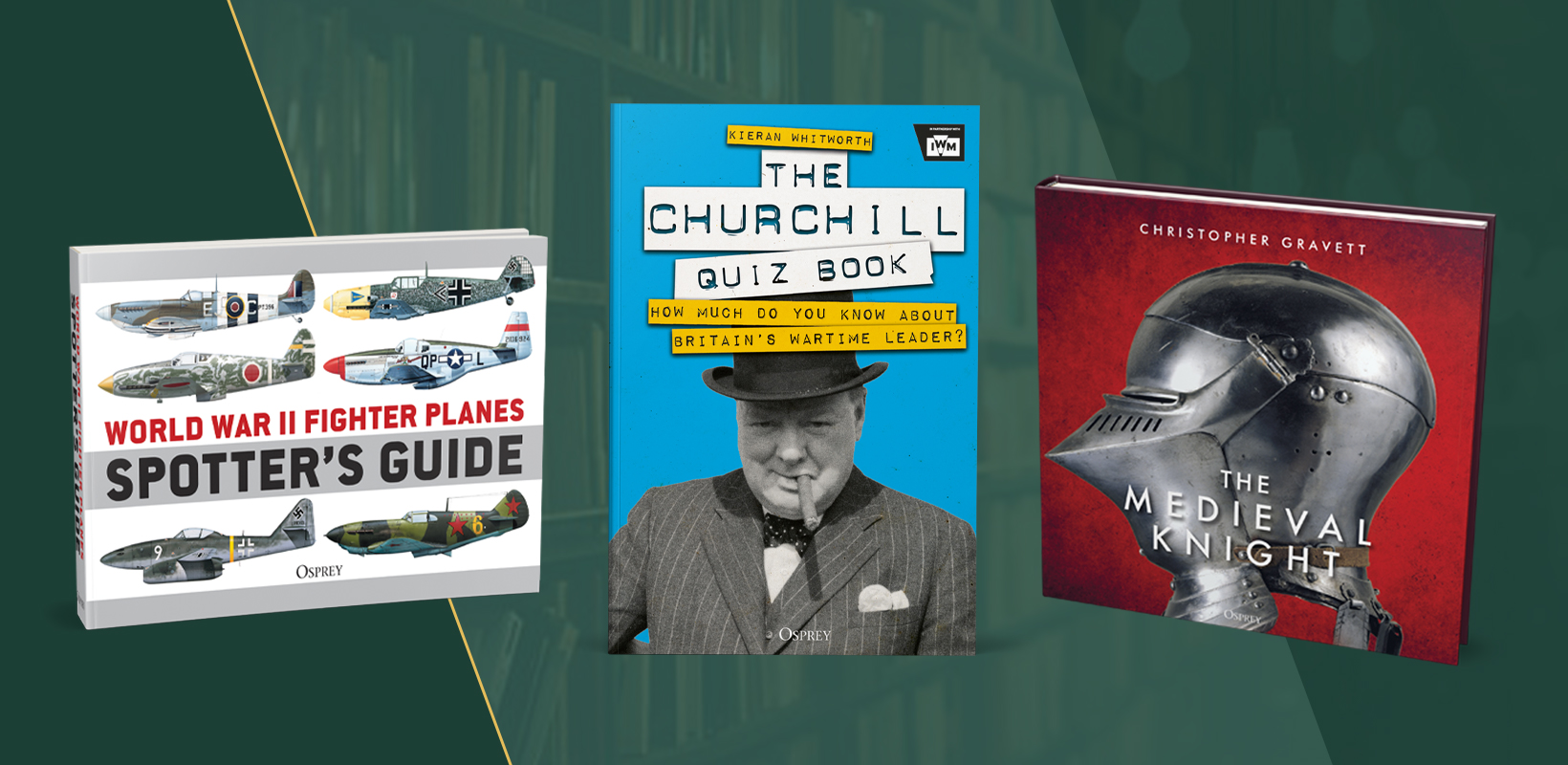 The Churchill Quiz Book: How much do you know about Britain's wartime leader? by Kieran Whitworth
Is your dad a bit of a Churchill buff? Then test his knowledge with questions from our pocket-sized quiz book. With multiple-choice questions, anagrams and picture quizzes as well as fiendish puzzlers for experts, the whole family can join in.
The Medieval Knight by Christopher Gravett
Perfect for any medievalist, this beautifully illustrated and compact gift book describes how knights evolved over three centuries of English and European history, their lives in peacetime and on campaign, their weapons, armour and clothing, and their renowned code of chivalry.
World War II Fighter Planes Spotter's Guide by Tony Holmes
World War II Fighter Planes Spotter's Guide provides essential information on over 90 legendary aircraft, from the celebrated Spitfire to the jet-powered Me 262. Featuring full-colour artwork to aid recognition, as well as all the details needed to assess their performance, this is the perfect pocket guide to the Allied and Axis fighters of World War II for any aircraft enthusiast.
Hardbacks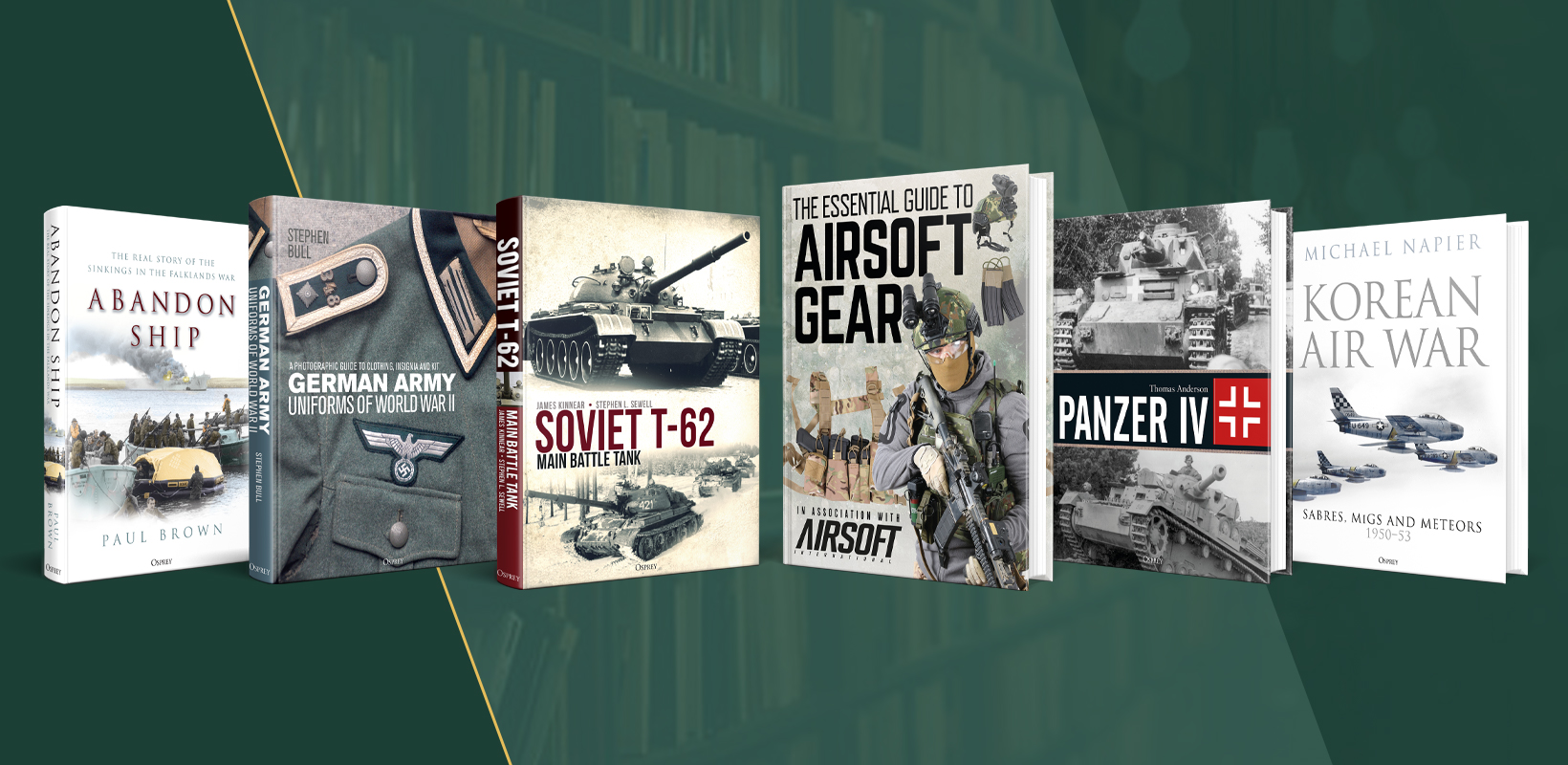 The Essential Guide to Airsoft Gear
Produced in conjunction with Airsoft International, the world's best-selling Airsoft magazine, this is the definitive guide to some of the most popular and distinctive loadouts ever seen on the skirmish fields of the Airsoft world: 22 SAS, US Army Rangers and Delta at the Battle of Mogadishu, Russian Special Forces and more. A must-have for any Airsoft enthusiast.
Abandon Ship: The Real Story of the Sinkings in the Falklands War by Paul Brown
The Falklands War of 1982 is one of the pivotal events in late 20th-century British history, but in the conflict's aftermath many official documents were heavily censored or withheld. Now, drawing from recently declassified and previously unpublished reports, Dr Paul Brown tells the true story behind the dramatic events that led to the loss of six British ships and the controversial sinking of the Argentine ARA General Belgrano.
Korean Air War: Sabres, MiGs and Meteors, 1950–53 by Michael Napier
The Air War over the Korean Peninsula was a pivotal part of the Korean Air War. This highly illustrated study utilises combat reports and first-person accounts of engagements to bring the narrative to life. Complete with stunning contemporary images, this groundbreaking exploration makes a welcome addition to any military aviation fan's bookshelf.
German Army Uniforms of World War II: A photographic guide to clothing, insignia and kit by Stephen Bull
Illustrated with a host of superb photographs and illustrations, both black and white and colour to give a complete picture of the uniforms and insignia worn by German troops, this detailed and systematic examination a truly comprehensive resource for re-enactors and anyone interested in World War II Germany and the history of military uniforms.
Panzer IV by Thomas Anderson
German armour expert Thomas Anderson tells the complete story of Germany's most widely produced tank of World War II, from its design and development to its many upgrades and variants. Using original first-hand accounts and fully illustrated with contemporary photographs, including rare and previously unpublished images, this study sheds new light on the subject for even the most knowledgeable German armour fans.
Soviet T-62 Main Battle Tank by James Kinnear, Stephen Sewell
The T-62 was one of the tanks most widely used by the Soviets during the Cold War. Developed from the T-55, the T-62 enjoyed a long career in the Red Army and even into the early days of the reformed Russian Army. Containing more than 400 stunning contemporary and modern photographs, and written by two experts on Soviet armour, this authoritative book tells the complete story of the T-62, perfect for armour aficionados, modellers and wargamers.
Lavishly Illustrated Hardbacks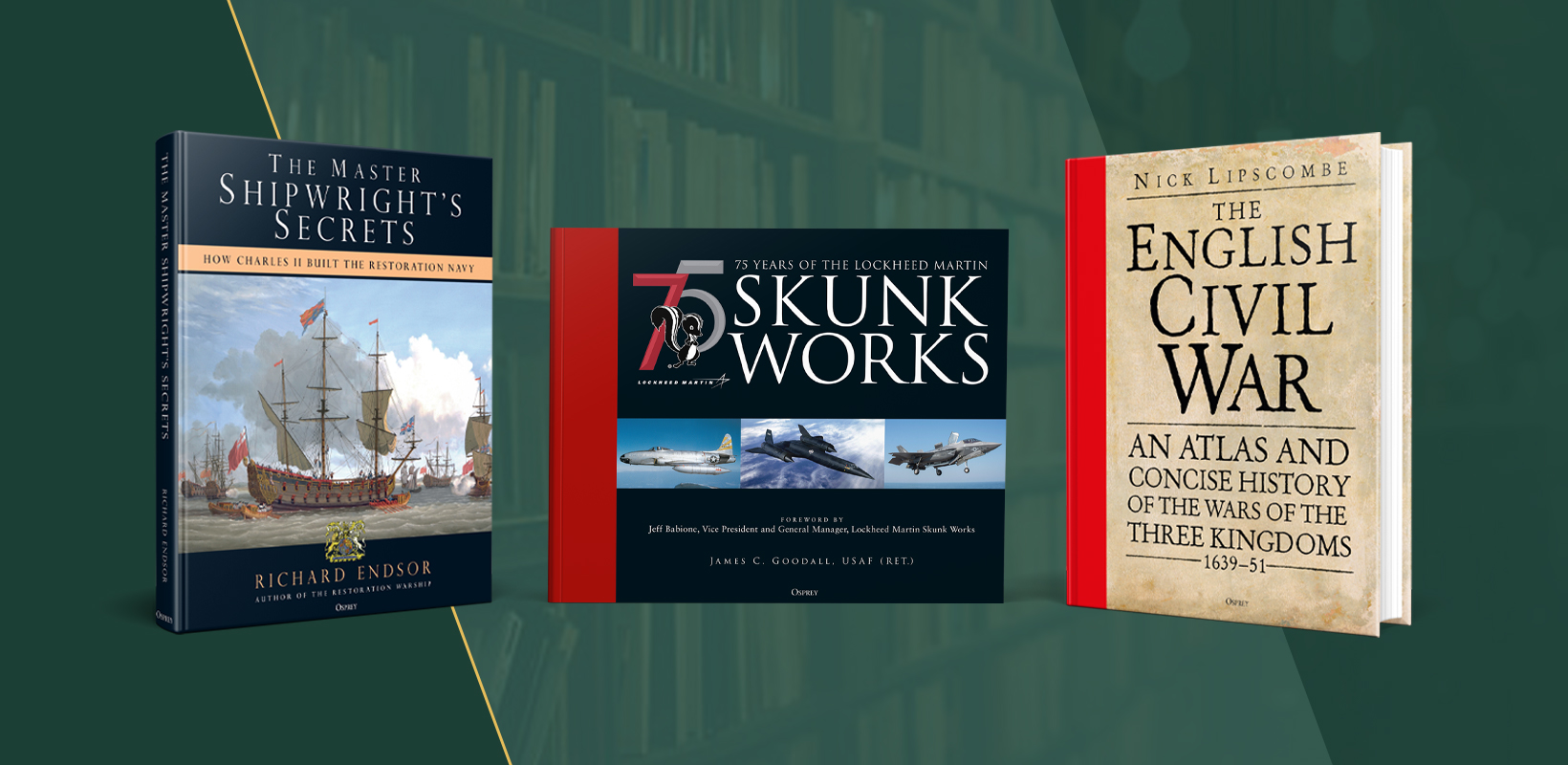 The Master Shipwright's Secrets: How Charles II built the Restoration Navy by Richard Endsor
A comprehensively researched and illustrated history of 17th-century shipbuilding practice, The Master Shipwright's Secrets uses the construction of King Charles II's warship Tyger, as well as the Mordaunt, St Albans and associated ships to reveal the techniques employed by those who created the Restoration Navy. Beautifully presented in coffee-table format with foil detailing on the jacket and fold-out sections of large-scale drawings, this is a must have for anyone with an interest in the history of ship design and the Restoration Navy.
75 years of the Lockheed Martin Skunk Works by James C. Goodall
Is your dad a huge aviation history buff? Then order a copy of James C. Goodall's recently released 75 years of the Lockheed Martin Skunk Works, the definitive illustrated history of Lockheed Martin's famous Skunk Works facility that has produced so many of the most distinctive aircraft of the 20th and 21st centuries, from the XP-80 Shooting Star to the F-35 Lightning. Produced with Lockheed Martin, this fantastic title contains over a thousand images from their archives and other sources, a large proportion of which have never been published in print before.
The English Civil War: An Atlas and Concise History of the Wars of the Three Kingdoms 1639–51 by Nick Lipscombe
Brimming with detailed maps, this beautifully presented atlas tells the whole story of Britain's revolutionary civil war, from the earliest skirmishes of the Bishops' Wars in 1639–40 through to 1651, when Charles II's defeat at Worcester crushed the Royalist cause, leading to a decade of Stuart exile. Each map is supported by a detailed text, explaining the complex and fluctuating conflict that ultimately decided that the Crown would always be answerable to Parliament, a beautiful gift for any military historian of England.
What better way to spend this father's day, than over a board game? We have a huge range of Tabletop classics to bring your family together. For the history buff in your life, we have nostalgic classics from the 70's, to modern action thrillers. Check out the complete Osprey Games range for more ideas here. Spend some quality time with the ones you love, but just remember that it is always polite to let dad win.
Escape from Colditz designed by Brian Degas and Pat Rice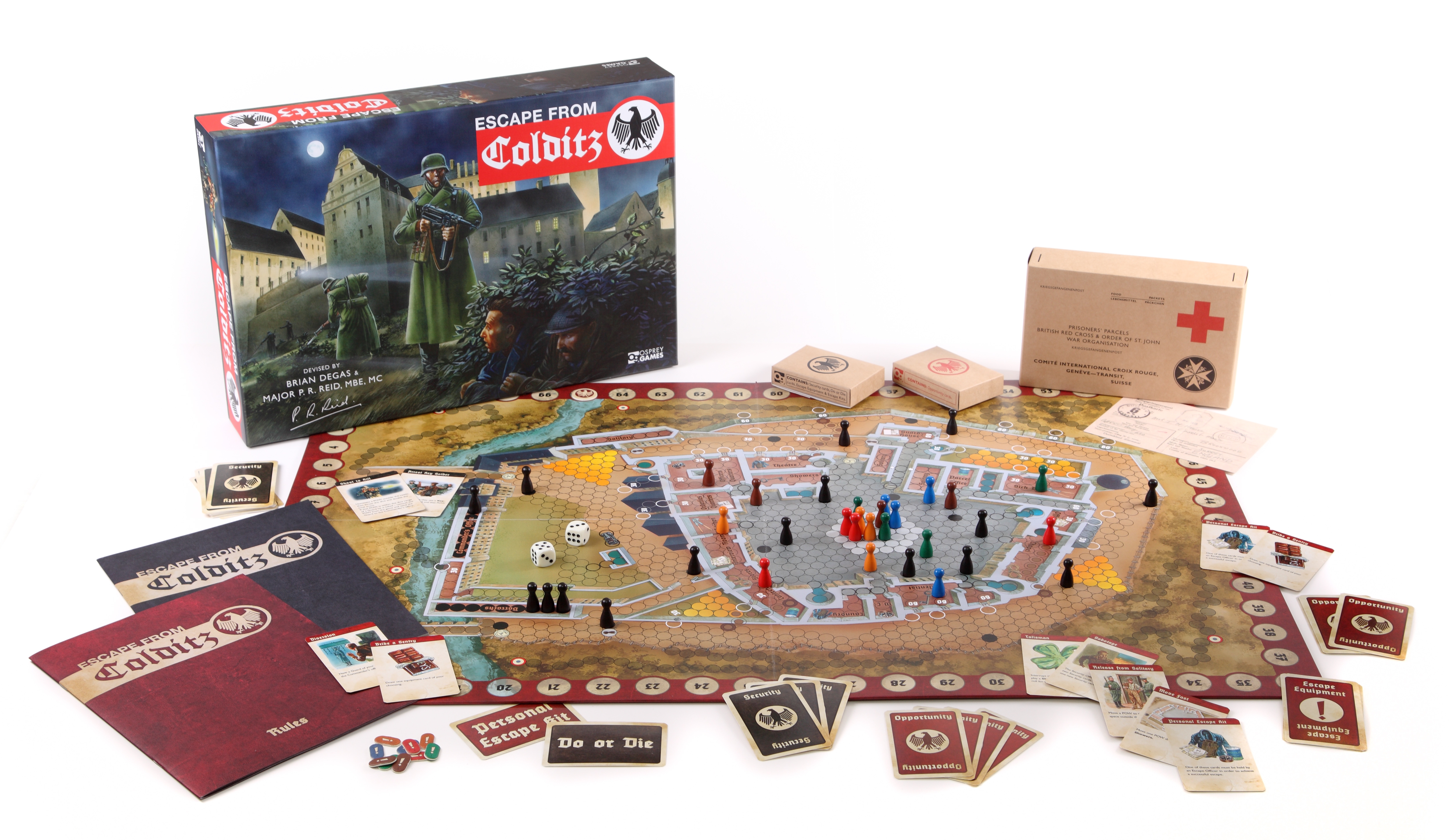 Designed by Major Pat Reid, one of only a handful of prisoners-of-war to escape Colditz Castle, and screenwriter Brian Degas, Escape From Colditz is the iconic game of careful planning and nerves of steel. Become Allied escape officers - assemble your equipment, plot your escape routes, and coordinate your efforts to avoid the guards. Become the German security officer - maintain control through guile, ruthlessness, and careful observation despite limited numbers. This brand new edition of one of the best known British board games ever created is perfect to play with your father or for family game nights.
Undaunted: Normandy designed by David Thompson and Trevor Benjamin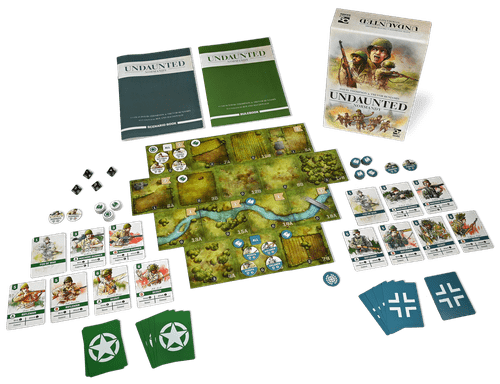 Set in the aftermath of the D-Day landings, Undaunted: Normandy puts players in command of opposing forces in the European theatre of World War II, either leading US troops into occupied France or taking charge of the German defence and beating back the Allied advance. Played as a campaign that follows the operational history of the US 30th Infantry Division, this two-player bestseller is a fantastic entry-point to board gaming.
Undaunted: North Africa designed by David Thompson and Trevor Benjamin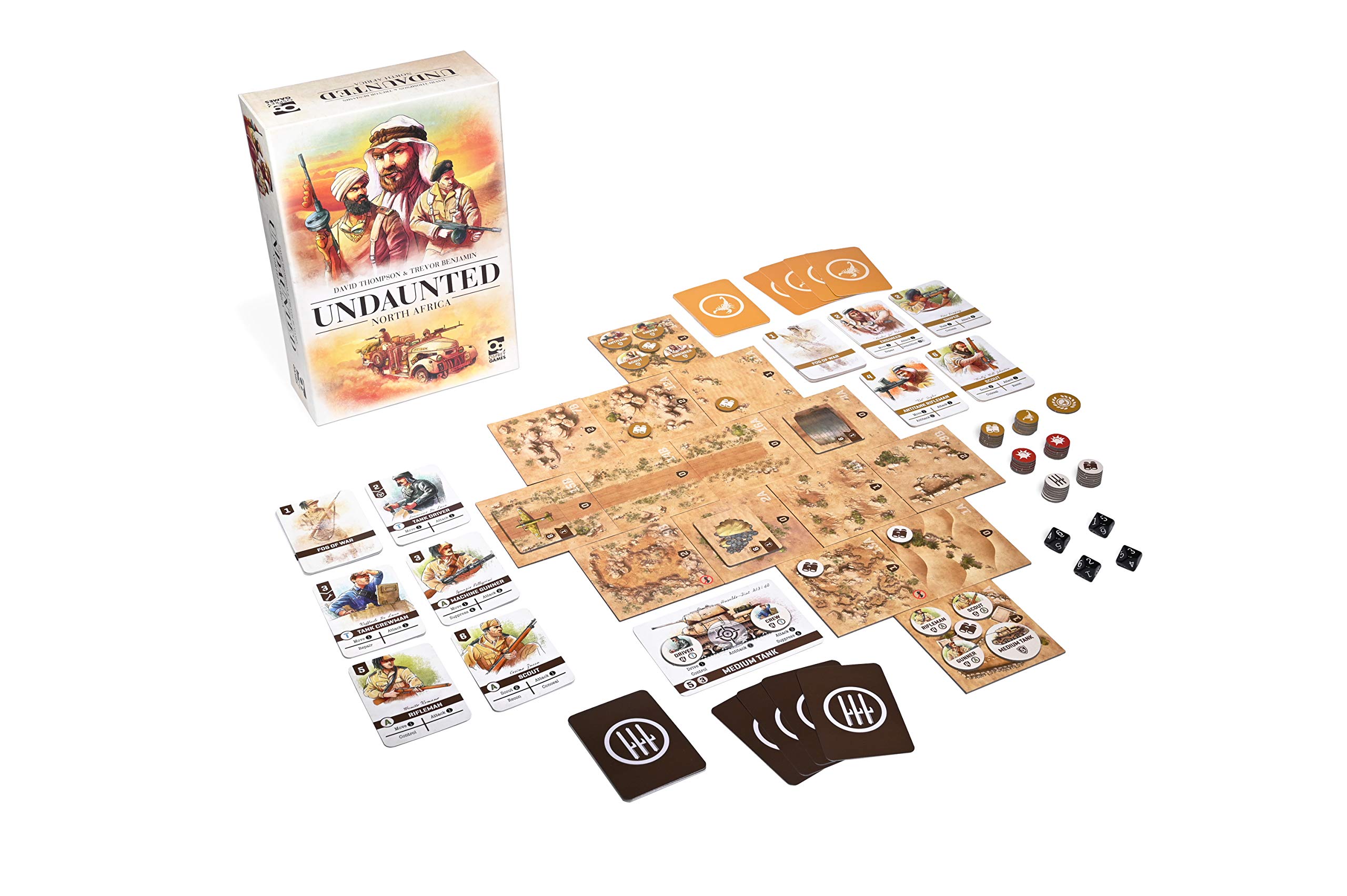 Building upon the critically-acclaimed Undaunted system, Undaunted: North Africa is sure to test players leadership skills to their limit. Fortunately, you'll have some extra tools at your disposal, with the introduction of new actions, soldier types, vehicles, structures, and more!