Today on the blog, Commissioning Editor, Nick Reynolds continues our Osprey Team's Top Picks for Christmas with three of his favourite titles on Napoleonic Warfare.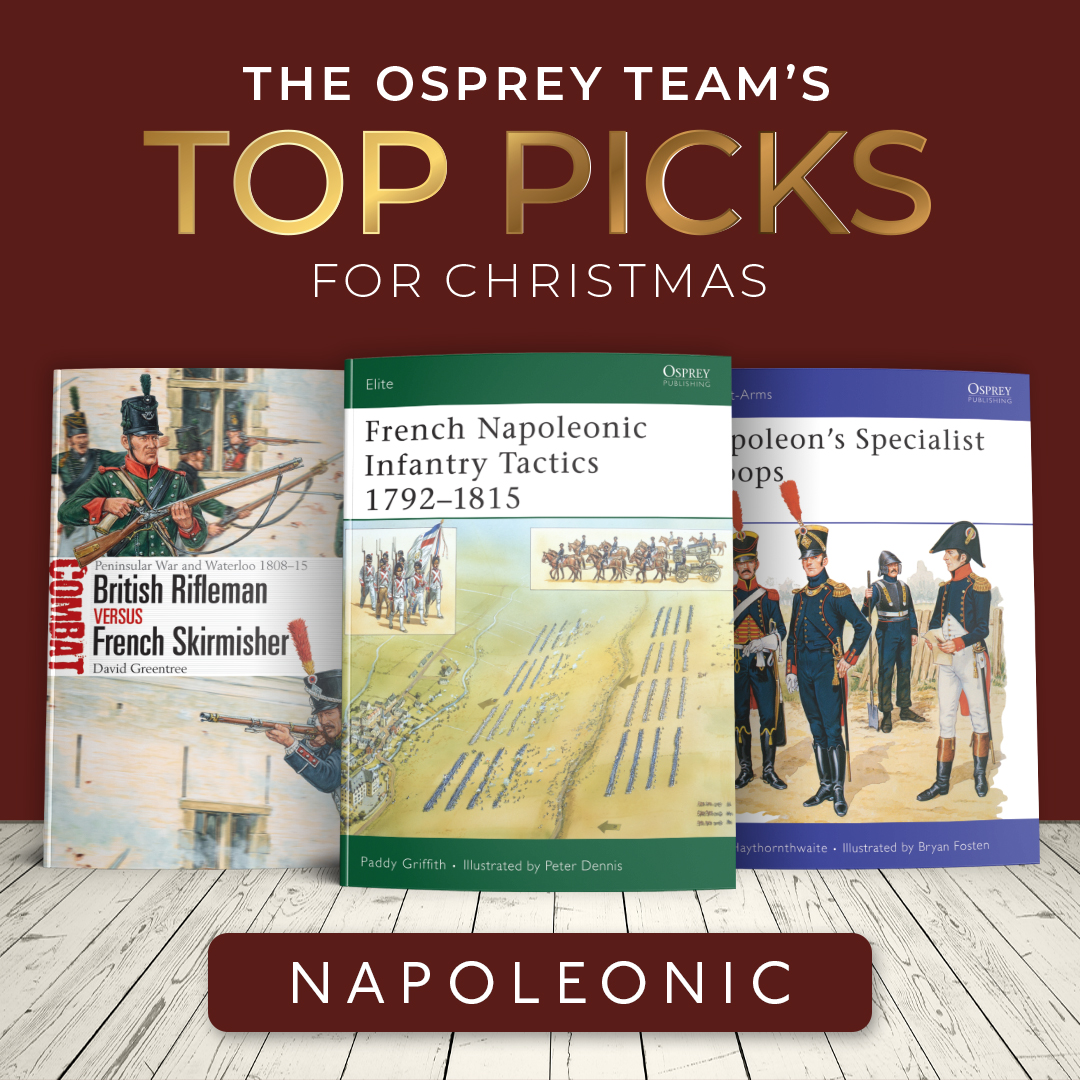 I have always been drawn to the Napoleonic period, by the sheer variety and spectacle of its uniforms as much as the campaigns and personalities of the era.
CBT 046 British Rifleman vs French Skirmisher: Peninsular War and Waterloo 1808–15
I really enjoyed working on this book. While the fabled 95th Rifles have always taken much of the limelight, this absorbing account of British and French open-order troops in combat in three revealing battles of the Napoleonic Wars reminds us of the crucial contribution made by German riflemen to the British cause in the Iberian Peninsula and the Waterloo campaign, and the equally fascinating technology and tactics employed by their French opposite numbers.
ELI 159 French Napoleonic Infantry Tactics 1792–1815
Written by the late Paddy Griffith and illustrated by Peter Dennis, this book is a fine example of an Elite volume in the 'tactics' sequence. The author's fascination with the topic and his unrivalled mastery of the details of infantry combat combine to make this an illuminating read, while Peter Dennis's illustrations brilliantly depict the battle formations used during the era while retaining human elements that convey the confusion and carnage of the Napoleonic battlefield.
MAA 199 Napoleon's Specialist Troops
This was the first Osprey book I bought, shortly after its publication in 1988. Bryan Fosten's immaculate illustrations perfectly complement Philip Haythornthwaite's lively but comprehensive account of the organization and uniforms of the specialists who made such vital contributions to Napoleon's battlefield success – the gunners and drivers of the artillery, the sappers and pioneers of the engineering branch, the surgeons and orderlies of the medical services and many more.