In today's blog post, Brian Lane Herder, author of the recently released New Vanguard title, US Navy Gunboats 1885–1945, examines the 1917–1946 patrol yacht USS Isabel, one of the vessels included in his fantastic new title.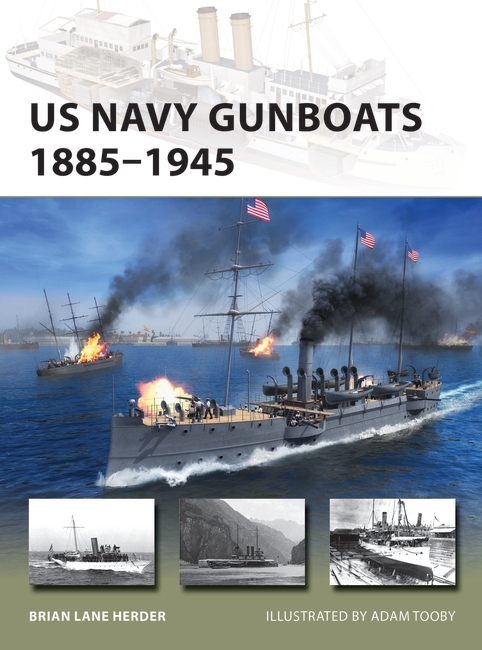 US steel gunboats were diverse and numerous. Among the types featured in my book, NVG 293 US Navy Gunboats 1885–1945, are large early oceangoing gunboats (small cruisers), smaller 1890s gunboats, converted gunboats (1898 yachts), captured Spanish gunboats, purpose-built Yangtze river gunboats, World War I patrol yachts, assorted 1920s-1930s gunboats, VIP flagships, and World War II patrol yachts. I wanted to examine one of the gunboats/yachts in more detail so I chose the 1917–1946 patrol yacht USS Isabel as particularly interesting. She warrants several mentions in the book, and is magnificently depicted in one of its color profiles.
US Navy terminology was never completely precise, but generally the term "armed yacht" or "patrol yacht" was used to refer to civilian yachts converted into warships, usually during wartime. Ironically, the word "yacht" itself is derived from the Dutch jacht (hunter), and was first used in the 1600s to refer to small, fast warships from the Dutch Republic.
The United States officially entered World War I in April 1917. The US government responded with a mass requisition of civilian vessels, including the pleasure yacht Isabel, under construction in Bath, Maine. Isabel had belonged to John North Willys, president of the Willys-Overland company (of future World War II Jeep fame).
At 710 tons and 28 knots, Isabel was unusually large and fast for a civilian yacht. Realizing her value, the USN built Isabel into an effective destroyer, arming her with four 3in guns, four 21in torpedo tubes, one depth charge rack, and two 0.30-caliber Lewis machine guns. Commissioned USS Isabel on December 28, 1917, she was given the hull designator SP-521 in the USN's new "Section Patrol" sequence. Interestingly, some narratives claim the USN officially classified Isabel a destroyer, but in my research I have uncovered no evidence of this. Isabel was never given a number in the existing destroyer series; her SP number specifically referred to small patrol vessels.
Isabel was transferred to Brest, France and began convoy escort duty on February 20, 1918. On March 20, 1918, Isabel and destroyer Reid would be credited with sinking a U-boat (although it was later discovered that the U-boat had actually survived) and shewould ultimately see action against German U-boats in four separate battles. Her maiden skipper, Lieutenant-Commander Harry Shoemaker, received the Navy Cross for his combat leadership of Isabel in the war zone.
In 1919 Isabel served as both a submarine and a seaplane tender. The postwar USN disposed of most of its hundreds of wartime yachts, but retained the 11 largest and most useful for its own service. In 1920 these yachts were re-designated "Patrol Yacht" and given the new PY hull designator; Isabel became PY-10. On November 7, 1921, Isabel arrived in Hong Kong and became Rear Admiral William Bullard's new Yangtze Patrol flagship. Isabel patrolled the Yangtze for the next seven years, sometimes seeing action against Chinese warlords, before being transferred to the main Asiatic Fleet in Manila in 1928.
By November 1941 war with Japan was inevitable. Heavy Japanese naval activity suggested a major offensive against Southeast Asia was days away. President Franklin Roosevelt personally ordered Isabel on a secret December 3–6, 1941 reconnaissance mission of Japanese-occupied Indochina. With heavy Japanese air and naval activity swirling around and above her, Isabel 's clandestine mission ultimately saw her creep within sight of Japanese-occupied Cam Ranh Bay mere hours before the Pearl Harbor attack. Although war had not technically broken out yet, in case of trouble Isabel was ordered to be scuttled rather than captured by the Japanese.
By December 8, war had broken out and Japanese attacks were hammering the US-occupied Philippines in preparation for invasion. Two days later, Japanese bombers smashed Manila Bay's US naval base, eliminating US naval strength in the Philippines and causing surviving US warships to withdraw. During the December 10 Japanese raid, Isabel was near missed by ten dud bombs while shooting down one of her attackers as she fled from Manila.
Over the next few months, Isabel conducted ASW operations for convoys while based throughout the Netherlands East Indies, surviving numerous Japanese air raids and just out-running invading Japanese troops many times. On February 7, 1942, Isabel picked up hundreds of sailors from the sunken Dutch merchantman Van Cloon. During the rescue, Japanese submarine I-55 surfaced and fired a torpedo at Isabel, which missed. Isabel counterattacked with her guns, forcing I-55 underwater and eventually repulsing the submarine with depth charges. By early March, Isabel again just escaped the Japanese, as she was driven out of Java by invading Japanese troops. Isabel successfully joined a convoy fleeing to Australia, although one of the convoy's fellow gunboats, USS Asheville, fell behind and was destroyed by the pursuing Japanese heavy cruiser force.
From then on Isabel stayed in Australia, where she helped train US submarines from 1942 until war's end. She received one WWII Battle Star for her service. Over her 29-year career, Isabel fought in the Atlantic and Pacific oceans, in the world's third-longest river, against both Germans and Japanese, and was homeported on four different continents. After surviving the Chinese civil war and both World Wars, Isabel was scrapped in 1946. Not too bad a record for a pleasure yacht.
US Navy Gunboats 1885–1945 is out now! Order your copy today.