Following the wildly popular and award-winning Undaunted: Normandy and Undaunted: North Africa from the talented Trevor Benjamin and David Thompson, we are proud to announce the arrival of our new expansion - Undaunted: Reinforcements. Fans have been asking for new content, four-player and solo modes as well as somewhere to store their cards. Never fear - Reinforcements have arrived!

"Reinforcements is a treasure trove for Undaunted players, with new cards, scenarios, and game modes to explore. Whether it's the subtle, yet potent asymmetry of the new specialists for Normandy, the elegant translation of the game for four players, or the richness of the solo mode, this is a real box of delights." - Filip Hartelius, Osprey Games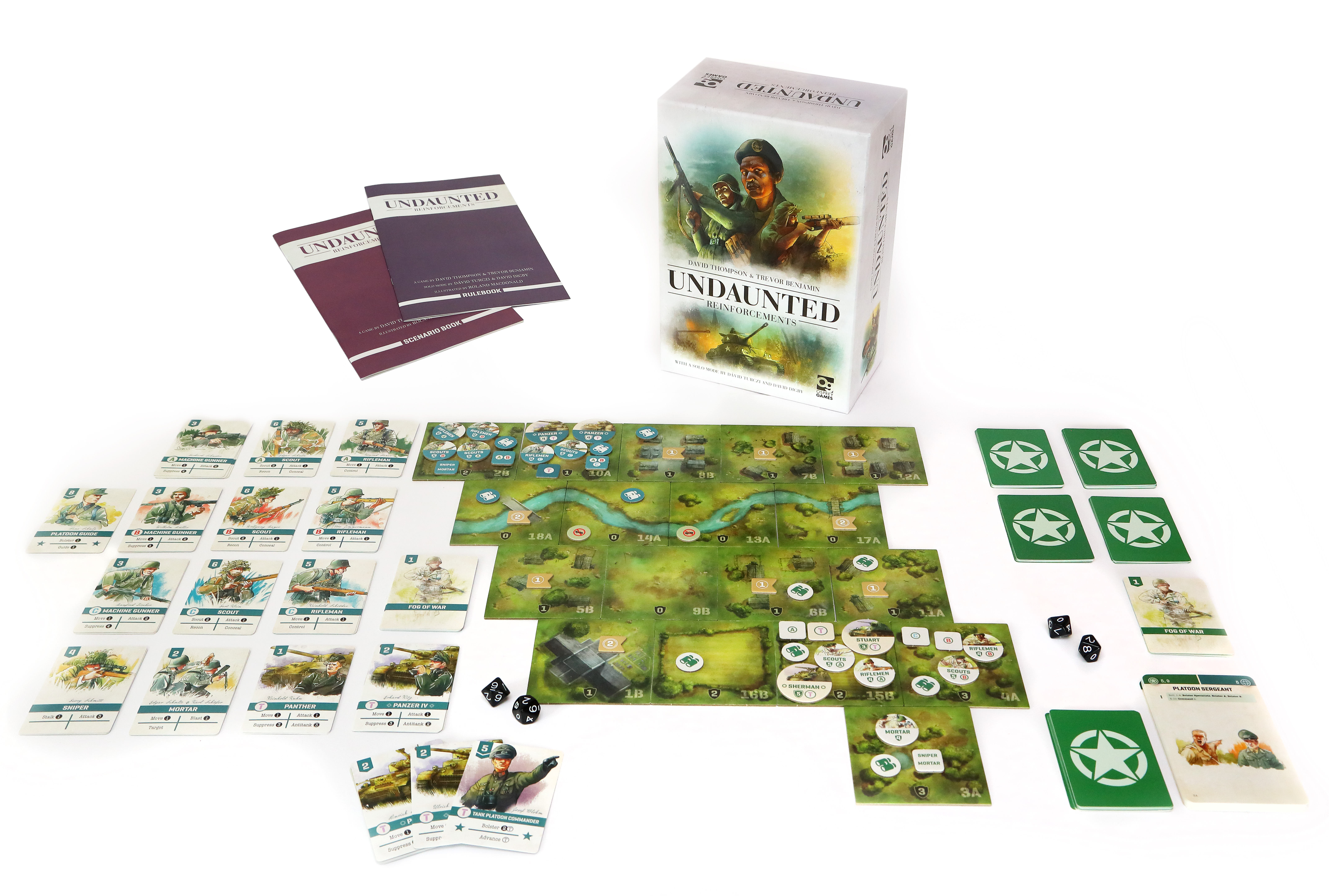 In North Africa, the Long Range Desert Group are a thorn in the sides of the Italian forces, disrupting vital lines of communication and striking at strategic targets ranging far and wide. In Normandy, US forces brace against a German counterattack, determined to maintain their foothold in the region. The fighting is intense and the outcome hangs on a knife-edge. With everything at stake, you desperately need reinforcements!

Undaunted: Reinforcements is a modular expansion that introduces a range of new rules, scenarios, and units. Unleash the might of the German and American tanks and see how your new squad options fare against them in Undaunted: Normandy, or make use of mines, assault aircraft, and other new units as you attempt to outfox your opponent in Undaunted: North Africa. Whether you have only one or the other, you'll be able to play Undaunted for the first time in a four-player mode, or test your mettle in a solo mode by Dávid Turczi and David Digby.

Requires a copy of Undaunted: Normandy or Undaunted: North Africa to play.
Ages: 14+
Players: 1/2/4
Playing Time: 45-60 minutes
Contents: 59 cards, 150 oversized solo cards, tokens, two scenario booklets
*****
Are you ready to learn more?
Find out about the features of Undaunted: Reinforcements with senior game designer Filip Hartelius.