Explore uncharted horizons! We're proud to announce another entry in the hit Imperium series, with all-new civilisations to master...

Imperium: Horizons introduces a massive fourteen new civilisations from throughout history and fantasy, all of which are playable alongside both previous games. Horizons is coming soon - but before then check out what the designers and our Senior Games Developer have to say, learn key details about the game and get a sneak peek at the beautiful cover art by Mihajlo 'The Mico' Dimitrievksi!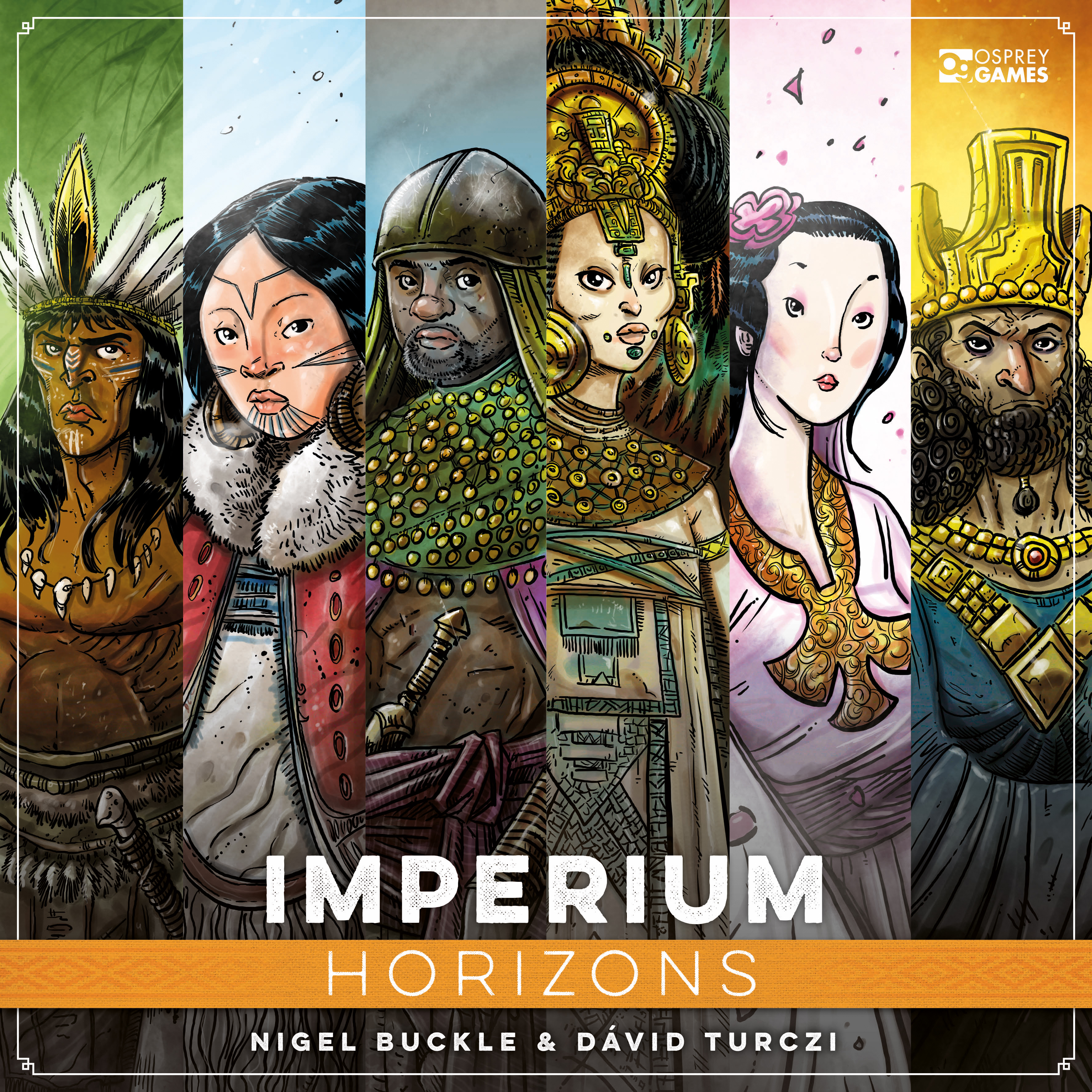 "This time we've broadened our horizons far beyond the Mediterranean with a diverse mix of civilisations which all bring new twists to the game. Working on these civilisations has been our happy place for the last year and half, and we can't wait to share this excitement with all the fans of Imperium out there!"
- Designers Nigel Buckle & Dávid Turczi
"In Imperium: Horizons Nigel and David have produced something truly special. The scope of their creation is breath-taking, their attention to historical detail is commendable, and the asymmetry they've created through the factions available is extraordinary. The Mico's beautiful artwork brings every civilisation to life in vivid colour, elevating the Imperium series to new heights. This game is an incredible treat for fans of solo and multiplayer civilisation building games."
- Senior Games Developer Anthony Howgego
Formidable adversaries are arrayed against you. Your people stand ready. History beckons.

In your hands lies the destiny of one of most storied peoples of history. Under constant threat of attack, you must conquer new lands, oversee dramatic scientific and cultural advances, and lead your people into the era of empire. Expand too rapidly, and unrest will bring your civilisation to its knees; build up too slowly, however, and you might find yourself a mere footnote of history. As one of fourteen radically asymmetric civilisations, you will compete to become the most dominant empire the world has ever seen.

Imperium: Horizons is a standalone game that contains fourteen unique civilisations, each of which can be played against solo. It is fully compatible with Imperium: Classics and Imperium: Legends for players wanting to expand their pool of civilisations even further, and incorporates a new trade module that allows players to recreate all the intrigue, wealth generation, and dynamic politics of a thriving international trading economy.

Players: 1-4
Ages: 14+
Playing Time: 40 mins per player
Contents: 550+ cards, 150+ tokens
Find out more on BoardGameGeek.
***
Nigel Buckle is a game designer, playtester and developer based in London, UK. He is best known for designing Omega Centauri, published by Spiral Galaxy Games in 2014.

Dávid Turczi is a prolific Netherlands-based, Hungarian-born game designer, most well-known for the BGG top 50 hit Anachrony. Additional designs include Tekhenu, Tawantinsuyu, Dice Settlers, Rome and Roll, and solo modes for various other designers'; games, including Teotihuacan and Cerebria.
Mihajlo 'The Mico' Dimitrievksi is one of the most celebrated artists in the board game industry, providing stunning work for a range of games including Architects of the West Kingdom, Raiders of the North Sea, Dice Settlers, and Valeria: Card Kingdoms. He currently resides in Bitola, Macedonia.

About Osprey Games
Osprey Games is the dedicated games division of Osprey Publishing (part of Bloomsbury Publishing plc) and publishes a wide range of wargames, card games, and board games and roleplaying games.