Your country needs you! We're proud to announce a brand-new Undaunted game coming next year - this time taking players to the skies in the Battle of Britain...
 This new entry in the award-winning Undaunted series brings the war to Britain and focuses on the drama and tension of air combat for the first time. You'll be able to get your hands on a copy Spring 2023. Until then, hear from our Senior Games Developer, get a first look at all the game details - and check out the incredible cover from artist Roland MacDonald!
"In Undaunted: Battle of Britain David and Trevor have produced a fascinating twist on the Undaunted formula that brings new challenges for veterans, whilst remaining accessible to new players, and staying true to the ethos of the series. The tactical manoeuvring and dynamism of air combat is a tricky thing to capture the feel of, and David and Trevor absolutely nailed it. Roland's art is stunning."
- Senior Games Developer Anthony Howgego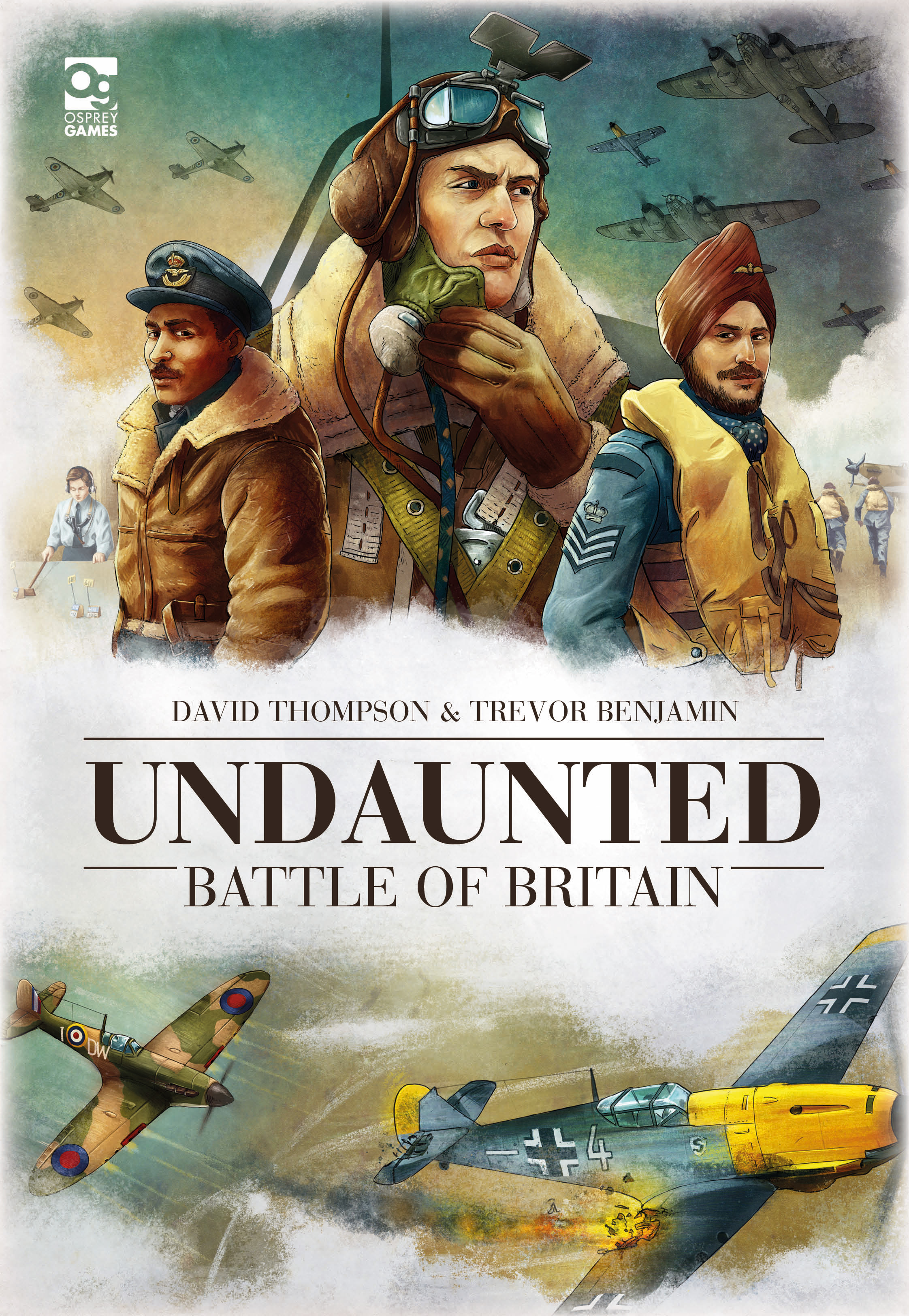 The RAF faces the Luftwaffe in this two-player deckbuilding game of aerial WWII combat.

Summer, 1940. The German war machine has rolled through the continent in less than a year, crushing all before it. Britain is all that stands in the way of German victory in Europe. Command the pilots of the battle-tested Luftwaffe, looking to extinguish all resistance and pave the way to invasion, or the resourceful and determined RAF opposing them at every turn.

Undaunted: Battle of Britain is a standalone game in the Undaunted series, adapting the core gameplay of the previous games to recreate the dynamic dogfighting of aerial combat. Maintain cohesion between your pilots, evade anti-aircraft artillery, and leverage talented aces to win the battle for the skies!

Ages: 14+
Players: 2
Playing Time: 45-60 minutes
Contents: 116 cards, 32 large map tiles, 4 dice, tokens, scenario booklet
Find out more on BoardGameGeek.
***
David Thompson was born in Savannah, Georgia. He grew up playing Dungeons & Dragons and other roleplaying games, but turned his attention to Eurogames and Wargames in the 2000s. He began designing games in 2014, after moving to England and meeting the Cambridge-based chapter of Playtest UK. His first published design was Armageddon, followed by Orc-lympics, Pavlov's House, Warchest, Castle Itter, and Switch & Signal. He now lives in Dayton, Ohio, with his wife, two daughters, and son.

Trevor Benjamin was born and raised in New Brunswick, Canada, but has spent his entire adult life living abroad. He has taught English and Mathematics in China and Taiwan, and studied and taught Linguistics in Germany, Belgium, and the Netherlands. He now lives in the UK with his wife and two children, where he has had the great fortune of meeting David and the rest of the Cambridge design community. His published games to date include Dice Heist, Light & Dark, Cafe Fatal, Orc-lympics, Warchest, and Rolling Bandits.
Roland MacDonald is a graphic designer, illustrator, and board game designer. With a BFA in Fine Arts and an MA in Game Design, he started working doing 3D modelling for PS2 and PC games. After doing concept art and illustrations for Shogun 2 Total War, he moved on to work primarily on board games, illustrating titles including Stop Thief!, Kaiju Crush, and Battle Line.

About Osprey Games
Osprey Games is the dedicated games division of Osprey Publishing (part of Bloomsbury Publishing plc) and publishes a wide range of wargames, card games, and board games and roleplaying games.