In today's blog post, we're looking at three fantastic pieces of artwork from three of our November 2022 titles. Let us know what you think in the comments section and, if you would like to see any artwork from any of our December titles, be sure to mention that too!
Illustrated by Steve Noon

AIR BLOCKADE, 0830HRS, 11 DECEMBER 1942
Here, Leytenant Petr V. Bazanov, from 3rd Guards Fighter Regiment, shoots down a Ju 52 transport about 10km southwest of Pitomnik. The transport's wing is already coming off, in flames. Bazanov would bag another Ju 52 shortly afterwards. Another Soviet La-5 is also shooting at one of the other Ju 52s in the same group. In total, Soviet fighters and anti-aircraft destroyed a total of 14 Luftwaffe transports on 11 December. Although the Luftwaffe lacked the resources to fully supply the trapped 6.Armee by air, Novikov's air blockade made the airlift fail more quickly and at greater cost.
Artwork requested by Division azul
Illustrated by Graham Turner

French artillery flyers supporting the pre-attack bombardment, Chemin des Dames Despite days of marginal flying weather, the French artillery flyers did exceptional work by bringing highly accurate fire on the German 7th and 1st armies' front lines and rear areas along the Chemin des Dames during the nine-day preliminary bombardment. On 11 April, the German XII Corps, east of Rheims on the Chemin des Dames, reported that French artillery flyers were bringing accurate destructive fire onto the front-line defences, while also directing long-range guns to target German artillery positions behind the front and stopping all supply movements to the front. The French flyers were so effective that the German artillery was unable to respond with counter-battery fire. This scene depicts a mission by Captain Joseph Vuillemin, commander of Observation Escadrille C11, directing French artillery fire just behind the German XII Corps lines east of Rheims above St Matin l'Heureax, at 1400hrs on 11 April, 1917.
Captain Vuillemin is flying a Letord Let.1 bomber modified for observation work. The radio transmitter's antenna was a wire deployed from the observer's cockpit with a lead weight to hold it steady; it was reeled out after take-off and reeled in before landing. Vuillemin was one of the top observation pilots of the French Army. An artillery officer who became a pilot in 1913, he flew hundreds of hours in the Verdun Campaign and Spring 1917 Campaign as escadrille commander. In April and May 1917, his unit was flying in support of the Reserve Army Group. Vuillemin was also known for his aggressiveness in attacking German observation planes he encountered. A month after this mission, he and his observer shot down a German observation plane while flying this aircraft. His observer has just spotted in the distance a flight from Jasta 35, which was active in this sector to engage French observation flyers, but Vuillemin was able to evade the German fighters
Artwork requested by Paul W
Foreign Panthers

by Thomas Seignon and Merlin Robinson
Illustrated by Henry Morshead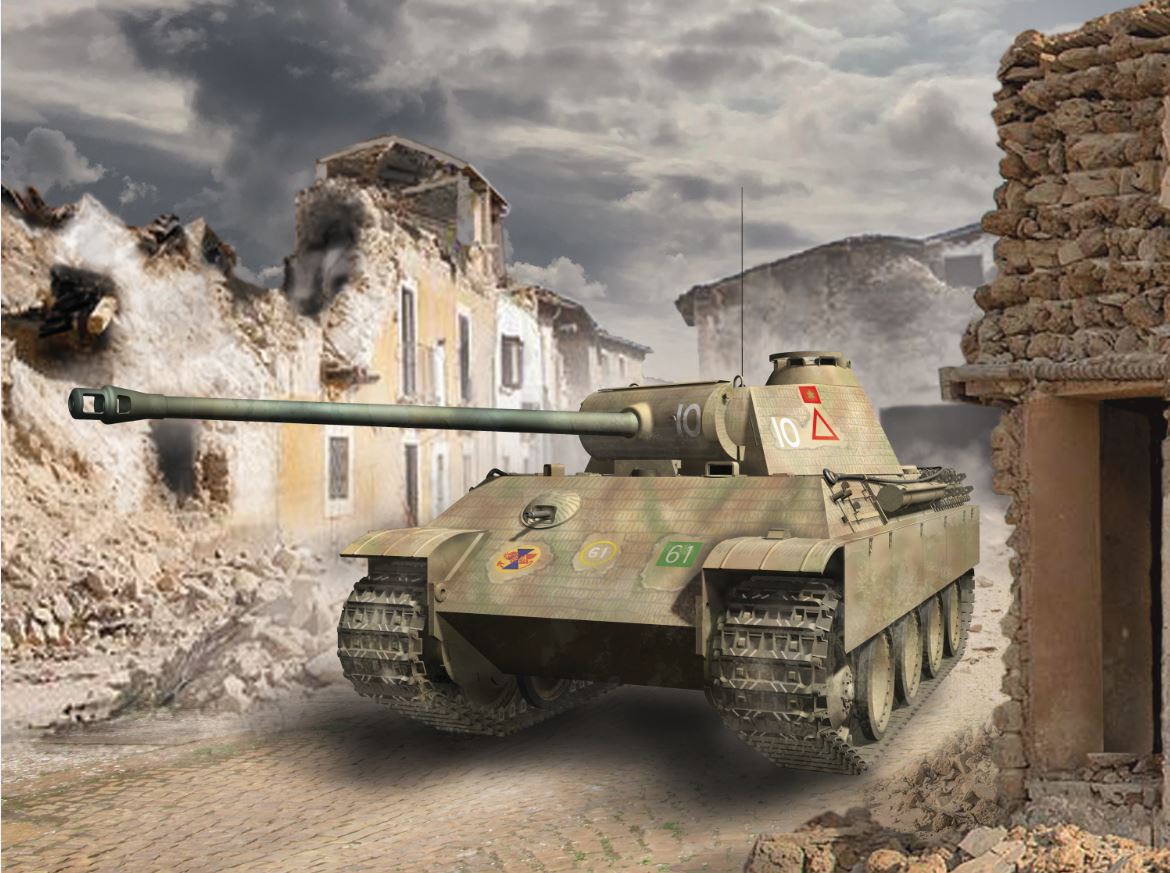 'DESERTER', IN SERVICE WITH THE ROYAL ARMOURED CORPS, ITALY 1944/45
The 21st Tank Brigade's 145th Battalion, Royal Armoured Corps (145th RAC) operated a Panther Ausf G captured in operational condition but with some of its breech components missing. The gun was repaired by the 145th RAC and the tank was named 'Deserter', joining A Squadron. The tank saw about two months of combat use in Italy's rainy winter of 1944/45, being employed largely as a mobile artillery system. The British crews of 'Deserter' were impressed by the Panther's firepower and mobility, even in muddy terrain. 'Deserter' was extensively marked by the 145th RAC: the Panther's glacis was adorned with the Seaforth Highlanders of Canada's and the 145th RAC's tactical symbols, and a prominent 21st Tank Brigade diabolo. All markings were applied over carefully scraped areas where the zimmerit had been removed. 'Deserter' appears to have been finished in German dunkelgelb overall, possibly with a light overspray of green or brown.
Artwork requested by AdamC