On the blog today, author Julia Jones introduces us to her new book Uncommon Courage.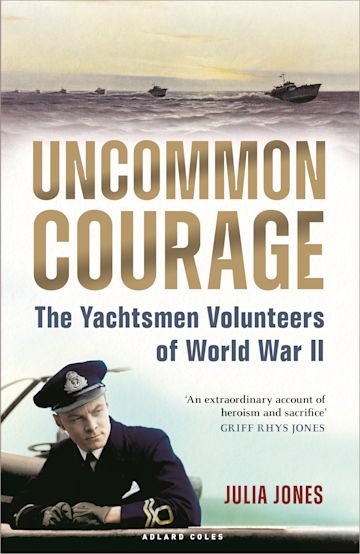 I'd like to introduce my new book, Uncommon Courage: the yachtsmen volunteers of WWII. There are many books that could claim the first two words of this title as ordinary people, in wartime, step away from their usual existences to do extraordinary things. The focus of my research in Uncommon Courage is the men of the RNVSR (Royal Naval Volunteer Supplementary Reserve). These were yachtsmen who added their names to an Admiralty list, established late in 1936, pledging their willingness to serve 'in the event of an emergency'. They were not provided with training, uniforms, or expenses, like the 'regular' RNVR or RNR, but were expected to organise their own advanced navigational study for the Board of Trade coastal certificate and find their own opportunities to practice station keeping or signalling at sea. If there was the chance to spend a week on a destroyer, they paid for their keep.
This wasn't quite as callous as it sounds on the part of the Admiralty. Most of these amateur sailors had not wanted to join the established RNVR as its weekly drill commitments and compulsory holiday training took too much time away from sailing. The RNVR was generally more popular with people who didn't already own boats. Its numbers were also capped as the interwar Navy had been through a period of severe financial stringency, with many of its regular officers being dismissed or placed on the retired list. As Britain and Germany entered a new naval arms race in 1936 the focus was on construction but the personnel question could not be ignored. Hence the cost-free RNVSR.
There were rare yachtsmen who had managed to combine membership of the regular RNVR with time spent sailing. In Uncommon Courage I focus on one, Denys Rayner, who designed and sailed his own small yacht Robinetta (still in existence) as well as being a totally committed member of the Merseyside RNVR. In 1941 Rayner would become the first volunteer officer to command one of the new Flower-class corvettes which played such a central role in the Battle of the Atlantic and escort duty generally. The voice most usually associated with those vessels and that role is Nicholas Monsarrat in The Cruel Sea, who served 1940–41 on HMS Campanula on convoy escort duty before moving to the Kingfisher-class patrol vessel HMS Guillemot on the East Coast convoy route. Monsarrat was a pre-war dinghy sailor and occasional yachtsman whose pacificist principles initially deterred him from volunteering for active service. In Spring 1940, however, his father sent him an advertisement from The Times, aimed at 'gentlemen interested in yachting…' and Monsarrat changed his mind. He immediately began to write about his experiences. Uncommon Courage offered me an opportunity to compare what could be published at the time, with what he felt able to say later.
Initially, the Admiralty was uncertain how to utilise its RNVSR yachtsmen volunteers. Many were sent to serve on patrol vessels, protecting the approaches to British harbours, and also on contraband control, attempting to prevent supplies from reaching Germany. Blockades had been a successful tactic in the First World War, it was more problematic in the Second. Nevertheless large numbers of the Minor War Vessels – including fishing boats and requisitioned merchant ships – were despatched on this duty as soon as hostilities were declared. German U-boats, as well as commerce raiders such as the Scharnhorst and Gneisenau, were also quick off the mark and there were soon casualties among the volunteers as well as the regular officers and the merchant seamen.
Minesweeping was another activity that commenced immediately (as did mine-laying) and continued from the first day of the war until long after its end. RNVSR member Robert Hichens, a solicitor from Cornwall who became the most decorated RNVR member before he was killed in action in 1943, spent most of his first year of war in Halcyon-class minesweepers. 'People don't realise what a grim war we are waging at sea with the Germans,' he wrote, at the end of that first winter. 'A cold-blooded war, requiring the maximum of bravery from the men of both sides in the long run as it is so ceaseless and intangible. You just don't know whether the next moment will be your last.'
Hichens was awarded a DSC for his service on the minesweeper HMS Niger; his later decorations were earned in the more hot-blooded arena of Coastal Forces, regularly engaged in direct combat with E-boats. Many of the volunteer yachtsmen were eventually drafted into MGBs, MTBs or MLs as their experience with small boat-handling and navigation, as well as their willingness to use initiative and take responsibility, fitted them for this form of service. There were surreptitious operations too – running agents across the channel or to Norway, supporting clandestine reconnaissance or sabotage missions. Thinking back to Erskine Childers' classic The Riddle of the Sands made me realise how often a cruising yachtsman's peculiarly amphibious skill-set was exactly what was needed as the Allies attempted to reinvade the territories from which they were ejected in 1940–41.
Many of the RNVSR yachtsmen whose war service I researched in Uncommon Courage, could not have envisaged the way in which their careers would develop. They signed up with the expectation of 'executive service' at sea. Several, like Ewen Montagu, Fredman Ashe Lincoln and Nevil Norway (Shute) found themselves back on land as soon as their particular skills were discovered. Montagu spent his time in intelligence, Lincoln in mine warfare and Norway in weapons development. The group I found most extraordinary were the weekend sailors who volunteered for 'special service' and were sent out, with minimal training, to defuse magnetic mines that were dropped on land by parachute but remained an RN responsibility because they'd been designed for use at sea.
I'm sure that Admiralty could never have envisaged the multitude of ways it would benefit from that service of its weekend sailors. At the outbreak of war volunteers were not eligible for service on submarines, by 1943 Edward Young, pre-war production manager at Penguin Books, was commanding officer of the newly built HMS Storm. (Characteristically one of his innovations was a ship's newspaper.) For historians, I hope that looking at the war at sea from the perspective of the RNVSR yachtsmen, will highlight the extent to which WWII was a small ships war, within which, giving individual responsibility to volunteers was a prerequisite for success: how else would all those landing craft have got across the channel on D-Day? For the general reader (and I include myself) it reveals yet again the capacity for ordinary people to achieve extraordinary things.
JULIA JONES
If today's blog post has intrigued you, find out more on the Bloomsbury website here