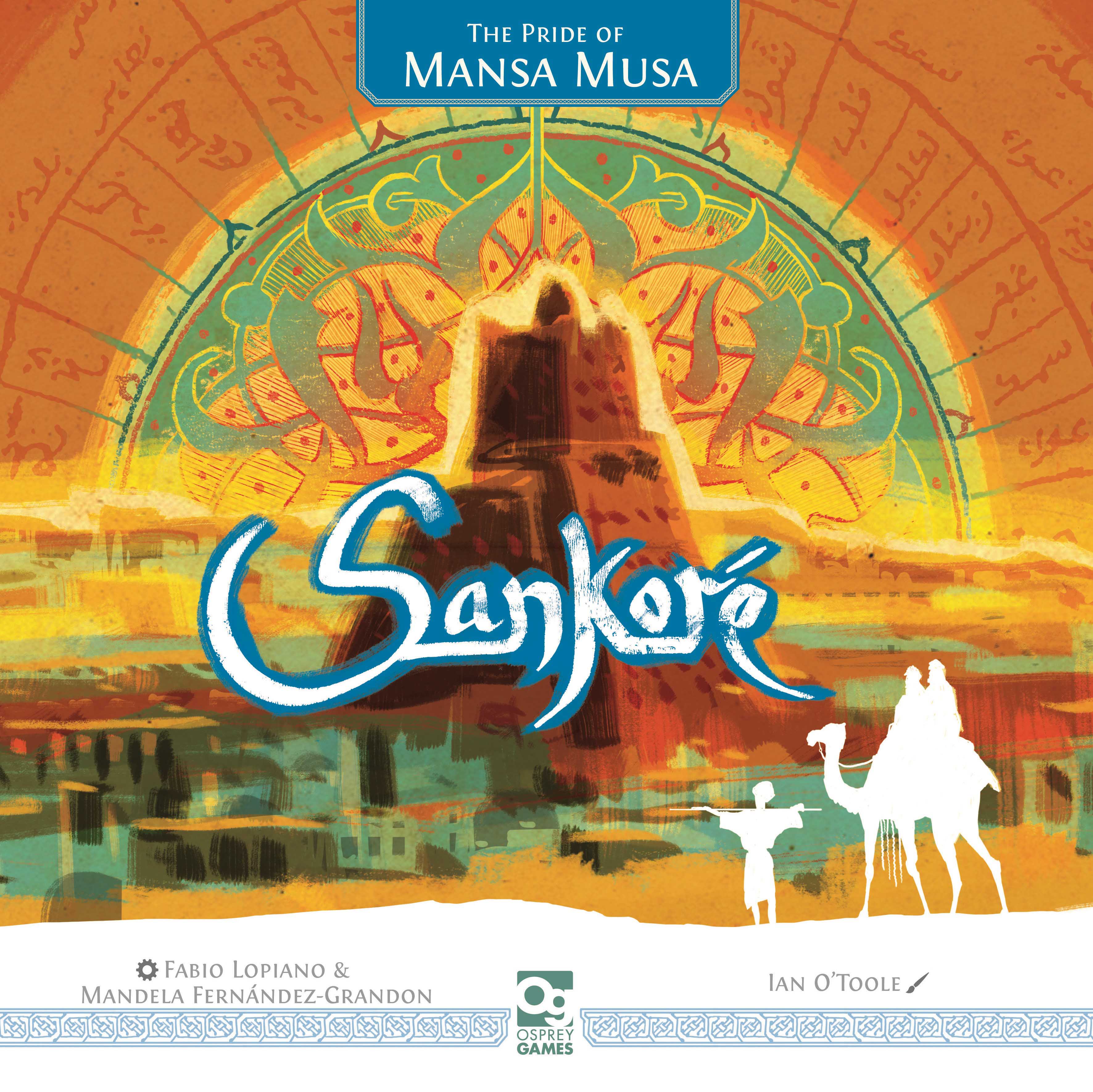 SANKORÉ: THE PRIDE OF MANSA MUSA
Designed by Fabio Lopiano & Mandela Fernandez-Grandon
Illustrated by Ian O'Toole
"The deepest and most complex game that I've designed yet. I'm satisfied we've created a game that is evocative of the theme and rich with meaningful player interaction."
- Mandela Fernandez-Grandon
A dynamic, interactive, mid-weight eurogame for one to four players, following the rise in fortunes of the prestigious University of Sankoré in 14th century Timbuktu.
In Sankoré: The Pride of Mansa Musa, players manage one of the Sankoré Madrasah's prestigious schools, tasked by the emperor Mansa Musa with spreading knowledge throughout West Africa,
even as the great university is raised around them.
By enrolling and graduating your pupils, teaching classes, adding to your curriculum,
and filling the great library with books, you will advance knowledge in four main disciplines:
theology, law, mathematics, and astronomy. Once construction of the university is complete, the value that the empire places on each discipline will dramatically affect
how you score the knowledge you have passed on.
In a dedicated solo mode, you will be competing against the Distinguished Scholar, a passionate and ambitious academic controlled by an elegant automated system. They may not be as nimble as you, but they are focused and driven and will strive to produce the best possible students.
Can you navigate the corridors of academic competition and
bring renown to Mansa Musa's prized university?
Ages: 14+
Players: 1-4
Playing Time: 150-180 minutes
Contents: Cards, Main Board, Player Boards, Tokens, Wooden Pieces
Sankoré: The Pride of Mansa Musa will be coming soon.
Sign up to our newsletter and follow us on Twitter, Facebook and Instagram
to keep up with the latest news.