First on the modelling news this month is a new company called Panda-Hobby, not to be confused with the guys loosely associated with Dragon or the Polish company with the similar name. This is a whole new model making company with high standards (well they like Osprey books – that's a start).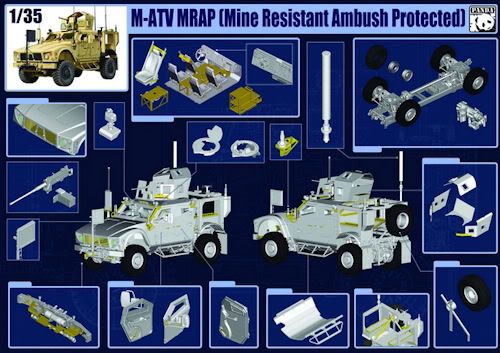 I love it when a new modelling company comes out of the block, and with something good to boot! I contacted these guys as soon as I heard a whisper of their first kit. it will be a 1/35 M-ATV MRAP (Mine Resistant Ambush Protected) vehicle. I have included a few pictures of the Cad drawings of the forthcoming kit below. Iit will be made of 392 styrene parts as well as 84 Photo Etch additions
Panda-Hobby Co. will be making model armour, planes, ships & cars. I have heard that their newest airplane kit in 1/32 will "blow our minds" and that it is not a rehash of something someone else has made. This makes me a happy man! The US distributor has been named as Pacific Coast Models so there is definitely "movement at the station" as the old folks would say. Pre–orders for the MRAP will start in late August so not long now!
Enough of the newcomers! To kick off the educational part of the news this week we have a report on demystifying the airbrush. I know when I got back into modelling, I was dismayed for a long time at the skill of the modellers who had mastered the art of airbrushing. Well this educational issue of the modelling news aims to change all of that! I have found a low cost simple airbrush to get you into the ballpark without you having to spending all of your hard earned cash!
The Airbrush Company Ltd have this week announced the launch of the NEO SERIES of two new airbrushes aimed at beginners in the modelling hobby and other hobbies that use this medium of painting. They are less expensive than the more feature packed airbrushes, but the quality and the finish of your painting will not look like it is done on the cheap! These airbrushes come with a 5-year warranty, so newcomers can have some peace of mind that their new airbrush won't just die on them. The Neo Series are versatile airbrushes that can be used with a variety of different paints and mediums, plus they are easy to use and clean. This is very important to me, because if it is one job I don't like continuously doing it is cleaning out the airbrush! There are two main types of brush on offer – ill let them take you through the specks…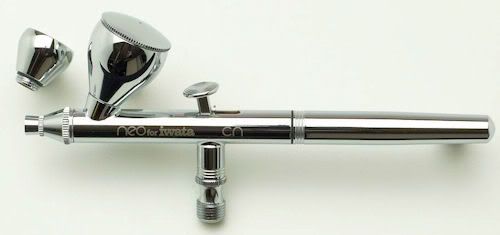 The Neo for Iwata CN gravity feed airbrush is for working on small scale to medium scale models using small amounts of paint. Gravity feed airbrushes perform well at lower air pressures, which help create greater detail. The interchangeable gravity feed cups offer paint capacity options. The larger size offers easy in-cup paint mixing. The medium size makes it easy to see over and good to view the working surface. The no-cup option is great for quick touch-ups when only a tiny amount of paint is needed. Neo for Iwata CN gravity feed airbrush (0.35mm) features: - 0.35mm needle and nozzle combination for finer detail spraying and medium sized spray patterns · Interchangeable large 9ml (1/3oz) and medium 1.8ml (1/16oz) cups designed with a funnel shape, which makes for easy clean up and more efficient paint flow. (Both cups are included with airbrush) · Airbrush will hold 0.9ml (1/32oz) without a cup attached · Fine detail to medium spray pattern with the one size nozzle · Dual-action · Internal-mix · Gravity feed · Ergonomic handle design.
The Neo for Iwata BCN syphon feed airbrush is ideal when working on medium to large scale models that require a larger amount of paint. Syphon feed airbrushes require slightly higher air pressures to pull paint up from inside the attached bottle. Syphon feed bottles have more paint capacity and since they are interchangeable. Extra bottles can be filled with a variety of colours to make for quick colour changes. Neo for Iwata BCN siphon feed airbrush (0.5mm) features: Larger 0.5mm needle and nozzle combination for high performance, general purpose, high paint flow spraying and wider spray patterns 0.5mm nozzle suitable for thicker or heavier paints Includes a 1oz. Big Mouth Bottle (also compatible with other sizes of Big Mouth Bottles and Iwata bottles) Fine detail to wide spray pattern with the one size nozzle Dual-action Internal-mix Syphon feed Ergonomic handle design The gravity fed airbrush comes in at £47 while the siphon fed brush is £51 – pretty good for the quality and the guarantee I think – they are on sale now from Airbrushes.com
- Right, you have your new snazzy Neo airbrush – what to do with it? Well I know many modellers (not all young like me) have problems with how to get started. There are courses, but why not learn at home in the comfort of your own house? I have just the Video for you!!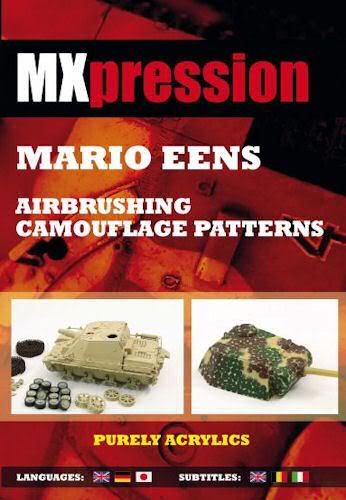 MXPression from Germany have just launched a video in their new series of instructional videos of using acrylics to make great camo on your armoured vehicles. From what I have seen in the promo and stills, it also looks like a great start to learning the finer skills of your new airbrush.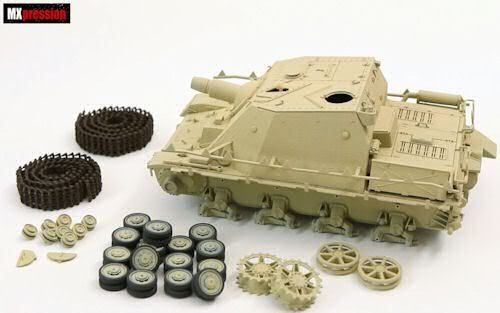 Mario Eens, an avid and successful model builder, has dedicated his first DVD production to the aspect of airbrushing a model. In multiple chapters he shows all of the necessary abilities required to do complex camouflage patterns on your own.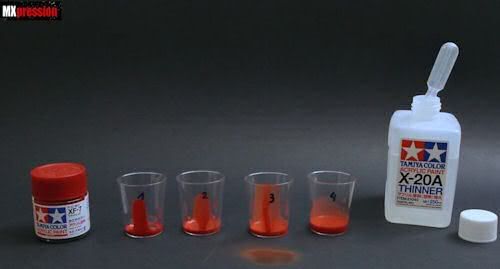 The topics covered in this first of many planned instructional vids is the maintenance of your airbrush and tools, paint thinning, colour changes, masking a model, airbrushing a base coat and troubleshooting. As if that wasn't enough, he also shows you 10 different camo patterns. (Show-off!!)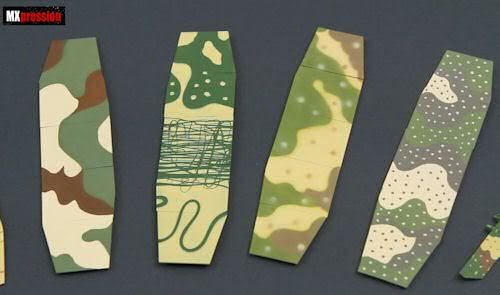 Below is something else for the "Yoof", a you tube video short of the feature so you can get a handle on what is on offer. Their motto is "A picture tells a thousand tales but film is more than a thousand pictures!" and you can see they mean it by this great little snippet. The music is a bit loud for the old folks though!
The last thing for the starters in the hobby (99% I'd say of us) is a new set of bases from Tiger Werke - Of all things a guy selling his wares on EBay (the future of shops so I am told by the other kids).
We usually need all of our skills to create great dioramas that enrich the models you place in them. it is a major skill in your tool chest and takes many years to develop to your full potential. This month's release is something that needs almost no skill and can improve your modelling by many times over – you just need to be able to press "print"??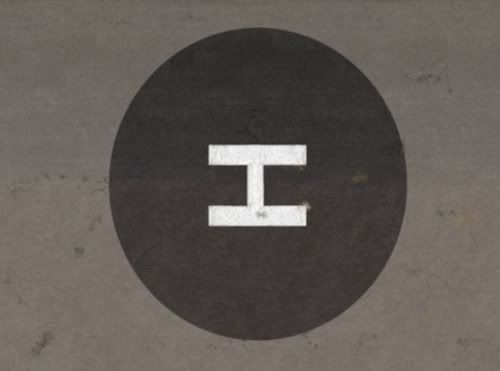 This great CD from Nibellung Works includes Aircraft & Helicopter bases. These can be scaled out and printed to 1/32, 1/35, 1/48, 1/72, 1/144, 1/24 scales or any other scale you might want to use. The CD is in MS Word format and includes 6 different styled bases. You will never have to buy another printed or resin base from any other manufacturer. Buy this CD and you will have printable bases for all your aircraft and helicopter kits for life. The files are High Definition graphics and can be printed out on any colour printer.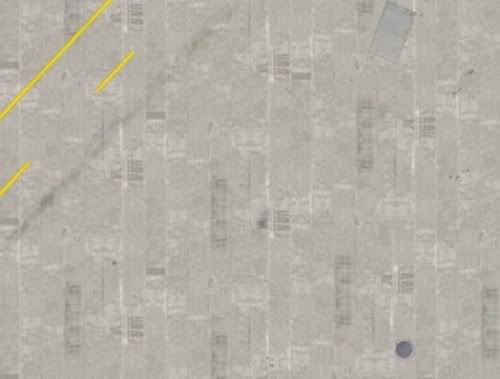 Well I am stumped – I thought you had to "practice" and "work hard" to get better at all of this modelling malarkey. it seems you just have to be in the know!! Every week we aim to do just that – keep you informed of what is going on. Until next week's edition – have fun with your modelling!
I am exhausted now – pretending to be all young and cool - I am going back to my cup of tea and to listening to E.L.O…(That's Electric Light Orchestra for those too young to know -ed)
Adam Norenberg