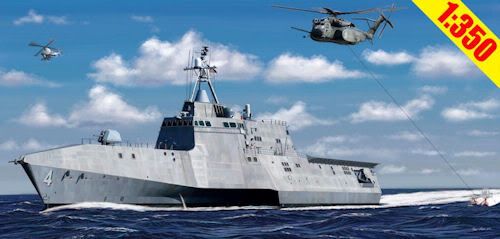 Bronco Model has released a 1/350th kit of the only just launched (in January) Independence-class littoral combat ship – the LCS-4 USS Coronado. The first images of this – the latest in the Us Navy's impressive arsenal seems to highlight the detail of all of the latest in technology packed into this – the next generation of LCS combat ships. In their release poster Bronco Model promise...
The hull – designed by Lockheed Martin – is represented here in full detail with the option to use the additional stand supplied by Bronco. The cutting edge technology like the mine detection SONAR and the life rafts and the side brackets on the ship are finely detailed.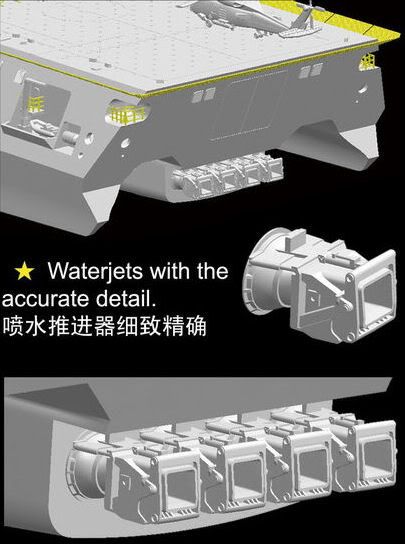 The water jet technology which propels and indeed steers the ship is portrayed here in lots of detail – the rear end will surely be a talking point! The massive hangar doors on the rear deck can be positioned opened or closed, you can see inside. Bronco have internal structure planned into the kit. Coming from out of the hangar doors are several different types of airborne assets - ranging from a MH-60S to the venerable MH-53 dragonfly (with their MK105 Minesweeping system on a trailer) as well as the new drone helicopter the MQ-8B.

At the front "business end" of the vessel there is an "old Fashioned" 57mm cannon with turret and a hollow muzzle made with slide moulds as well as some delicate looking ISR suite aerials. There is a six-barrelled Mk 137 launcher and the "Sea-Ram" air defence missile array to match all of the technological sensors as well as a 32 missile vertical launch system with Photo Etched handrails around the deck
Speaking of Photo Etched – there Is a sheet for all of the thinner and smaller parts so they are scale correct, details like the MH-53 blades are here folded ( as are the other helicopter blades, railings and blast deflectors are provided here in P/E. Also there is a decal sheet included to portray the LCS-4 USS Coronado. The helipad and flags are represented here. The kit should be available next month from all of Bronco Models' distributors.
Syhart decals - those colourful decal creators from France have lets slip on their site some new decals for 1/72nd & 1/48th kit is some of their usual brilliant colour schemes to make boring looking grey Jets a thing of the past..
"Last Flight" BA103 Cambrai-Epinoy 2012 (Part 1) Rafale C n°104 113-HH "SPA162" Mirage 2000C n°88 103-KV "SPA162" Mirage 2000C n°85 103-LK "ESTA 0E.012"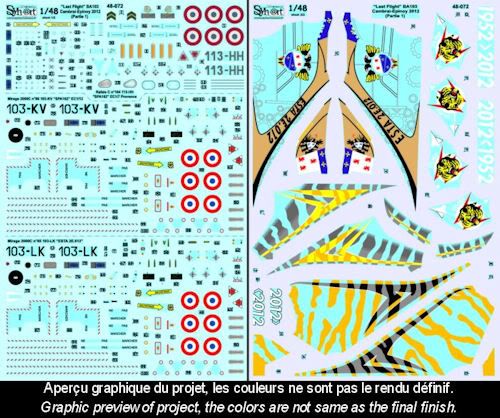 May 2012 sees the release of this colourful sheet which will cover all three aircraft listed above – just in time to celebrate the service of the retiring Mirage 2000 (I can remember when the Mirage 2000 was new – phew!) and if you pre-order you even get free postage – Bang Tidy! While we are on decals we have a 'hello' from a new model manufacturer this month called Fündekals.
Not to be confused with something that grows on your toes, Fündekals are a new model company set up by two long standing decal researchers who thought they might try their hand at making their own dreams instead of someone else's. Fündekals has an interesting philosophy when it comes to the sheets….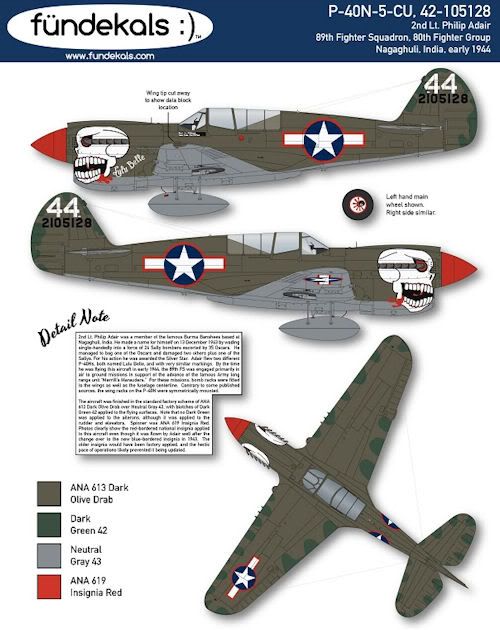 The subjects they do are all in either 1/72, 1/48th and 1/32 scales but they prefer to do kits to start off with aircraft that are kitted well in all three scales.
Secondary Fündekals release one subject and one scale to a sheet – unless they are special they do not supply all of the extra decals like national insignia if they are already included. The instructions are on a PDF which gets sent to you via Email upon purchase. This cuts down on paper and postage and therefore cost to BOTH parties. They want to keep the price low and the customers modelling new schemes, the 1/72, 48 & 32 decal sets are priced from US$3 – US$9 – man that is cheap – depending on scale and extra marking needed they are amazingly cheap – I mean INEXPENSIVE – which leads on to my next point.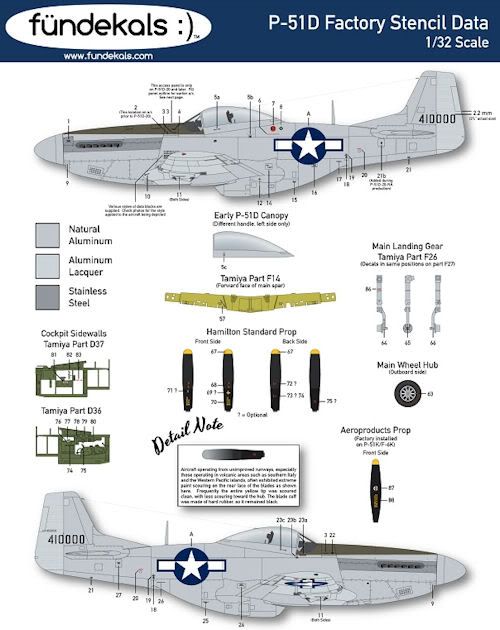 The decals are incredibly well researched – these guys know what they are doing from years in the business and working for some of the best companies out there on other peoples decals. They know the value of good research. These sheets are checked and re-checked for accuracy before they are released. The decals are printed by the market leaders Cartograf of Italy, so the quality is right on. Check the full releases so far here, and you can purchase them on the Fündekals site.
Master Details has given us some great pilot figures in the past – we reviewed their excellent Commonwealth pilot here recently and were thoroughly impressed. For those who were after a USAAF alternative (and a warmly dressed one at that) then look no further-
This is a 1/32 scale U.S. Army Air Force Fighter Pilot from mid to late World War Two, E.T.O. with Cold Weather gear. Designed for P-38, P-40, P-47, Spitfire in USAAF service and other scale model kits, this figure is made of a mixture of resin and pewter, and includes positionable legs, A-14 oxygen mask and hose, alternate heads and arms. Multi-media model assembly kit with instructions and a colour painting guide. As you can see the pilot figure can be used for any cold weather or high altitude scenario, warmly wrapped in woollen lined B-1 trousers, warmly lined flying shoes and B-3 bomber jacket - the figure comes complete sitting on his parachute and with flying goggles and oxygen mask.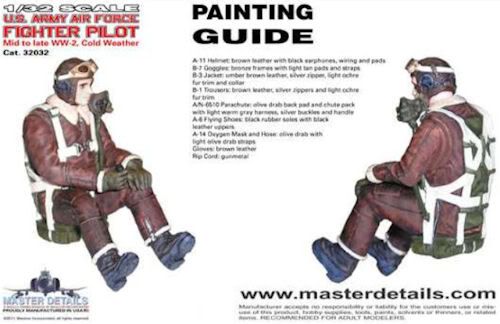 There are three heads included here, one with flying goggles on and no oxygen mask, one with masks on the forehead, and one all bottled up with mask and goggles on. This figure was carefully designed to fit into the cockpit of a 1/32 P-47(nice thinking!) so with the choice of arms as well you are able to make him fit in most fighters of the period methinks. We will give you more as soon as we see it and review it. Until then check out this and all of their other great stuff at the Master Details website.
Last of all this week we have a quick few shots sprues of the F-94C Starfire in 1/48th the new kit maker Kittyhawk sent us just before posting them to their distributors – the kit will be available in the next few weeks and if you have the equivalent of US$50 you MAY be in luck ….
Until next week when we update you on more kits to come from ALL around the wold please do take care of yourselves and have fun with your modelling
Adam Norenberg