Today on the blog we are looking at the incredible story of Bob Allen, whose extraordinary memoirs are captured in No Ordinary Pilot, written by his daughter Suzanne Campbell-Jones. Suzanne joins us to discuss uncovering her father's fascinating life during World War II, from dogfights over the channel, to being shot down and held at Stalag Luft III.
Why write about my father? He had left a memoir, wasn't that enough? Well, no. Written in the third person with names and places changed, it was practically valueless as a historical document. It only told of one man's experiences, there was no context. Yet his story was extraordinary. Full of surprises. More than that, it is the story of an 'ordinary' boy, working as a research chemist, who was transformed by war into a heroic fighter pilot. In the context of World War II it belongs to historical events which are slipping out of reach.
I called him Daddy. He was known as Bob. But he wrote about Richard. Bob Allen became Richard Ardennes. I was intrigued by this subterfuge. I asked questions but he would not discuss it. After his death I inherited a black tin trunk of memorabilia and his flying logbooks, which helped me a lot to recover the story. There was a hat covered in braid, Squadron crests lining the walls of his study, the RAF Benevolent Fund magazine, memories of lunches and dinners at the RAF club in Piccadilly, and watching the Red Arrows from the beach at Bexhill.
Flying was the great passion of his life. I was a filmmaker. He suggested a film about the Battle of Britain with his advice and contacts. The making of that film which was commissioned by ITV took me deep into his territory – the RAF. On a visit to the Oxford University Air Squadron I was taken up in a trainer and taken through some basic aerobatics, loop the loop and barrel rolls. So exciting. When I told Daddy he just waved his hands. Why should I be surprised of course it was exhilarating? But he was delighted with the interviews we got with German aces, Adolf Galland and Mackie Steinhoff. After the film screening at BAFTA in Piccadilly I have an abiding memory of the two desperately disfigured faces of Steinhoff and Tom Gleave smiling as they waited for a taxi to take them to dinner together. Daddy, Bob Allen, never held a grudge against Germany or the Germans. We fought 'the enemy' he said. The enemy might be anywhere.
Bob Allen's first squadron was no.1 flying a Hurricane, of which he left a graphic description of his first dogfight over the channel. His memoir matches his flying log and is accurate according to the Squadron records held in the National Archives at Kew. He was only with no.1 for a few months before being transferred to West Africa to Sierre Leone, in charge of aerial reconnaissance.
I began my research for No Ordinary Pilot with West Africa, partly because it fitted chronologically but also because it had been my area of study as a student anthropologist. My sister and I knew Daddy had spent time in West Africa he even called papaya by the local African name paw-paw. But what was he doing there? What was it like in West Africa in 1941? After some time in the National Archives and the British Library I moved onto the Imperial War Museum. Even with the help of experienced archivists, information was sparse. Then we looked at the Middle East and there was the full story of the Atlantic and trans-Sahara supply routes. The enemy was the Vichy French.
During the 20 months he spent in Africa, Bob's actions in engaging the enemy won him the DFC (Distinguished Flying Cross) and a 'Mentioned in Dispatches' for distinguished service in photographic reconnaissance.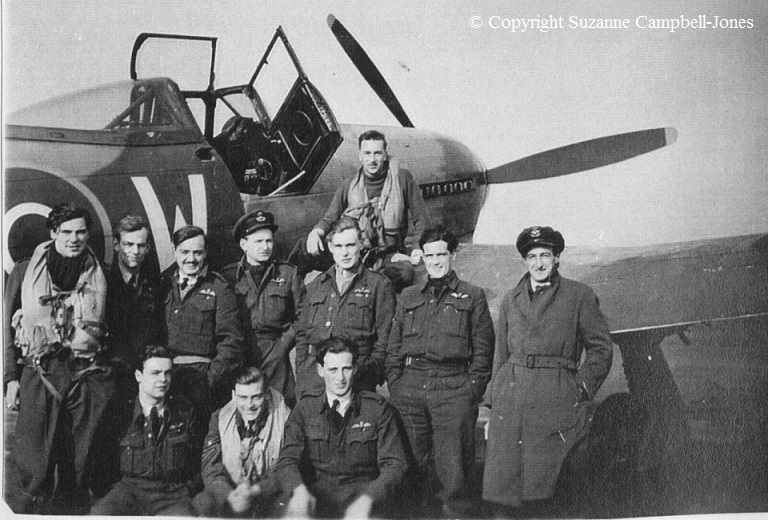 Bob (middle row, third from the right) and 266 Squadron,1944.
Bob returned to Britain and to the home he had never seen on Christmas Eve 1942 to find a one year old daughter, me. When I wrote the Battle of Britain film I was determined to include civilians in the story. As well as the black tin trunk, I inherited a blue leather hat-box which held a few bundles of letters belonging to my mother. Alice Allen was a school-teacher,who especially loved teaching maths to 11 year olds. After typing my father's memoir she began an account of her own. She called it a fiction but it was deeply autobiographical. Her writings, the letters and newspaper clippings provided a link to the family at home.
My parents always celebrated the 25th July. I was already a grandmother before I found out why. It was the day Bob Allen was shot down. As part of the planned invasion Bob's squadron of Typhoons – fighter-bombers – was ideally placed to attack the railheads and communications of the occupying forces. As soon as enough territory had been taken by the Allied forces the squadron base was moved to Normandy to a grass strip outside Caen. The aerial combat was deadly. Casualties great. On July 25th 1944 Bob's luck ran out and he was shot down over enemy territory. His logbook reads "Killed whilst on operations". My mother received the dreaded telegram and a widow's pension. But he had managed to get out of his burning aircraft and fell amongst an SS Panzer division just ten miles from his home airfield. His desire to escape was absolute.
In the summer of 2015 I flew from Bournemouth (Hurne) airport to Deauville. It was a similar route to that flown by my father on D-Day 1944. I asked the stewardess to find out our height as we went over the channel. I wanted a sense of his height as he approached the Normandy beaches. We embarked on a week's recce of the airfields and places recorded in the flying log. There was B3 – a temporary landing strip marked by a solid granite memorial. There were the villages, scarcely more than a collection of farm buildings. I had read descriptions of the liberation of Normandy. It was shocking. Brutal. Inhumane.
One of the hardest parts of the book for me was the section on imprisonment and the winter march. How could this man who loved flying manage to survive? A young man, full of ideas of the chivalry of combat and the honour of fighting for his country was imprisoned, interrogated, put in solitary confinement, half-starved, force-marched and witness the heinousness of desperate men. Bob never gave up hope or ideas of escape even after months in notorious Stalag Luft 3.
Bob's memoir says little about the day-to-day experience of being a POW. Stalag Luft 3 was a huge camp divided into sections. I could not work out which block he had been in. It was early summer 2016 when I went to Poland with my husband. The Director of the Museum in Sagan welcomed us. Bob's memoir mentioned picking up apples from the roadside, so I asked if there was a road to the camp lined with fruit trees. It was the road to the Belaria compound and the orchards were still there.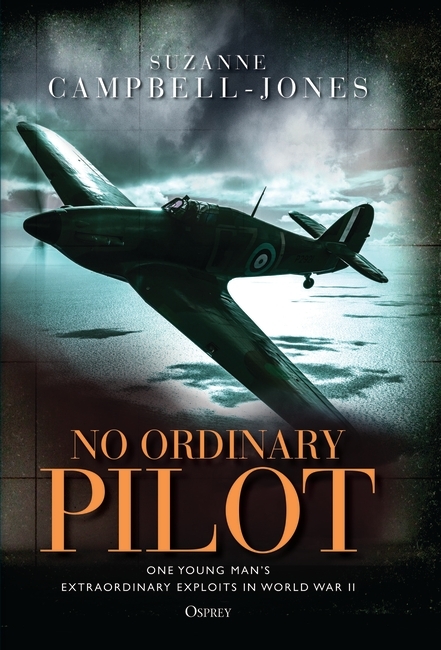 We walked through overgrown fields as our guide pointed out remnants of walls and perimeter fencing. An afternoon in the Museum archive with the curator Mirek Walczak proved invaluable. Together we worked out the route of the winter march taken by prisoners from Belaria compound. Local villagers commemorate the march with plaques and annual services of remembrance. The events of 70 years ago are not forgotten.
I had needed to see the forests of Poland before moving on for rolling farming country and for Luckenwalde, the site of the POW camp from which Bob and his companion Barney finally escaped their liberators - the Russians. It was Germans who sheltered the two pilots as they made their way on foot and by bicycle west to Torgau on the river Elbe. When we visited Torgau there was an exhibition in the Castle marking the 'historic link up, signifying the defeat of fascism'. An annual festival 'Spirit of the Elbe' celebrates 'peace between nations'.
What happened to Bob Allen after the war? Wisely, perhaps, he spent much of the next year recovering from his experiences. But he had the flying bug. He decided to stay on in the RAF and took a permanent commission. 20 months after being shot down he was back in the air over Germany – this time in charge of his own squadron – no.33. He was soon winning accolades for his aerobatics, and in 1948 his squadron became part of the Berlin Airlift. He was flying over territory where once he had been a prisoner.
My father had a long and distinguished career in the RAF, and retired with a CBE. He never lost his reluctance to speak of his wartime exploits. He had given himself to the defence of his ideals; he was honoured for that with medals and commendations. I wrote No Ordinary Pilot to honour him and to share his extraordinary story. © S.C-J March 2018
Bob's fantastic story is now available to order, click here to get your copy of No Ordinary Pilot today! If you'd like to hear more about Bob's fascinating life, click here to listen to Suzanne's recent interview with BFBS Radio.