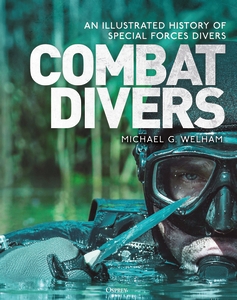 Writing a book entails a publisher's cut-off date and a defined number of words/pages, so with a diverse subject not everything makes the final cut. Also, I wanted to include a lot of images, but locating them was a big challenge. Since my previous book, Combat Frogmen (1989), there have been many changes, and one has been the number of women who have become military divers and the role they play in what was always a male-dominated activity. In my new book, Combat Divers, I have included a chapter titled 'Female Military Divers', and in this blog I have included some more information and images on the topic that arrived too late for inclusion in the book. There will no doubt be others who are breaking what has long been a glass ceiling in the world of special forces.
Female divers of the United States Coast Guard
According to Petty Officer Alexander Gray, the Coast Guard is the smallest unit of the US military branches. Being a diver is rare, and being a female diver is even rarer; as Gray states, there are only two active female divers currently in the organisation. To apply to become a diver the volunteer will be at least the rank of a petty officer 2nd class, which means that the individual will already be serving in the Coast Guard doing other jobs. Those who respond to the notice make their application along with supporting evidence of a level of physical fitness that would enable participation, and provide their medical examination results.
Chief Petty Officer Philip Roy of the Coast Guard Liaison Office at the training centre says that: 'The training is tough and everyone has to meet the same standard be they from the ranks, an officer, male or female so everybody is an equal and is expected to meet the same physical fitness standards set by the training centre.'
The Coast Guard volunteer diver's focus is on marine engineering and underwater construction as well as salvage skills. However, the Coast Guard also specialises in scuba operations, so as to provide a highly mobile and flexible dive capability. The diver training is undertaken at the Naval Diving and Salvage Training Center (NDSTC), located at Panama City, Florida. It is the largest diving facility in the world, training military divers from all services, with more than 1,200 students each year. The US Navy SEALs and the US Army Green Berets Special Forces train their own combat divers at separate facilities.
Petty Officer Gray says that the navy dive school will select volunteers to attend a week's initial processing, which is designed to be tough and expose the volunteers to what they can expect if selected for training. As with all diver selection, there will be those who opt out when they discover military diving is not for them. Others might not meet the instructor's standards at being in and under the water, and some candidates might not have the physical attributes required to endure the time-frame of diver training. At the end of the week some will be offered a place to attend the dive course, which will include members from all of the US military branches who seek to become a military-certified scuba diver.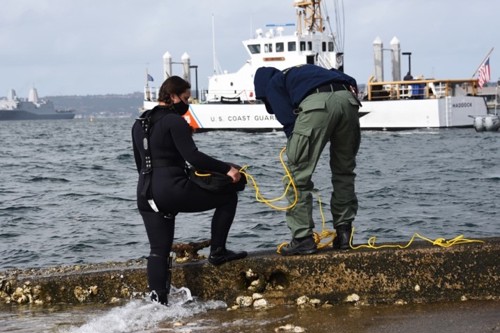 The two female divers of the US Coast Guard, Monique Gillbreath and Kirsten Allen, prepare for a diving task. (US Coast Guard photo by Petty Officer 3rd Class Alex Gray)
The US Coast Guard trains its divers from the baseline (no matter that a volunteer might have civilian recreational diving certification), which means everybody starts at the beginning to complete and pass the course, so previous dive experience is not a requirement.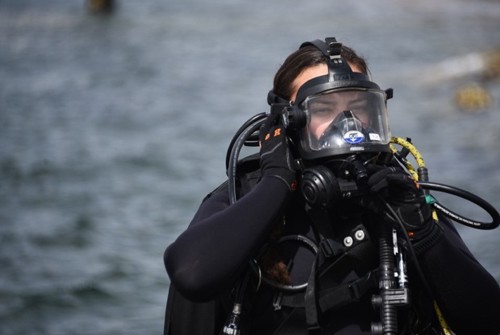 Monique Gillbreath prepares to enter the water for a diving task. (US Coast Guard photo by Petty Officer 3rd Class Alex Gray)  
Upon completion of the diving course, the successful divers will join the Coast Guard's divers, who are experts in underwater operations, undertaking a range of missions as well as operating a range of diving equipment, underwater power tools, and remotely operated vehicles. The tasks include conducting searches, recoveries, investigations, and some underwater repairs, while operating around the world from the tropics to the arctic, encountering a range of temperatures, as well as diving in crystal-clear or contaminated waters and working in nil visibility. Added to that, the Coast Guard has increased its efforts to train and certify more of its own people to perform homeland security missions, so the challenge for a woman wishing to become a military-certified scuba diver is great, but can be a rewarding one.
Female divers of the Royal New Zealand Navy and the Canadian Navy
The Royal New Zealand Navy has female ships divers but they are not allowed to progress and qualify as clearance divers to deal with mine clearance and underwater explosives. However, knowing that other navies had an open view on gender status with regards to diving and based it on being able to pass a set criteria, the New Zealand Navy requested female divers to be seconded from the Canadian Navy to their Clearance Dive Group for several months to evaluate the situation. Today, there are only three female clearance divers in the Canadian Navy and two of them were seconded to the New Zealand (NZ) Clearance Dive Group, taking with them their own experiences of having been clearance divers for two years, and showing that they are serious about their trade and their qualification, which was one of the hardest things they had ever done in their lives. The pair consider that doing the course at the same time as each other was a big factor, and found that Canada had adopted a modern approach in its culture and education, eliminating a lot of the 'old-school mentality' way of doing things. They describe the course as being tough throughout its duration and very challenging, with early morning starts and night dives, combined with constant physical demands. They recommend that anybody interested in qualifying should, prior to attending, adopt a serious physical training programme to be as prepared as possible. So, perhaps the Royal New Zealand Navy will allow female navy divers to take the next step and get the chance to qualify to be clearance divers.
Female divers and US Naval Special Warfare
One officer is currently waiting for results from the SEAL Officer Assessment and Selection Board to determine whether she will be offered a SEAL contract to progress to the selection process. Two enlisted female sailors were offered SEAL contracts, which is the first stage of the process of becoming a SEAL. The pair began training but then at some point both left the course, although there is no indication as to why they opted out. In fact, a candidate can withdraw at any time during the SEAL selection process by simply ringing the bell and returning to the base from which they came.
As an update, the US Navy Special Warfare Command has said that 13 women have been chosen for Special Warfare Combatant-Craft Crewman training, with one completing the course and becoming the Navy's first female Naval Special Warfare operator ¬(the boat operators who transport Navy SEALs and conduct their own classified missions – see Combat Divers for more detail on this).
Other female military divers
Construction Mechanic Kendra Rauch, a member of US Navy Construction Team 1, prepares to dive on an obstruction-clearing task. The Underwater Construction Teams undertake a wide range of tasks from the construction, repair and inspection projects. (US Navy photo by Mass Communication Specialist 2nd Class Joshua M. Tolbert)
Petty Officer Ashley Wagner prepares to undertake a dive. She is an hospital corpsman, specialising as a diving medical technician and handling diver-related health issues. This includes the supervision and operation of recompression chambers. (US Navy photo by Petty Officer 2nd Class Ja'lon Rhinehart)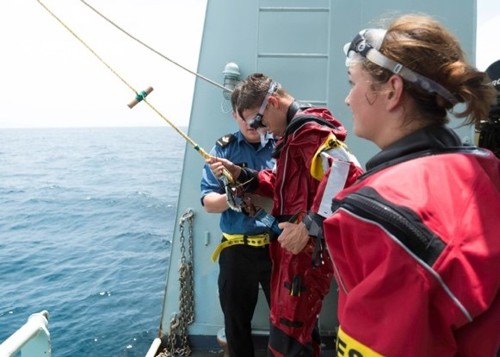 Royal Canadian divers in red dive suits are pulled from the water as part of an emergency training drill. (Canadian Forces Joint Imagery Centre photo by Avr Desiree T. Bourdon)
The final mention on this blog goes to Ukraine, who have female divers within their military ranks and are included in Combat Divers. The Ukrainian combat divers have trained with a number of other nations and are gaining valuable experience as they are engaging to save their country.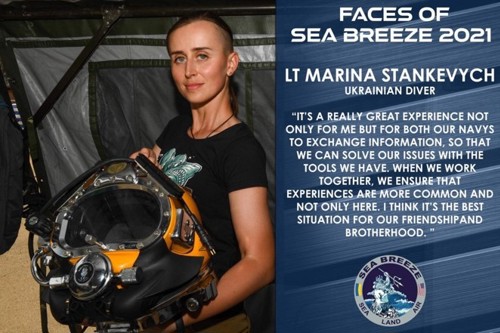 Lieutenant Marina Stankevych, a Ukrainian diver, in Odesa, Ukraine in 2021, with a message of unity with the Allies prior to the start of Russia's disastrous illegal war. (US Navy illustration by Mass Communications Specialist 2nd Trey Fowler and Mass Communications Specialist 1st Class Daniel James Lanari/Released)
If you enjoyed today's blog post you can order a copy of Combat Divers here.